Manchester City may have held on for all three points against Burnley after captain Fernandinho's first-half dismissal and Ben Mee's late goal, but manager Pep Guardiola looked anything but pleased after the final whistle.
Victory over the Clarets sealed City's 13th Premier League win of the season and moved the side back into the top three, behind league leaders Chelsea and second-place Liverpool.
Mee's goal 20 minutes from time at the Etihad ensured the home side had to fight for their win - but goals from Gael Clichy and Sergio Aguero ultimately proved to be the difference.
But speaking after the match in his post-match interview, Guardiola looked anything but relieved and instead wore an expression of utter contempt as he spoke to the BBC's Damian Johnson.
The Catalan seemed very unwilling to engage with Johnson, giving short, vague answers to the reporter's questions.
When Johnson said City had won the hard way, Guardiola simply replied: "Yes, that's true."
Pep gave the same response when Johnson added that the Citizens had shown "real spirit" after going down to 10 men. "Yes, that's true," Guardiola reaffirmed.
The already-awkward interview took a turn for a worse though when the Catalan was asked for his opinion on Fernandinho's red card.
"You are the journalist, not me," he snapped. When pushed for more comment, Pep simply said: "Ask the referee, not me."
The interview continued in a similar vein as Guardiola continued to drag his heels while appearing increasingly irate as the two went on to discuss Claudio Bravo's mistake which led to Mee's goal.
Guardiola concluded the interview wishing Johnson a "happy New Year" but given his reactions throughout the interview, it seemed anything but.
Despite victory, the cracks are clearly beginning to show at the Etihad with Guardiola cutting an increasingly tetchy and abrasive figure.
This follows his recent admission that English football is more 'unpredictable' than what he is used to.
Speaking earlier in the month, he said: "We are conceding a lot of goals. And I think that is because the football is more unpredictable here.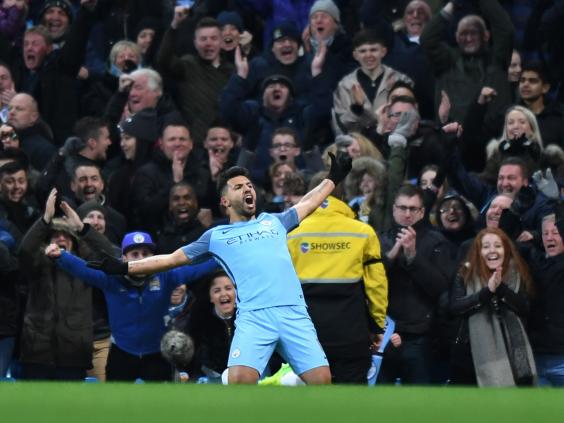 "[The ball] spends more time in the air than the floor, and in the air the ball is not controlled, always I tried to control the game through the ball, away from your goal, and here it is more difficult to do that. I have to adapt that.
"That unpredictable game here in England, that makes it so fascinating for the fans, because you never know what will happen. It's always there's a last chance for one team, which makes it so beautiful, but to try to control it is a bit more difficult and we will need more time."
If today's bizarre interview is anything to go by, Guardiola will need a lot more time indeed to adapt to the hostile and unforgiving nature of English football.