Pep Guardiola has claimed that if he was managing a "big club" this season then he would already have lost his job, as his Manchester City side attempt to cling onto their spot in the top four of the Premier League with two matches remaining.
Guardiola won the league title in both of his debut campaigns at Barcelona and Bayern Munich, and his near-flawless managerial record meant that City were widely considered one of the favourites to win the Premier League this season, when the Spaniard agreed to succeed Manuel Pellegrini in Manchester.
But City have suffered from an inconsistent campaign and struggled to keep up with the pace set by league winners Chelsea and runners-up Tottenham Hotspur. Guardiola's side could yet finish third, although a failure to win both of their remaining matches could also see them fail to qualify for the Champions League for the first time since 2010.
And, speaking ahead of a crucial home match against West Brom, Guardiola has admitted that his shortcomings this season would likely have seen him sacked were he managing a bigger club than Manchester City.
"In my situation at a big club: I'm sacked. I'm out. Sure. Definitely," he said when asked if he felt his job was under pressure after a season of relative underachievement.
"At clubs like Barcelona or Bayern Munich if you do not win you are really out – there you have to win by far. If not, they do not give you a second chance. Here, they have given me a second chance and we will try to do it, and we will try to do better than this season.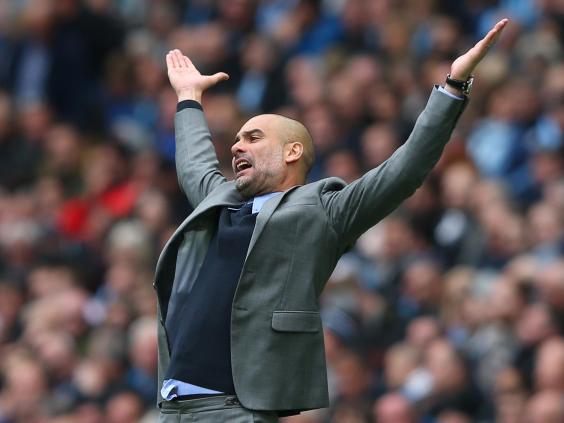 "One team was better – Chelsea – so congratulations to them as they deserve by far to win the league. And the second team – Tottenham – played outstanding football again [on Sunday], so the way they play… chapeau. The others we are there, in this moment it's in our hands to finish third but we are there."
Regardless of the outcome of City's final two matches, this season's finish will be the lowest in Guardiola's fêted managerial career.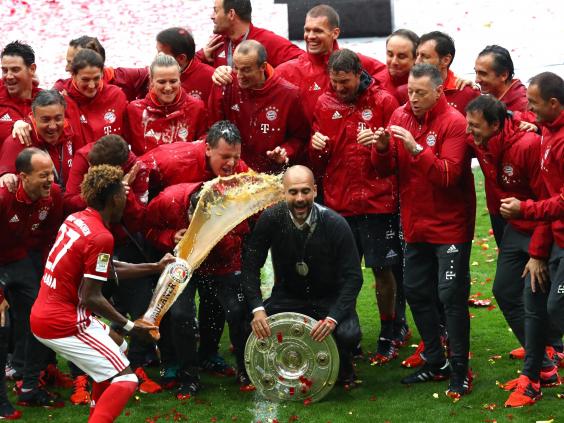 The 46-year-old has failed to win the league title only once before in his career – in the 2011/12 season when his Barcelona side finished second in La Liga behind Real Madrid – and before he joined City he won three consecutive Bundesliga titles with Bayern Munich.
This season also saw Guardiola fail to reach the last four of the Champions League for the first time in seven seasons.
Guardiola claimed in his media conference that he felt so many years of success in Spain and Germany meant there was always likely to be an extraordinary amount of pressure placed upon his shoulders in England. He then added that he would understand if the City board decided to sack him next season if results did not improve. 
Premier League champions through the years ranked
Premier League champions through the years ranked
1/26 Who are the greatest Premier League champions?

The Independent's Chief Football Writer Miguel Delaney runs through his list of greatest Premier League winning sides.

Getty

2/26 25. Blackburn Rovers 1994-95

Points per game: 2.12 Other trophies: none Another win that is memorable for the events that led to it and the unique identity of the winners, rather than what they did. That an Alan Shearer-powered Blackburn Rovers lost on the last day but still won the league said a lot about their quality, but also about how dramatic this campaign was.

Getty

3/26 24. Manchester United 2000-01

Points per game: 2.11 Other trophies: none Still too good for England, but the signs were there that United's treble team were no longer as good as they had been, in what was maybe Ferguson's most forgettable title win.

Getty

4/26 23. Manchester United 1992-93

Points per game: 2 Other trophies: none United's first in 26 years, as illustrated by just how many moments of doubt they suffered before pretty much learning how to win the league on the job. This was really United's most emotional wins, rather than their most impressive.

Getty

5/26 22. Manchester United 1996-97

Points per game: 1.97 Other trophies: none The Class of 92 were coming into their own, but still not quite the top-class group they would become. It just wasn't a very high-class season, as the challengers - and retiring Eric Cantona - all faded.

Getty

6/26 21. Leicester City 2015-16

Points per game: 2.13 Other trophies: none One of football's great stories and achievements, and a genuinely fine team when fully functioning, but that doesn't necessarily make them close to the greatest champions. It still feels like they needed a thousand things to fall into place at exactly the same time, in a way other title-winners would not have.

Getty

7/26 20. Manchester United 2012-13

Points per game: 2.34 Other trophies: none Ferguson's final statement, as he expressly signed the free-scoring Robin van Persie to win the title.

Getty

8/26 19. Manchester United 2010-11

Points per game: 2.1 Other trophies: none One of those campaigns when Ferguson had so clearly perfected the rhythm of winning titles. This was far from a brilliant United side in what was a generally underwhelming Premier League campaign, but it was one still able to reach the Champions League final too.

Getty

9/26 18. Manchester United 1999-2000

Points per game: 2.4 Other trophies: none United's 1999 Champions League win had put them onto another level, and well above the rest of the Premier League, but this was almost like Chelsea 2005-06 in that it all felt too easy to really push the side to their best.

Getty

10/26 17. Manchester United 2002-03

Points per game: 2.18 Other trophies: none United's grittiest title win of the Premier League era, as they really ground it out with Arsenal, at the height of the Ferguson-Wenger rivalry.

Getty

11/26 16. Manchester City 2013-14

Points per game: 2.34 Other trophies: League Cup So often supreme to watch, and maybe played the best football that season, but the way that Liverpool collapsed and Chelsea lost a lead fosters the feeling that they didn't quite drive to the title in the way the 2011-12 team did.

Getty

12/26 15. Manchester United 1995-96

Points per game: 2.16 Other trophies: FA Cup The most famous run-in, and the most entertaining, as Eric Cantona, Peter Schmeichel and Roy Keane helped a group of kids magnificently mature over the course of a double campaign. The oddity was that, as defining as this season became, it was arguably a team between eras.

Getty

13/26 14. Chelsea 2014-15

Points per game: 2.37 Other trophies: League Cup Never budged in the table, but only because were forced to budge in approach, remarkably going from a brilliant open side to a very closed one. There was a slight element of crawling over the line, and signs of what was to come.

Getty

14/26 13. Manchester United 1993-94

Points per game: 2.19 Other trophies: FA Cup Ferguson's most muscular United, as perfectly displayed by how they were the only side other than Chelsea 2014-15 to never move from top spot once in the season.

Getty

15/26 12. Chelsea 2005-06

Points per game: 2.4 Other trophies: none A team whose very strength actually maybe took a little off their edge, certainly in terms of perception. Mourinho's first Chelsea were by that point so much better than everyone else that it made the race a foregone conclusion, but maybe dulled them for both the foregone conclusion of the run-in and the cups.

Getty

16/26 11. Manchester United 2006-07

Points per game: 2.34 Other trophies: none Maybe Ferguson's most thrilling attacking team, and the one that heralded his return to the very top. United were facing one of the most physically intimidating and domineering champions ever in Chelsea, so to best them with such exuberant football was all the more impressive.

Getty

17/26 10. Manchester City 2011-12

Points per game: 2.34 Other trophies: none So nearly threw it away on more than one occasion, but that only made their eventual win all the more impressive, and famously spectacular. Their points haul is also hugely creditable for first-time champions, not least for how it saw them hold off all the title experience of a Ferguson United.

Getty

18/26 9. Chelsea 2016-17

Points per game: 2.44 Other trophies: FA Cup final This was hyped as one of the most competitive Premier Leagues ever given it had its finest ever collection of managers so, whatever about the debate regarding the lack of European football, it reflects very well on this Chelsea that they have ultimately won it so easily and so early. That cannot be talked around that easily.

Getty

19/26 8. Chelsea 2009-10

Points per game: 2.26 Other trophies: FA Cup The top-scoring team in Premier League history, who roared to a double with so many rampant, but the only lingering question is whether they quite had top opposition. United had not signed well after the departures of Ronaldo and Carlos Tevez, while Liverpool fell apart.

Getty

20/26 7. Arsenal 1997-98

Points per game: 2.05 Other trophies: FA Cup One of the great title comebacks, from one of the great football revolutions. Wenger's transformation of Arsenal's old guard saw them go into overdrive towards the end of the season and win 10 in a row, including a double.

Getty

21/26 6. Arsenal 2001-02

Points per game: 2.29 Other trophies: FA Cup A beautifully balanced team, and one that went on a brutally devastating run to sweep all competition away. These were the double-winners that claimed 13 league wins in a row and made it 14 the following season, while also clinching the title away to Manchester United and providing Arsene Wenger with the psychological seed for the Invincible season.

Getty

22/26 5. Manchester United 2008-09

Points per game: 2.37 Other trophies: League Cup Not quite as commanding as the previous season, as illustrated by how they just fell in the Champions League final and also recorded fewer points in a more stuttering campaign, but showed immense reserve to respond to Liverpool's surge by claiming seven runs in a row in the run-in to also win the title.

Getty

23/26 4. Arsenal 2003-04

Points per game: 2.37 Other trophies: none An utterly divine side, and Arsenal's greatest… but also one responsible for one of football's great ironies. Arsene Wenger's best team famously and supremely went unbeaten in the domestic league season, only to then lose the biggest game of all - the Champions League quarter-final - to a team a few miles away in Chelsea.

Getty

24/26 3. Manchester United 1998-99

Points per game: 2.08 Other trophies: Champions League, FA Cup Perhaps the most entertaining champions of all, but that is oddly the only reason they are not top of this list, despite topping the three major competitions that season - including the continent. They were not necessarily the best Premier League champions, but the most resilient; the most resolute. Unlike United 2007-08 or Chelsea 2004-05, this United were a team oddly easy to get at, but that weakness made them great and made them entertaining because of how many spectacular comebacks it brought. Their return of 79 points is actually surprisingly low, but was just something else they overcame to reach the ultimate heights.

Getty

25/26 2. Chelsea 2004-05

Points per game: 2.5 Other trophies: League Cup They weren't quite invincible, but they often felt untouchable. Whatever about all the debate about Jose Mourinho now, there could be no debate about the overwhelming quality of his first Premier League champions. This Chelsea recorded the highest ever points-per-game record in English history, and simply never looked like they were going to be caught. So many games were so well controlled, as was the destination of the trophy.

Getty

26/26 1. Manchester United 2007-08

Points per game: 2.29 Other trophies: Champions League With one of the finest defences England has ever seen, with Cristiano Ronaldo reaching another level, and with the way the Chelsea team they held off were also beaten in the Champions League final, this was probably Sir Alex Ferguson's most complete United side. They was thereby probably the Premier League's most complete champions too.

Getty
"If what happens next season is not going well, I will have one more year of my contract and if it is not going well they are going to change manager," he said. "So what is the pressure? Last season, this season and next season: all the managers in the first five or six clubs feel that pressure.
"I have said many times that I have this expectation [placed upon me] because of what I have done in the past. I came here to try to win this year, but it was not possible. But I will try with the club, with the players, with the staff, with the chairman and with the sporting director to do it.
"And after that if the results are not [good], if we are judged just for the results then we will be sacked and another one is coming here. And you will be here again with the new manager, and you will make the same questions, so that is what it is."
Guardiola has not been helped in his attempts to win the Premier League title this season by an ageing squad and particularly leaky defence. Although City have thrilled up-front – with Raheem Sterling as well as new-signings Gabriel Jesus and Leroy Sané all impressing – they have struggled at the back, conceding 9 more goals than eventual champions Chelsea.
However, the manager refused to blame his players for the shortcomings of his team and instead suggested that he was initially under-prepared for just how physical English football would prove.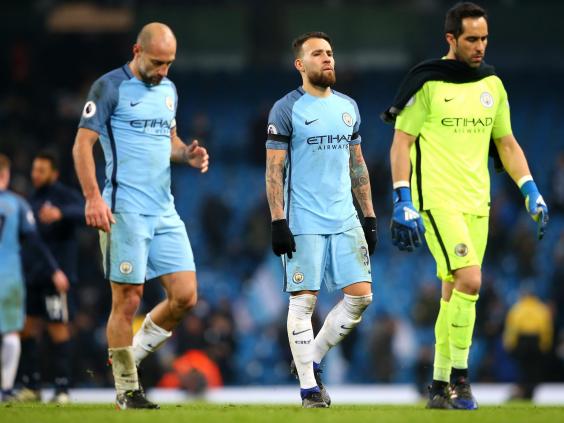 "No, no, no – I think the standard of players has been good," he replied when asked if his players were guilty of not being up to scratch this season. "We make a good performance and we played quite well most of the time, but we were not clinical and we were not as solid as we expect, as maybe you need to be here.
"Here a lot of things happen, especially in the boxes. Everything is here and there and here and there. In other countries the process is calmer but here sometimes you cannot control it; you try to control it but you cannot. And there you have to be strong, that's true.
"The process is important but when you go to Crystal Palace, Burnley or West Brom it is impossible not to feel what will be there. Against [Salomón] Rondón and against [Christian] Benteke – against these kind of players. And those kind of [long] balls, when they arrive and there is contact, all around the world it's a foul, and here it's not.
"That's why you have to be strong, because you are not going to change the referee. It is impossible because all through history they have played this way, all the philosophy is in that way, and you have to try to be more stronger. Before I expected we could solve it, but then I realised we have to be strong there and strong when we arrive in the box."
Reuse content