The introduction of Pep Guardiola by Manchester City last weekend was class: that is for sure. A damn sight classier than what we witnessed when Jose Mourinho was presented by Manchester United, 48 hours later.
The sight of the Spaniard perched on an uncomfortable looking high stool with a microphone and the BBC's Sally Nugent at the club's academy on Sunday, hearing supporters launch into impromptu chanting of his name, might have been the height of choreography but the cynical default mode is too easy to reach for. The point is that City's supporters were put ahead of everyone else when it came to meeting the new manager and asking him what they – the ones who pay their way - wanted to know.
Fair play: they didn't dance around some issues, either. "Are you going to buy Messi?" one supporter shouted. There's less chance to dissemble and obfuscate when it's the people, not the press, who are doing the asking. It was a 'No' from Guardiola.
What a foil to the Jose Mourinho theatre when he appeared in the Old Trafford Europa Suite, a couple of days later, to lob grenades at Arsene Wenger and Louis van Gaal and produce that bizarre list of players he has 'developed', including Dominic Solanke and John Swift. Mourinho is a winner with perpetual conflict attached. Box office, he might have been, but it won't have eased minds at the top of Old Trafford. He can't change the record.
It would be wrong to confuse the dignified with the demure though. Guardiola has ego, too. The less publicised evidence of how much he intends to be the boss came in the announcement of the departure of three key members of the backroom staff. The logistical 'team manager' Paul Banks, who planned travel and training schedules, long-serving masseur Paul Webster and physiotherapist Craig Yiull have all been released. Guardiola is bringing in his trusted team of Carles Planchart, Domenec Torrent and fitness coach Lorenze Buenaventura – and there will be others who are added to the staff.
Well, he might have decided that he will find greater service and professionalism in those Spaniards he knows, but there are plenty of City players from down the years who will tell you that one or other of those departing trio has been an important part of their landscape. Webster was very popular with the players. Banks helped many acclimatise to life at the club as player liaison officer before he moved to the organisational role. When City's last home campaign had ended so dismally, with the 2-2 draw against Arsenal on May 8, it was Banks who helped get the players back out onto the pitch.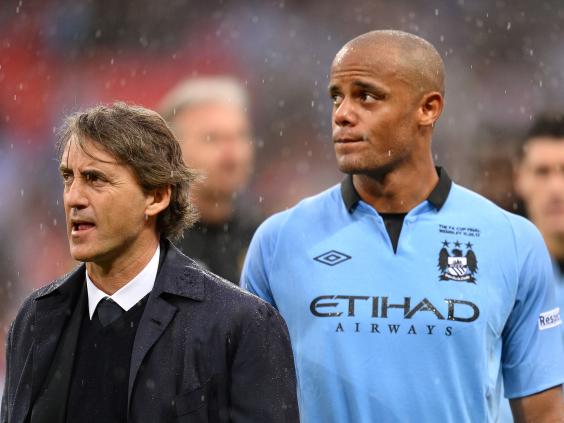 City seemed to have learned from painful experience of Roberto Mancini the lesson that managers are transient at a football club while ancillary staff must be more permanent. Such was their desire to hire Mancini to replace for Mark Hughes in 2009 that the key meeting with the Italian at a hotel in Sicily saw him make demands for a huge entourage, to which the club acceded. It cost a fortune to get them out of the door.
Mancini and Guardiola are different beasts, of course. The Spaniard will fit with City's director of football Txiki Begiristain because they are friends and comprehend each other. Guardiola is also substantially more intelligent and collegiate. But there are no guarantees that he will succeed or want to stay to build a dynasty. "I have come to learn. That's why I move on. If I was building legacies then I would have stayed in Barcelona," he told Sunday's audience at the Etihad. We have to assume that he, too, will be passing through.
The marketing line that City have come up with the build the buzz around Guardiola's arrival is: 'It begins', though that begs the question of what went before. It was Manchester City, actually: a club which had a very clear and proud identity before that extraordinary moment on September 1, 2008, when the Abu Dhabis bought it. That identity has evolved to its current very Spanish iteration, with chief executive Ferran Soriano, Begiristain and now Guardiola, the man they always seemed to be on a promise to deliver, with Mikel Arteta drafted in to assist.
It is a Catalanchester City that we see. Appealing, bohemian and intelligent though that might seem – and will be – as City prepares to present Guardiola to the press on Friday, the club should not lose sight of its soul. This is not their year zero.