As can be seen from some rather prickly press conferences from his time in the Premier League so far, Pep Guardiola can be very difficult to second-guess. He doesn't just look at the game differently, it seems, but also some of the elements around the game.
Take his overriding take-away from the 1-1 draw at home to Liverpool. Manchester City showed some impressive resilience and, even if they were again wasteful against a top side and should have won, they could take satisfaction from the performance. Guardiola went much further than that, though, to quite a remarkable extent.
He described it as one of the proudest days of his career, and apparently without sarcasm. His opposite number Jurgen Klopp, who is probably that easier to read in that since given how overtly emotional he is - either beaming widely and laughing or, less regularly, raging at officials - quipped: "He is Spanish. They are more emotional than the Germans."
Even allowing for that, and the fact Guardiola would very much consider himself Catalan, that level of pride should still sound ludicrous for someone who has won as much as he has, especially two Champions Leagues with one of the finals - in 2011 - offering a truly transcendent performance. There was at least some logic to his comments, though.
Because — since one of the main storylines of this season has been how a Guardiola team looks so beatable for pretty much the first time in his career, and how he is suffering so many lows as never before — it was essential that he follow one of the worst lows with a convincing response.
Consider, after all, what defeat here would have represented; how symbolic it would have been. Guardiola already finds himself outside the top two of a table at this point for the first time in his career. The midweek defeat to Monaco then represented the first time he has gone out of the Champions League before the semi-finals, and opens the very real possibility he could also fail to win a trophy in a season for the first time in his career.
Manchester City 1 Liverpool 1 player ratings
Manchester City 1 Liverpool 1 player ratings
1/22 Willy Caballero – 5 out of 10

Had a relatively quiet day – only conceding from Milner's penalty.

2/22 Gael Clichy – 5 out of 10

He was crashing into challenges, defending bravely and winning every aerial challenge.

3/22 John Stones – 6 out of 10

Made a number of vital interceptions and clearances. Tough defending from the back.

4/22 Nicolas Otamendi – 7 out of 10

Failed to keep up with the City strikers pace, but made up for it with headers and clearances.

5/22 Gael Clichy – 5 out of 10

Gave away the penalty for Milner's opener. Terrible decision for a man of such experience.

6/22 Yaya Toure – 6 out of 10

He was reading the game well from the middle of the park and opening the defence by spreading the balls wide.

7/22 Raheem Sterling – 6 out of 10

He used the width well, but he needs to be more clinical in front of goal.

8/22 Kevin De Bruyne – 7 out of 10

Deliveries were sublime and he was pumping balls into the forwards continuously. Assist for Aguero was world class.

9/22 David Silva – 7 out of 10

As always, he was picking the ball up and using possession tremendously. He's quick, skilful and is a nightmare to play against.

10/22 Leroy Sane – 7 out of 10

As always, his pace caused problems for the Liverpool defence and he was an all round nuisance to play against.

11/22 Sergio Aguero – 6 out of 10

His goal levelled the scoring for Guardiola's side, but he had a hard time today against the Liverpool central defenders.

12/22 Simon Mignolet – 5 out of 10

Made a handful of vital saves, but was beaten by Aguero in the second half.

13/22 Nathaniel Clyne – 6 out of 10

Had a tough afternoon against the pace of Sane, but he held his own and worked well.

14/22 Ragnar Klavan – 6 out of 10

Stuck tight with Matip and this kept Aguero relatively quiet.

15/22 Joel Matip – 6 out of 10

He made a number of crucial interceptions and clearances, but he needs to be careful when giving away fouls.

16/22 James Milner – 7 out of 10

Scored the opener after an encouraging display. He defended well and attacked relentlessly.

17/22 Adam Lallana – 6 out of 10

Defensively there is room for improvement, but going forward he passed well and created a handful of chances.

18/22 Emre Can – 5 out of 10

Was outplayed in the middle of the park at times by City's midfielders. Needs to improve his aerial game.

19/22 Georginio Wijnaldum – 6 out of 10

Drifted in and out of the game at times. Needs to make more of an impact in the games against bigger clubs.

20/22 Sadio Mane – 8 out of 10

Was Liverpool's biggest threat going forward – quick, skilful and he oozes confidence.

21/22 Roberto Firmino - 7 out of 10

Was the target for every Liverpool attack and when he received the service – he caused problems.

22/22 Philippe Coutinho – 5 out of 10

His deliveries were poor, particularly from set pieces. Needs to regain the fine form that the fans will be wishing for.
And then came Liverpool. Had City lost that game, it would also have been the first time he had lost six league games in a single season, and also been the first time he lost to one club twice in a single league season. In other words, he would have been comprehensively bested by a counterpart, offering further evidence he's not quite at the peak of management at the moment.
That didn't happen, though. City responded, got the goal, and the draw. It did mean a lot for Guardiola in that sense. These are new situations for him, so it is only natural they offer up some new emotions. There was the alternative symbolism of it too. Rather than the result emphasising his difficulties, the response instead reflects that, yes, while he has had problems, they are fixable. There is more to come. Some of City's play was also genuinely sensational, and gloriously intricate, but clearly not yet the finished product.
Guardiola being Guardiola, though, he was looking at it in terms of the patterns of the performance rather than the superficial symbolism of the score. He was looking at in terms of whether his team are following his idea.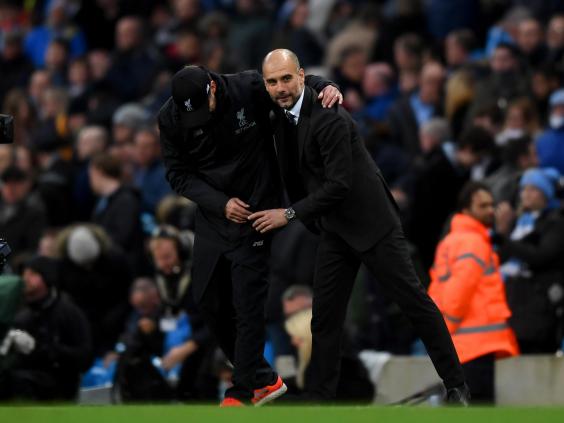 "Why? Because we lived a tough two days," Guardiola said. "So, after being out for the Champions League, what happened in Monaco in the first half, we were what we are in the second half [against Liverpool], again and again and again, how many chances we miss…"
That is why this was such an important result for Guardiola personally, even if he obviously had wider concerns. They showed 'what they are' or, more relevantly, something closer to what he wants them to be.
The irony is that it might have been more important for Liverpool in general, given that they can now drop out of the top four if both Manchester United and Arsenal win their games in hand. There is also the fact that Sunday's match was Liverpool's last of the season against one of the other top six. That would usually be a huge bonus for a side, but not necessarily for Klopp.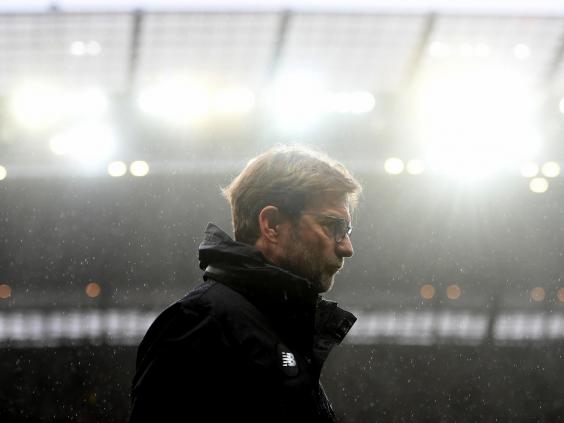 From all 10 of their fixtures against their direct levels at the top end, Liverpool have an average of two points per game. From their other 19 matches so far against the 'bottom 14'? The average is 1.89.
That is why, in an odd way, only drawing at City yesterday mightn't have been as positive as it should usually be portrayed. And even Klopp seemed to have to check himself when he said "you cannot run around [angry] after a draw at Manchester City".
His side have to learn to develop the consistency they have found against the top six, given that they should reasonably be performing better than that against the rest.
One part of it is certainly to be proud of.
Reuse content