Petr Cech has been ruled out for up to a month with the calf injury that he suffered running back to his own goal after attacking a corner during Arsenal's 2-1 defeat by Swansea in midweek, manager Arsene Wenger has confirmed.
The news is a bitter blow for an Arsenal side that is out of form and in danger of drifting out of the Premier League title race, and they will now have to manage without one of their performers of the season for this weekend's north London derby against Tottenham as well as the Champions League last-16 second leg against Barcelona.
Cech was given the go-ahead to run into the box for an attacking corner in the dying seconds of Wednesday's defeat, and was seen to pick up the injury as he attempted to sprint back to his own goal when Swansea countered.
To compound the misery, Wenger also confirmed that defender Laurent Koscielny has been ruled out of the short trip to White Hart Lane, but did suggest that the France international will be back in contention next week for the FA Cup fifth round replay with Hull.
"Cech is out, Koscielny is not back," Wenger said at his pre-match press conference. "Cech will be three or four weeks with a calf injury. He had a groin alert, he could not kick the ball properly because of his groin."
Wenger also revealed that Cech went into the midweek fixture with a groin complaint, but suffered a separate calf injury when sprinting back to his own goal in the dying seconds.
"Cech had a little groin problem but declared himself 100% fit," he added. "You trust the player. He is 33 years of age.
"Koscielny has a small injury and will be out for tomorrow."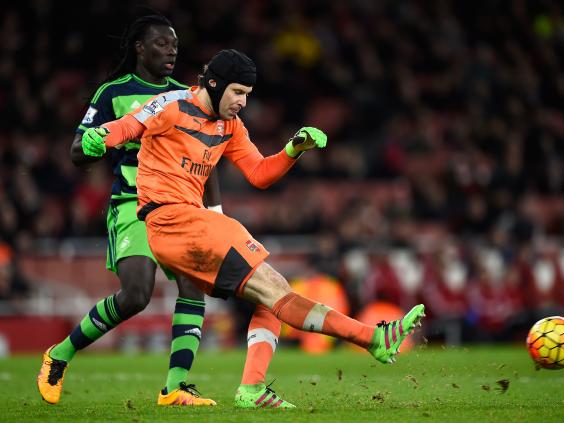 It means that Colombia goalkeeper David Ospina will be given a prolonged chance to claim back the shirt he lost to Cech when the former Chelsea favourite arrived at the Emirates at the start of the season.
"I have complete confidence in Ospina, I don't worry about that," Wenger added.
"Yes of course [it's a loss]. But then you look at the win rate of [David] Ospina and it's very good. Honestly I'm not worried at all."
Wenger also had bad news to deliver in the form of an update on Jack Wilshere's recovery from a fractured leg that he suffered in pre-season, with the England midfielder yet to play a minute of competitive football this season.
England manager Roy Hodgson hinted on Thursday that he will almost certainly take Wilshere to Euro 2016 providing he is fully fit, but Wenger revealed that the 24-year-old remains "three to four" weeks away from a return, despite the initial expectation being that he would have been fit to play this weekend.
However, Wenger claimed that Wilshere is yet to start running again despite returning to light training, and means that he will definitely miss the FA Cup replay next week as well as the Barcelona return leg, along with Premier League matches against Spurs, West Bromwich Albion and Everton.