Petr Cech continues to be linked with a move away from Stamford Bridge, with Premier League rivals Arsenal among those chasing the goalkeeper.
Whether this is simply rumour or if there is actually some truth in speculation, it's time for every Chelsea fan to question why. Allowing a goalkeeper of Cech's class to leave the club is a worthy concern alone, but to allow him to move to another Premier League team brings it to a whole new level.
Let's go back to the start of the season. Cech was on the back of sharing the top flight's Golden Glove award with Arsenal's Wojciech Szczesny after both goalkeepers claimed sixteen clean sheets each in the 2013-14 season. He was also named as the goalkeeper in the PFA's Team of the Year. At 32, Cech is in his prime and he can still offer many years at the very top.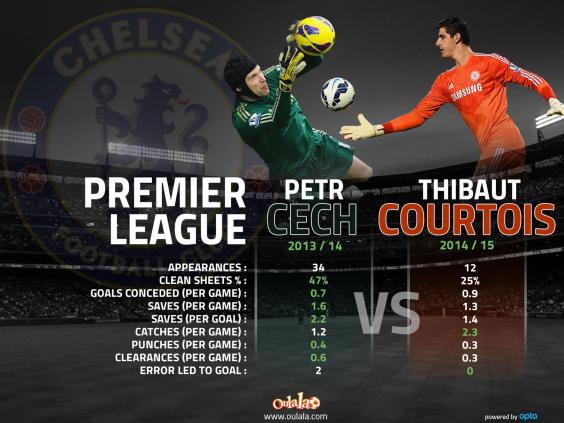 Jose Mourinho chose to recall Thibaut Courtois from his loan at Atletico Madrid. The young Belgian had been winning rave reviews for his performances in La Liga after helping Atletico to the league title, pushing aside Spanish giants Barcelona and Real Madrid in the process.
Not only in the league but also in the Champions League, Courtois was a major influence in helping Atletico reach the final; his team was just seconds away from securing the trophy before Sergio Ramos scored a late equaliser for city neighbours Real. Like Cech, Thibaut's season was also a good one, probably even better. In Courtois' return to Stamford Bridge Mourinho had a decision to make - one of two of the world's best goalkeepers would have to sit on the bench.
When he chose the 22-year-old Belgian it was clear that Mourinho had an eye on the future, a decision that, to an extent, made perfect sense. However, Cech is in his prime and arguably back to his very best.
Was Cech undroppable? Could Mourinho have allowed Courtois to stay at Atletico a further season? Would that have benefited both clubs? Is allowing Cech to leave the club and potentially move to a Premier League rival a bad move?
Opta-powered fantasy football game oulala.com have taken a firm look at the stats and have answered these questions. A focus on Cech's 2013-14 form against Courtois' first twelve Premier League games this season.
The results suggest that Mourinho has made the wrong decision in dropping Cech and allowing him to leave Stamford Bridge could be an even bigger mistake. On a per game basis, Cech leads almost every important goalkeeping statistic. His clean sheet percentage is higher and is over a larger amount of games, he has conceded fewer goals per game and has made more saves per game, as well as making more saves per goal.
The Czech stopper also has better punches and clearances stats in his favour. In fact the only two things that Courtois does lead are catches made and less errors leading to goals made; considering how many fewer games the Belgian has played, that stat isn't really worth its weight until he has completed thirty-four games.
Arsene Wenger has never experienced victory over Mourinho but if Arsenal land Petr Cech it is Wenger that will feel like he's won a trophy.
Reuse content