After coming from 1-0 to secure a draw at White Hart Lane, Arsenal face a second London derby in a week as they travel to the in-form league leaders Chelsea. José Mourinho's side have only dropped points in the Premier League against Manchester City, and have scored in every match so far, with Diego Costa hitting the ground running with eight goals since his £32m pound summer move. Chelsea were guilty of squandering a host of chances in their 1-0 midweek victory at Sporting Lisbon, but such profligacy has been rare so far in this campaign – with 19 league goals, they have scored seven more than any other side.
Arsenal are the only other Premier League team yet to suffer a league defeat.
Arsene Wenger's side were rampant against Galatasaray in midweek, when a Danny Welbeck hat-trick secured a 4-1 victory, but this cutting-edge has often eluded them this season – they have drawn four of their past five league fixtures. Matches between Arsenal and Chelsea have often been the battleground for a war of words between the two clubs' feted managers, but the fact remains: Wenger has never beaten a side managed by José Mourinho.
KICK-OFF: Sunday, 2.05pm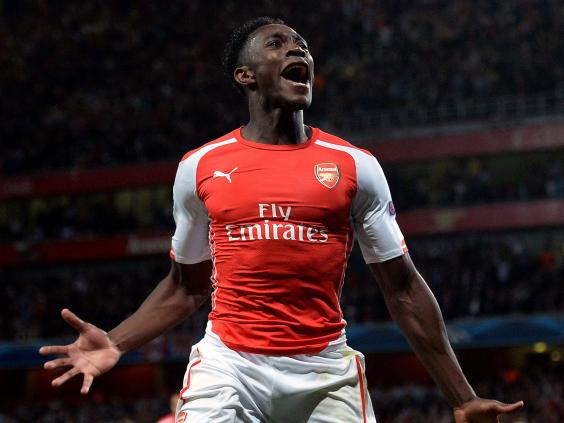 PAST THREE MEETINGS…
Chelsea 6 (Eto'o, Schurrle, Hazard, Oscar 2, Salah) Arsenal 0, Premier League, March 2014
Arsenal 0 Chelsea 0, Premier League, December 2013
Arsenal 0 Chelsea 2 (Azpilicueta, Mata), Capital One Cup, October 2013
STATS…
Diego Costa, the Premier League's top scorer, has netted eight in his first six Chelsea appearances. It took Fernando Torres 48 games to score his first eight league goals for Chelsea.
Arsenal have failed to beat Chelsea in any of their last six clashes in all competitions. Their last victory at Stamford Bridge came in October 2011, when they won 5-3 with a hat-trick from Robin van Persie.
Chelsea have had nine different league goalscorers so far this season, the most in the Premier League. Arsenal are joint second with eight.
When Mourinho has not been Chelsea manager, Arsene Wenger has enjoyed some success – Arsenal have done the league double over Chelsea in three seasons during his 18 years at the helm.
18 things Wenger has still never done at Arsenal
18 things Wenger has still never done at Arsenal
1/18 1. Won the Champions League

Closest he got was the 2006 Champions League final defeat by Barcelona.

Getty

2/18 2. Beaten Jose Mourinho

12 times Wenger has tried to beat the Special One, 12 times he has failed.

Getty Images

3/18 3. Broken the world transfer record

His record signing remains Mesut Ozil at £42.5m.

GETTY IMAGES

4/18 4. Retained the Premier League

Three times the Gunners have won the league under Wenger, three times they have been unable to retain it the following season.

GETTY IMAGES

5/18 5. Won the League Cup

Two finals, two loses. One to Chelsea, and one to Birmingham City. Who could forget that Obafemi Martins effort?

GETTY IMAGES

6/18 6. Sent a tweet

Many a fake Wenger account exists on Twitter, but not one by the main man himself. Managers that tweet are a rare breed. See Ronald Koeman.

REUTERS

7/18 7. Lost his unwavering faith in Abou Diaby

The midfielder may be almost-permanently injured, but Wenger has not given up hope. Wenger recently said he would convert him into a deeper lying midfielder.

Getty Images

8/18 8. Had the motivation to write a book

After former nemesis Sir Alex Ferguson released his tome last year, Wenger said: "I have no plans to write my own book, that might change. But I don't have that motivation at the moment."

Getty

9/18 9. Eaten a meal out with David Dein if Arsenal lose

Arsenal's former vice-chairman and friend of Wenger will book a table for the pair for after every Arsenal match. But if the Gunners lose he will not turn up for the reservation, Dein revealed.

Getty

10/18 10. Won a European competition

Following on from No 1, he has never won a European trophy with Arsenal (no, the Emirates Cup does not count). A UEFA Cup final in 2000 was lost to Galatasaray on penalties.

GETTY IMAGES

11/18 11. Revealed the culprit of Pizzagate

Arsenal's 49 match Premier League ended in pizza-throwing infamy after the 2-0 loss in October 2004. But who was threw pizza at Sir Alex. Wenger has always kept mum on the subject.

GETTY IMAGES

12/18 12. Publicly criticised his players for indiscipline

103 red cards for Gunners' players in the 18 years under Wenger. He "did not see" them, of course.

GETTY IMAGES

13/18 13. Been able to devise a gameplan to stop Drogba

15 goals in 15 matches for the Ivorian against Arsenal. Terrorising.

REBECCA NADEN/PA

14/18 14. Hired an assistant that was not a former Arsenal defender

Pat Rice and Steve Bould have been his trusted right-hand men during his spell.

GETTY IMAGES

15/18 15. Lost a Champions League play-off qualifier

Every time the Gunners have progressed when in the play-offs for Europe's elite competition, without losing a tie.

Getty Images

16/18 16. Finished below fourth

A few scares over the years, but fourth has always been secured.

GETTY IMAGES

17/18 17. Drastically changed his hairstyle

Slightly greyer now but the classic style remains. If it isn't broken why fix it?

GETTY IMAGES

18/18 18. Never lost an FA Cup third-round tie

The domestic competition has always started victoriously.

GETTY IMAGES
ODDS…
Chelsea to win: 1.65
Arsenal to win: 5.5
Draw: 3.8
TV: Live on Sky Sports 1 at 2.05pm, highlights on BBC1 at 10.30pm.
Reuse content