Chelsea's victory encapsulated their season
West Brom are a disciplined, well-organised team, and they have beaten Arsenal and Leicester this season, as well as taking points from Manchester United and Tottenham Hotspur. They also clung on for a point at White Hart Lane last season in a draw that effectively ended Tottenham's title charge, meaning they have previous on occasions such as these.
They delivered a characteristically tough, gritty performance against Chelsea in this fixture – but still, Chelsea got the job done. This result sums up their season. Whereas Spurs endured a miserable October and while the likes of Liverpool, Manchester City, Manchester United and Arsenal have all proved woefully inconsistent, Chelsea have kept winning.
After that chastising early defeat to Arsenal – which necessitated Antonio Conte's highly successful switch to a 3-4-2-1 formation – Chelsea have been imperious, without a single occasion on which they have dropped points in two consecutive matches. They fully deserve the 2016/17 title. 
City's youthful trio offer bright future 
There's no doubting where the future of Manchester City lies. Gabriel Jesus, Leroy Sane and Raheem Sterling were firing on all cylinders today as they set about terrorising the patchwork Leicester defence. With their pace, quick feet and intelligence on the ball, the City trio ran dominated against their opposite numbers for large swathes of the match.
Sane was particularly impressive down the left-flank, repeatedly beating Danny Simpson to take the ball to the Leicester byline before firing in ball after all ball. Jesus, too, continues to look the real deal. He dispatched his penalty with an air of maturity and confidence that belies his 20 years of age. With these three leading the City frontline, the future looks bright for Guardiola and his men.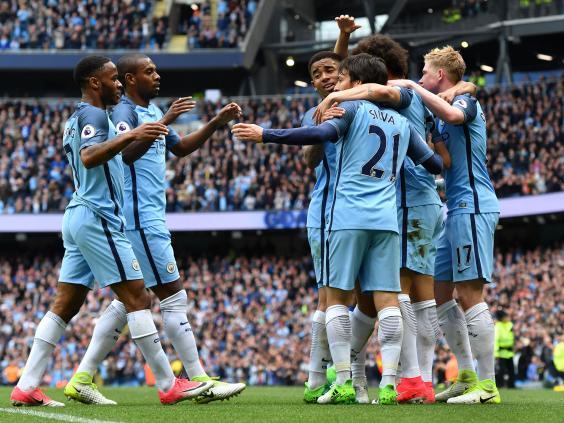 Giroud is actually important for Arsenal
Yes, he has been branded nothing more than a target man but with 14 Premier League goals this season now – and important ones at that – Olivier Giroud has shown that he deserves to stay at the Emirates for another season. He has had a more reduced role this season with the bench being more of a home to him that the starting line-up, but his impact is, if anything, greater from there. He offers Arsenal another option and against the muscle of defences like Stoke's the Frenchman is well at home. He is rash at times and is not the most clinical of finishers, but even in a game where he was pretty much non-existent, he has managed to have a big say in the result.
Hull down but Silva won't be out
Hull are gone and for many they will be forgotten. The Tigers haven't pulled up many trees this season and are now set for another year in the second tier after just one away from it. The writing was on the wall for some time in truth and barring Marco Silva's heroics they would have gone long ago. The Portuguese has done a stunning job at the KC and while his team will be in the Championship next term he surely will not. Southampton and Watford are monitoring him while his efforts will no doubt have caught the eye further afield too. But all is not lost for the team he will all but certainly leave behind. If they can regroup, buy and sell well and learn from what Silva has taught them over the last few months then promotion straight back shouldn't be out of the question.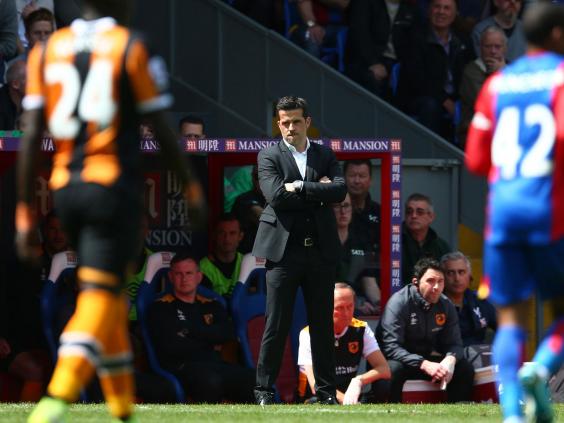 Coutinho revelling in new role at Liverpool
Philippe Coutinho is one of the Premier League's best, let alone Liverpool's, yet here, deployed in different role, it appears he may be about to get even better. The Brazilian, used further from goal at the London Stadium – less a 10 than an 8 – excelled. Two goals and an assist really do only tell half the story. He was Liverpool's metronome, their tone and tempo setter all afternoon long. At his best few can touch him. West Ham certainly couldn't.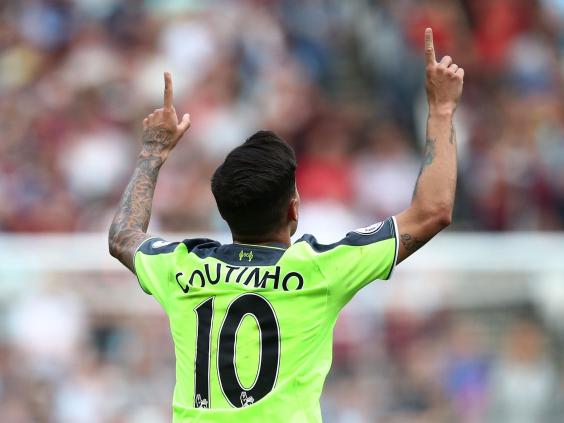 Lads, it's United
Roy Keane tells a famous story in one of his books regarding Sir Alex Ferguson. Manchester United were on a poor run of form, Spurs were heading to Old Trafford, and Keane feared a long team talk from Sir Alex. The Scot walked in, simply said: "Lads, it's Tottenham" and walked out. United went on to win 4-0 and that was that.
How times have since changed. In light of the visitors' form this season, and the result here at White Hart Lane, it's not hard to imagine Mauricio Pochettino delivering his own version of the famous Ferguson team-talk before today's match. As was the case with United at home during their days under the Scot, Tottenham have been formidable at White Hart Lane this season. From the off they played with a swagger and confidence that suggested they knew they were going to win. After today's win there's no doubting that these two sides have swapped roles – for now, at least.
Tottenham vs Manchester United player ratings
Tottenham vs Manchester United player ratings
1/22 Hugo Lloris – 6 out of 10

The keeper made a handful of crucial saves today to keep his side in the lead. He commanded his box well and was quick off the line.

2/22 Kieran Trippier – 4 out of 10

The defender struggled to keep up with the pace and ability of Martial. Was on the backfoot for much of the game.

3/22 Toby Alderweireld – 6 out of 10

He held the line well at the back and made a number of crucial interceptions and blocks.

4/22 Jan Vertonghen – 6 out of 10

It was a disciplined display at the back, but at times he was dragged out of position in the hunt for possession.

5/22 Ben Davies – 7 out of 10

Davies assisted Wanyama's goal in sublime style and his deliveries into the area throughout were problematic for United.

6/22 Eric Dier – 6 out of 10

Dier used possession well and continued to provide service for the forwards throughout.

7/22 Victor Wanyama – 7 out of 10

He scored the opener, worked relentlessly and his passing was faultless.

8/22 Christian Eriksen – 8 out of 10

As always with Eriksen, his deliveries were remarkable. His ability to pick a player out within a group is simply sublime.

9/22 Dele Alli – 8 out of 10

His movement off the ball upset United and caused chaos within their defence. He tested De Gea on several occasions – top display.

10/22 Son Heung-min – 6 out of 10

An energetic display, but it would have been encouraging to see him shoot more.

11/22 Harry Kane – 7 out of 10

He scored Tottenham's second which capped off a terrific display from Spurs' main man.

12/22 David De Gea – 7 out of 10

De Gea made several saves to prevent Tottenham extending their lead. Very dominant goalkeeping from the 26-year-old.

13/22 Eric Bailly – 7 out of 10

Held his position well at the back and was excellent in the air. A disciplined display from the 23-year-old.

14/22 Chris Smalling – 5 out of 10

He struggled to keep up with the movement of the Spurs forwards and, as a result, he was repeatedly dragged out of position.

15/22 Phil Jones – 6 out of 10

Jones held the line at the back reasonably well and controlled the United defence. A textbook display.

16/22 Daley Blind – 5 out of 10

Blind lunged into challenges, which left the United defence vulnerable at times.

17/22 Michael Carrick – 6 out of 10

As always, his vision when in possession was impressive. He was pumping balls up to the forwards relentlessly.

18/22 Axel Tuanzebe – 7 out of 10

The youngster held his own out there against a quality strike force. Made a number of vital tackles and interceptions.

19/22 Jesse Lingard – 5 out of 10

Lingard looked lost at times and was drifting into the background of the game. Needs to do more when he is in possession.

20/22 Juan Mata – 6 out of 10

He was impressive in possession, but it would have been encouraging to see him with more of the ball.

21/22 Wayne Rooney – 5 out of 10

He scored United's only goal, which went some way to redeeming his poor defensive play.

22/22 Anthony Martial – 7 out of 10

His energy and pace provided a positive prospect for United. He troubled the Spurs defence with his trickery and footwork.
Tottenham bow out in perfect fashion
As Mauricio Pochettino walked off the old White Hart Lane pitch and into the stadium's tunnel for the final time, he stopped to playfully pat the faces of the Tottenham Hotspur children who were acting as a guard of honour, before agreeing to shake a supporter's 1960s rattle as Ricky Villa and other legends walked by chatting with some of the current squad. It was just another fitting reflection of a day that was about the past and the future, and rich in so much colour and emotion.
"I think it was perfect," Pochettino said of that day, one that brought the last ever game at the old White Hart Lane. His word was pretty much the only way to describe how they bid farewell to the Lane, how they beat Manchester United 2-1, how Harry Kane scored Spurs' last goal there, how they ended their last season there unbeaten at the stadium, how the old mixed with the new and the young. 
It was all so elegantly done, all so appropriate, but it was still fittingly the sounds from the stands that stood out. That, after all, is what makes stadiums like this really come alive; what really remains in the memory - not just the goals and the great games, but the atmosphere that accompanies them.
Reuse content