After dress-down Friday there was climbdown Wednesday. The warning from the chief executive Ian Ayre, wearing a casual, dark V-neck jumper and white T-shirt and flanked by a rather more serious-looking communications team, was delivered like a threat. He told Liverpool supporters they "should be careful what they wish for".
And yet, by rising from their seats and shuffling through Anfield's exit gates while a game was still being played the following day, more than 10,000 people were left unshaken. Their conviction was soon vindicated because Liverpool's owners, Fenway Sports Group, retreated so quickly over plans to drive ticket prices into a new stratosphere. 
"Study the facts," recommended Ayre, who had been dispatched by Fenway in the first place to try to explain the benefits of the new cost structure because the message had gone missing – tangled somewhere, perhaps, in the layers of middle management that exist at Liverpool, which means there is always someone else to blame lower down when blunders happen. 
Ayre had not taken a direct role in discussions with supporter groups in the previous 13 months, and that responsibility fell to Phil Dutton, who has fronted Liverpool's ticketing and hospitality department since September 2010, just before FSG moved in to replace Tom Hicks and George Gillett as owners.
Ayre worked under the previous regime as a commercial director and was closer to Hicks than Gillett as their relationship deteriorated, with Hicks throwing his weight about with more conviction than Gillett. Yet as the club corkscrewed towards financial meltdown, Ayre's focus – together with Christian Purslow and Martin Broughton – shifted towards finding a new buyer.
Purslow and Broughton departed swiftly but Ayre remained and FSG was impressed with his eye for a deal and confident manner around other businessmen. The summer before, Standard Chartered became Liverpool's new sponsor thanks to Ayre and financially the agreement eclipsed the previous one with Carlsberg, marking it as the most lucrative in the club's history.
Ayre spent three years running Huddersfield Town in the late 1990s and FSG figured that it would be a good idea to keep a native on board, appreciating that the group would not be present most of the time. Ayre had emerged from Litherland High School on Merseyside, an institution surrounded by council estates and modest shopping parades. 
It was significant that high up in its statement of apology over the £77 tickets at Anfield, FSG admitted its "trouble" with the idea that supporters perceived them as "greedy" following what the owners described as a "tumultuous week". It might be significant too that the letter was signed by senior FSG figures John W Henry, Tom Werner and Mike Gordon, while Ayre's name was nowhere to be seen.
The owners stressed that they have not taken a single penny out of Liverpool, that they have invested £120m on a new main stand and that they have injected considerable sums of money to try to improve the playing squad.
Should they begin to question whether this all equates to the necessary care and attention Liverpool really need, then perhaps they will begin to look at the role of Ayre, the person who runs the club in their absence.
It is known too, that day to day, week to week, month to month, Ayre is the person in charge, and that there is a direct line of communication between him, from the club's city centre Chapel Street offices, and Gordon, who lives five time zones away in the Harvard area of Boston. 
Although the Spirit of Shankly supporters' group confirmed it would ask Liverpool for a clear breakdown of the revised ticketing structure to try to establish which spectators would be better and worse off, FSG has recovered some goodwill among supporters for the time being by withdrawing from the original plan. Yet because FSG is not seen very often, Ayre speaks for the group and, in the minds of many, he has come to represent what it supposedly stands for.
During the PR faux pas that was the Being Liverpool documentary in 2012, Ayre revealed himself as a keen motorcyclist and camera crews filmed him breezing beside the Liver Buildings as the sun sank into the Irish Sea in the distance. In a later episode, new signing Joe Allen was shown choosing his squad number and in the middle of this laboured decision, a rogue voice from off screen shouted "Sixty-nine!" That rogue voice shouting out sexual innuendo was Ayre's.
Since then, supporters have been able to analyse a number of photographs in order to form an impression of the person administering Liverpool. There was the one of Ayre with Brendan Rodgers in the Garlands nightclub. There was another of Robbie Fowler hoisting him above his shoulders in a hotel room during the pre-season tour to Asia and Australia in 2013, around the time Luis Suarez was fishing for a move to Arsenal. 
Two others have appeared on the internet more recently, the first before Liverpool's defeat at Newcastle in December when Ayre was found standing next to Gaz, one of the cast members from Geordie Shore; the second was revealed this week, although taken in November when Liverpool played Rubin Kazan in Russia. It includes Ayre, along with Andrew Parkinson, Liverpool's head of operations, together with two bikini-clad barmaids in a bar called Twin Peaks.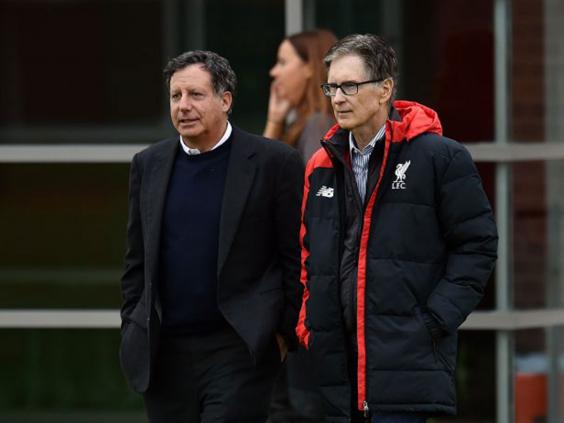 Liverpool is not a city that takes kindly to braggers or big-heads, certainly not among those in a position of responsibility. It is also a place where supporters demand more of their own and treat them with greater doubt, especially when they first show up on the radar during the reign of owners like Hicks and Gillett but somehow find a way not only to survive but thrive under a different command, which is now into its fifth year.
It remains unclear what FSG will do next because clearly the owners have been wounded by the bad publicity and will surely want to ensure it does not happen again. Since becoming active in English football, the regular constructive criticism towards them has followed the same argument: that their intentions have been genuine but, ultimately, faith has been placed with the wrong people to get it right. 
Some good may have been taken from their new ticketing scheme but it was lost in delivery when someone at Liverpool went spinning into full PR mode on the press release, accentuating the positives without explaining at all what might be perceived as negatives.
Ayre's attempt to reach out to the common man then failed spectacularly. In the fullness of time, maybe his declaration will prove to be an epitaph. Maybe the responsibility will be someone else's.
Who's who: Anfield cast list
John W Henry The American billionaire is the principal owner of Liverpool and co-founder of Fenway Sports Group, which bought the club for £300m in 2010.
Tom Werner American businessman is chairman of Liverpool, taking over from Martin Broughton in 2010 after purchasing club with fellow FSG founder Henry.
Ian Ayre Joined in 2007, having previously been Huddersfield chief executive. Was promoted from commercial director to CEO in 2011. His links with Asia helped secure a £30m shirt sponsorship deal with Standard Chartered Bank.
Mike Gordon FSG president and on the Liverpool board. Along with Ayre is responsible for the day-to-day running of the club.
Reuse content