Manchester United have agreed a loan move for Radamel Falcao from Monaco.

But the Colombian striker, rated as one of the world's best, has not made a Champions League appearance since 2010 with Porto.
With United effectively renting the player for a year at a cost of £9m, Falcao has now cost his last three clubs a combined £96million, but has failed to make his mark in Europe's top competition.
His last appearance was a 5-0 hammering at the Emirates Stadium on 9 March 2010 - Sol Campbell made his last appearance in the competition in the same match.
Falcao scored four goals in 10 matches in the Champions League that season but has not appeared in the competition since in a season at Porto, two at Atletico Madrid and one at Monaco.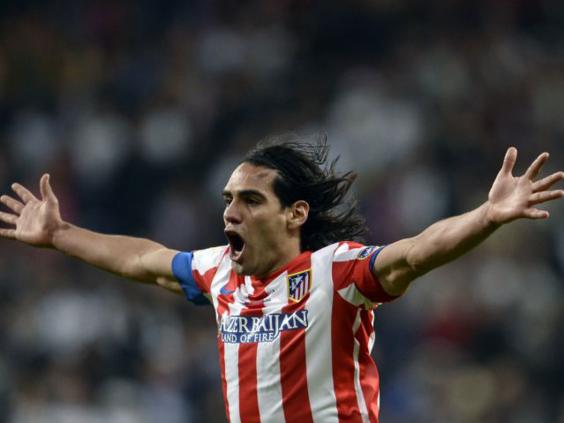 His move to Manchester United will now make it five years since Falcao was last spotted.
Porto finished 3rd in 2009-10 qualifying for the Europa League. In 2010-11 Falcao did prove he had become one of the best in Europe, scoring 39 goals in all competitions as Porto, under Andre Villas Boas, went unbeaten and won the Europa League.
Video: The latest transfer news
Falcao set a record that season for the most goals in the competition, finding the net 17 times in his 14 matches.
His performances prompted Atletico Madrid to spend around £52m to bring him to the Vicente Calderon. Falcao was again out of the Champions League but this time fired Atletico to Europa League glory, hitting 12 goals, and 36 in all competitions.
However Atletico only finished 5th, leaving Falcao out of the Champions League again.
In 2012-13, the 28-year-old was just as lethal scoring more than 30 goals (34) for a fourth straight year with Diego Simeone's men winning the Copa Del Rey. Ateltico also finished 3rd, earning them a Champions League berth, but Falcao moved to Monaco at the end of the season.
The small Ligue 1 club were not in the Champions League either and Falcao suffered an injury-hit season, scoring 11 goals in just 19 appearances in all competitions.
His move to Manchester United, subject to a medical, will leave Falcao again searching for Europe's top competition after David Moyes' disastrous reign left the club out of contention.
Reuse content