Liverpool manager Brendan Rodgers has explained why he allowed England forward  Raheem Sterling to take a mid-season holiday in Jamaica.
Sterling missed last week's FA Cup victory at AFC Wimbledon and was photographed on a Jamaican beach on the eve of Saturday's 1-0 win at Sunderland.
"After the World Cup I felt he needed a break, but we had the Champions League and a lot of games," said Rodgers. "We had a plan that this was going to be the best time. The FA Cup and Sunderland were the two games I picked for him not to be involved in."
Rodgers felt the decision was justified by a victory in which Steven Gerrard and goalscorer Lazar Markovic were outstanding.
Sterling, 20, played 38 times for Liverpool last season and has already been involved in 28 games in the current campaign. He played in all three of England's matches at the World Cup in Brazil.
Sunderland 0 Liverpool 1 player ratings
Sunderland 0 Liverpool 1 player ratings
1/24 Costel Pantilimon - 6/10

Made a series of fine reaction saves as Liverpool peppered his area and could do little about Liverpool's first-half goal.

2/24 Santiago Vergini - 4

Needlessly gave away a free kick in a dangerous location on the half hour, lacked discipline and gave the ball away.

3/24 Wes Brown - 4

Struggled to deal with the pace of Liverpool's runners getting in behind him; the referee should have given a penalty for his challenge on Markovic.

4/24 John O'Shea - 6

Dominant tackle on 24 minutes and looked a more authoritative presence than his colleague.

5/24 Patrick van Aanholt - 6

Could have done with more support from Johnson as he was overrun by Markovic, he did look more promising going forward.

6/24 Liam Bridcutt - 5

A solid enough presence in front of the defence but should have known better than to bring down Can on the right flank, earning him a red card.

7/24 Emmanuel Giaccherini - 5

A non-entity going forward who provided next to no support in defence, he did too little to ever worry Sakho.

8/24 Sebastian Larsson - 5

Tough in the tackle but his usually excellent set-piece delivery was lacking and in open play he sent the ball back to his defence too often.

9/24 Jordi Gomez - 5

Hustled off the ball too easily, he failed to keep possession or move the ball out wide. A disappointing performance from the man tasked with being his side's creative fulcrum.

10/24 Adam Johnson - 6

After a quiet first half came into the game after the red card, taking on defenders and nearly scoring with a swerving 25-yarder.

11/24 Connor Wickham - 5

Skilful on the ball but offered so little movement off it that Liverpool's defence had few problems from him.

12/24 Simon Mignolet - 5

Exceptionally lucky not to have been humiliated when he completely misread a Johnson shot in what was otherwise a quiet game.

13/24 Emre Can - 7

A brilliant pass set Borini through on goal, looked confident both in defence and midfield.

14/24 Mamadou Sakho - 6

Never looks entirely sure of himself and was prone to the odd careless moment, but moved the ball well.

15/24 Martin Skrtel - 6

He could have dealt with Wickham on his own without the need for another two centre-backs, a comfortable game.

16/24 Lazar Markovic - 8

He was at the heart of everything good about Liverpool, an energetic presence on the right flank, pressing high up the pitch and getting in goal-scoring positions.

17/24 Jordan Henderson - 6

His late runs into dangerous areas made him a constant threat to Sunderland but he might have done better in front of goal.

18/24 Lucas Leiva - 6

The midfield anchorman seemed unnecessary when Sunderland showed so little ambition, he kept the ball well.

Getty Images

19/24 Steven Gerrard - 5

A strange performance by the captain. He got himself in the right positions but always seemed to scuff the ball or make the wrong decision.

20/24 Alberto Moreno - 6

A solid performance shuttling up and down the left flank, though most of Liverpool's success came on the other flank.

21/24 Philippe Coutinho - 7

A superb lofted through ball to Henderson that could have led to a goal was one of many in another good creative performance.

Getty Images

22/24 Fabio Borini - 5

Missing an open goal after an excellent run took him past the keeper perfectly summarises a performance, and Liverpool career, that never really got going.

23/24 Dejan Lovren - 6

Could not have asked for a more comfortable return to the Liverpool side, Sunderland offered little to threaten the Croat.

24/24 Mario Balotelli - 5

The Italian striker may find that first Premier League goal easier to find if he stops forcing it, he was always looking to score when his colleagues were better placed.
Rodgers added: "We have put so much on him since he has come into the team as a 17-year-old. He has not had a break and has progressed through to being a full international player.
"It is like anyone going for a holiday: you get one day off and you think it's great. Footballers are no different. It is a great life, a wonderful job, but it is mental fitness to help him improve, as well as physical. I think it will give him that freshness that he needs. He will be back on Monday."
Rodgers risked criticism if Liverpool had lost either fixture. That they did not meant he warmed to the theme.
"We will probably still be talking about a winter break in 100 years' time," he said. "Adam Lallana is another one who has suffered. Will there ever be a break in British football? It would absolutely do every player a benefit."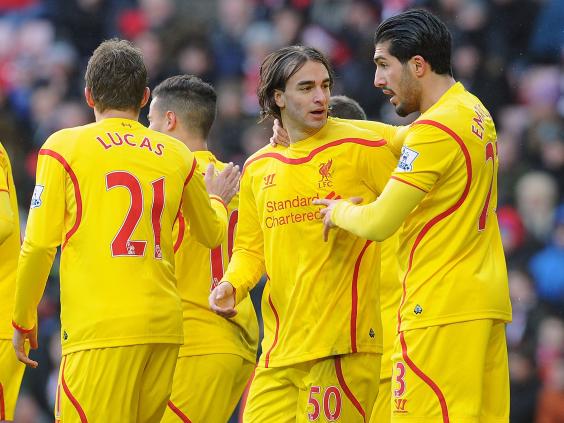 Liverpool might have sent more of their players on holiday at half-time at the Stadium of Light, it was that easy. Gus Poyet was asked afterwards why his Sunderland, who have won once at home in 11 Premier League games this season, do not put more pressure on the opposition, as previous Sunderland sides have done.
"That was the characteristics of one Sunderland, [the one with] Kevin Phillips and [Niall] Quinn," he replied. "The rest of the teams of Sunderland did not have any characteristics. They were rubbish. I am trying something, but we are miles away to a point that it worries me. We have to be realistic. Sunderland have been in the top 10 once in the last 15 years. You cannot go backwards."
Reuse content