Brendan Rodgers has urged Liverpool fans not to turn on Raheem Sterling in the last game of the season at Stoke City on Sunday after a turbulent week at the club regarding the player's future.
The Liverpool manager repeated his pledge Sterling would not be sold, after a meeting with the player and his agent, Aidy Ward, was cancelled on Friday in light of comments the latter made to the London Evening Standard. Rodgers said he expected Sterling "to see that two years through [on his existing contract] and continue to behave as immaculately as he has done".
However, it is expected that the clubs with an interest in Sterling will explore further the possibility of signing him after the end of the season. Manchester United have already made one speculative inquiry about the player and there is interest from Manchester City, Chelsea, Arsenal and a range of European clubs.
Who could Liverpool sign to replace Raheem Sterling?
Who could Liverpool sign to replace Raheem Sterling?
1/7 Felipe Anderson

The Lazio midfielder has enjoyed his breakthrough season in Italy this year, but that has alerted a number of clubs across Europe including Liverpool. The 22-year-old Brazilian is contracted to the Serie A club until 2020 and will therefore cost a significant amount if he were to move this summer, but it's believed he has the potential to become one of the most dangerous attacking midfielders in the world if he continues his steep development curve.

Getty Images

2/7 Theo Walcott

Arsenal's pace merchant is finding it hard to break back into the first team after recovering from the ruptured cruciate ligament that sidelined him for over a year. With doubts over his fitness, his suitability to the current Arsenal side and whether he's a better option compared to his team-mates, rumours have linked him with a dramatic Arsenal exit. Liverpool would be one of the teams in for the England winger, who can also play in attack, and given that his speed can terrify any defence he would be a suitable option to replace Sterling.

GETTY IMAGES

3/7 Marco Reus

Any move for Reus appears to be hinged on firing Brendan Rodgers and hiring Jürgen Klopp, and given the noises coming out of Anfield, it's unlikely to happen this summer. But if another transfer window goes belly-up, don't be surprised to see Klopp at the club soon after with Reus in tow. The Germany international is a wonderfully gifted player who combines pace and skill to dazzle defences. He has struggled with a persistent ankle injury in recent months, but he would add a proven quality to the Liverpool ranks.

Getty Images

4/7 Divock Origi

Rodgers already knows one signing he will see arrive at Anfield in the summer as Belgium striker Divock Origi will complete the permanent move he agreed last year, having spent the season on loan with Lille. Rodgers could look to revert to the tactics he deployed last season when he had Luis Suarez to pair up with Daniel Sturridge, and although Origi is nowhere near the level Suarez was at present, the Northern Irishman will hope he has unearthed a gem when he arrives in the Premier League.

GETTY IMAGES

5/7 Alexandre Lacazette

The French forward is being courted by the likes of Manchester City and Chelsea, but Liverpool could look to show a sign of intent by launching a bid for him before their rivals. Lacazette is equally adept at playing as a striker or out wide, and it would depend on how Rodgers would choose to deploy him to where he would feature. The France international has helped Lyon secure second in Ligue 1 and will finish the season as top goalscorers barring any heroics from Andre-Pierre Gignac, who trails by six goals.

Getty Images

6/7 Jeremy Menez

Menez's brother and agent has fuelled talk of a move away from AC Milan by admitting he is likely to leave this summer, and even addressed rumours of a move to Liverpool as well as Monaco. However, at this point in time they are just rumours, and despite being able to play out wide he is more suited to an attacking role through the middle.

Getty Images

7/7 Ezequiel Lavezzi

The Argentine has fallen off the radar in recent months, but his future at Paris Saint-Germain remains far from certain and a move to the Premier League has always appeared on the cards. At home out wide on the wing, Lavezzi can also do a job up front, and would bring a physicality to the attack that is currently missing in Sterling, Philippe Coutinho and Jordan Ibe.

GETTY IMAGES
In the meantime, Rodgers urged the club's supporters to remember what Sterling has done for the club over the last two years and try to separate his contributions on the pitch from his current contract wrangles. Rodgers said: "My message to the supporters would be, look, this is a young boy who in my time as manager has given the football club everything.
"He was thrust into the team at 17 years of age. He was given that opportunity and he grabbed that opportunity. In the following period he has been exceptional for me. Of course, he has had dips in form and performances but only because his standards are so high. He's a young man who has obviously passed on his career to other people and, unfortunately, whether people perceive it as right or wrong, he is being led by the representative.
"The young boy I see on a daily basis and who I work with is still the same boy who wants to learn, and I think the supporters will just continue to show what they always do, which is wonderful support for every player in the Liverpool shirt. It is hard and it has been a difficult season for the supporters this season, we all appreciate that, but give us that great support for the last game against Stoke and let's see if we can finish the season on a high. We will then go away, reflect on the whole season and will come back strong next year."
Rodgers said that Sterling was still under consideration to be selected for Sunday's last game of the season at the Britannia Stadium. "I think with Raheem, his character is unquestioned. He is a really strong boy mentally but he's also a human being as well and a very young one at that. There's no doubt these type of things can affect players but what I know of Raheem is that he's a strong boy who is continuing to work hard. It hasn't affected him in training but I will always gauge that up until the very last minute."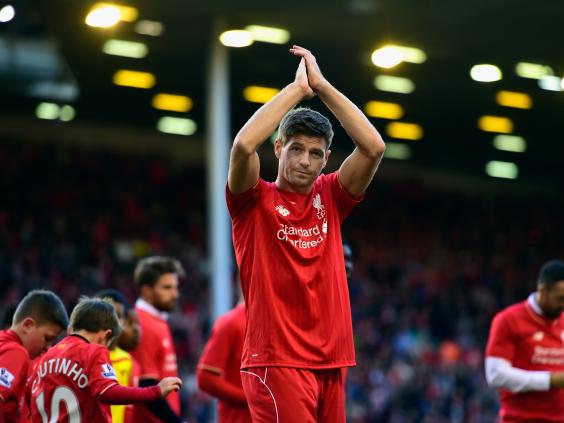 Rodgers said that he had the support of John W Henry, the club's American owner and his Fenway Sports Group. He added that it was not just Liverpool who had come under pressure to sell their best players in the past. Sunday's game will be the 710th and last for Steven Gerrard before he joins the Los Angeles Galaxy.
"I think the way the market is now, it doesn't matter whether it's Liverpool or at other clubs, people will want to move on. You can be one of the biggest clubs in the world but that doesn't stop people wanting to look elsewhere, if that is the case. You don't just see it at Liverpool, you see it at a number of the top clubs.
"It's just the way of the world now. That's why Stevie and guys like that are held in such esteem because it is very rare now to have that loyalty to a club. The game is different now and you have to manage that as best as you possibly can. You have to do everything you can, whether financially or having a plan going forward, and if the player still wants to leave then you have to deal with that as best you can and keep the club going forward."
Reuse content