Labour leadership candidate Yvette Cooper and MP Chris Bryant are writing to every Premier League club to urge them to allow supporters to unfurl #refugeeswelcome banners in a show of solidarity with those seeking help in Britain.
Only one Premier League club's supporters' group – Aston Villa – have so far backed the #refugeeswelcomeEFL support group who are campaigning for banners to mark an "English Football League Day of Solidarity" a week on Saturday. Supporters have been previously prevented from flying flags which are perceived to be of a political nature and Bryant, who is supporting Cooper's bid to become Labour leader, told clubs to allow fans the right of expression.
"It would be a real shame if the football clubs either prevented fans from expressing their views and holding up banners, or players from taking part in that show of support," Bryant told The Independent.
As opposition grew to Prime Minister David Cameron's reluctance to grant a safe haven to a substantial number of the tens of thousands fleeing violence in Syria, Afghanistan and beyond, fans of Charlton Athletic and Swindon Town pledged support for the banner campaign, with Villa's supporters preparing a show of support for refugees during their next game, away at Leicester. But three clubs is a meagre expression of solidarity compared with the compassion fans in Germany, Sweden and Spain have demonstrated for those fleeing war and conflict.
There has been markedly less evidence of British clubs' supporters acting as a force for good in the war on xenophobia and suspicion of those seeking shelter. Banners demonstrating a welcome for refugees have been seen at FC United of Manchester, the fan-run club established by Manchester United supporters in protest at the corporatisation of their club. The equally enlightened Dulwich Hamlets and Clapton FC have also lead the way. But Germany has a far more extended network of clubs using the power of their profile to encourage an understanding of those forced to flee their homelands.
With the international break giving clubs and supporters an opportunity to plan a show of support, the Premier League is understandably encouraging clubs to establish strong lines of communication with fans, ensuring that there are no conflicts over banners not complying with safety regulations.
Celtic have said they will donate their share of the proceeds from a weekend of charity events in Dunfermline to assist people affected by the refugee crisis. But British football's contribution pales by comparison with Germany – where Bayern Munich's pledged to donate €1m (£730,000m) to help refugees and set up a training camp for those arriving in Munich.
"FC Bayern see it as its social responsibility to help those fleeing and suffering children, women and men, to support them and accompany them in Germany," the Bayern chief executive, Karl-Heinz Rummenigge, said.
This newspaper has started a campaign for the UK to welcome a fair share of refugees.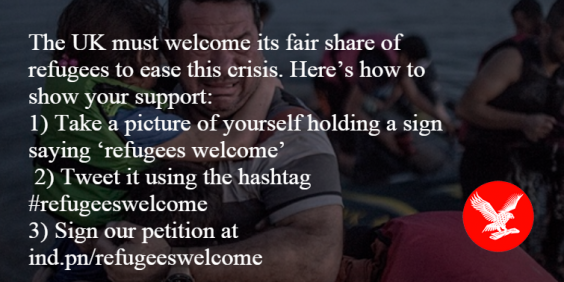 Click here to sign The Independent's petition
Reuse content