Everton striker Romelu Lukaku has revealed that he will try and sell an apartment he owns in the Molenbeek neighbourhood of Brussels "as soon as possible".
Lukaku, who scored his ninth Premier League goal of the season in the 4-0 win against Aston Villa on Saturday, has owned a property there for six years, but Molenbeek has become notorious in recent years as a breeding ground for terrorism, according to some newspaper reports.
At least one of the eight reponsible for the Paris attacks, Salah Abdeslam, was hiding in the area and had his house raided by armed police, while Abdelhamid Abaaoud, who lived in Molenbeek, led the planning of the attacks that left 130 dead.
The Belgian government has revealed that a major terrorist attack is being planned and could be imminent. Armed troops are currently patrolling the streets of Brussels with the terror alert raised to the highest rating.
Lukaku now wants to sell his apartment as quickly as he can.
"I live in Brussels and I live where the police are doing a lot of things," said the 22-year-old. "I live in Molenbeek. I have had an apartment there for six years now and it is a nice neighbourhood.
"It is calm. But with the things happening there now it is a bit difficult. I never saw any trouble. But now we are going to move as soon as possible.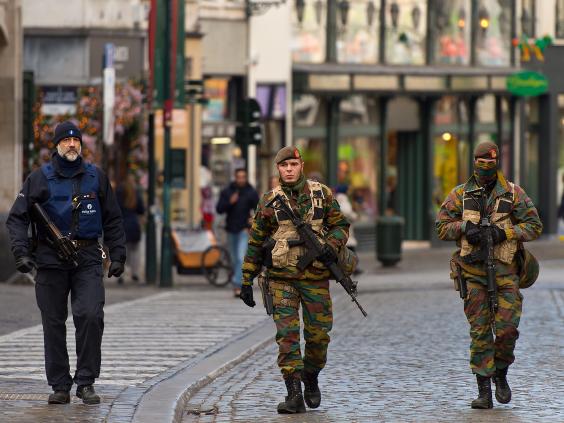 "From the national team 30-40 players come from Brussels and a few others from Molenbeek. It has been a shock because at the moment the safety is the highest level of security.
"All of my family are over here. My brother doesn't live in Brussels any more. Obviously we will try to move as soon as possible.
Victims of the Paris attacks
Victims of the Paris attacks
1/33 Nick Alexander

2/33 Mathias Dymarski and Maria Lausch

3/33 Anne Cornet Guyomard and Pierre Yves Guyomard

4/33 Guillaume Decherf

5/33 Ciprian Calciu

6/33 Nohemi Gonzalez

7/33 Elodie Breuil

8/33 Asta Diakite

9/33 Romain Didier

10/33

11/33

12/33 Halima Saadi

13/33 Ludovic Boumbas

14/33 Thomas Duperron

15/33 Germain Ferey

16/33 Marie Mosser

17/33 Fabrice Dubois

18/33 Thomas Ayad

19/33

20/33 Djamila-Houd

21/33 Mathieu Hoche

22/33 Justine Moulin

23/33 Anne Guyomard

24/33 Anna Lieffrig-Petard

25/33

26/33 Lacramioara Pop

27/33 Alberto Gonzalez Garrido

28/33 Mohamed Amine Ibnolmobarak

29/33 Cédric Mauduit

30/33 Matthieu Giroud

31/33 Michelli Gil Jaimez

32/33 Pierro Innocenti and Stephane Albertini

33/33 Nicolas Classeau
"You just want your family to be safe."
Reuse content