Ronald Koeman has never met Graham Taylor, and he is not familiar with that famous Brian Moore commentary: "He's going to flip one now! He's going to flip one! He's going to flip one – and it's in!" But he is aware that he occupies a special place in the history of English football.
Koeman played a key role in the 1993 World Cup qualifier that meant the Netherlands, and not England, qualified for the World Cup finals the following year. He scored the first goal in his team's 2-0 win in Rotterdam, the famous free-kick "flipped" into the top corner past David Seaman. Just minutes earlier Koeman should have been sent off for a foul on David Platt.
He knows of the Do I Not Like That  documentary, though he has not yet seen it. He did, a few years after the game, play a very funny role in a Fantasy Football "Phoenix from the Flames" in which he recreated his foul with David Baddiel as Platt and Frank Skinner as the lenient German referee.
"I can believe that it was a difficult moment for England because they did not get to the World Cup," Koeman says. "When I played in my last two seasons for Feyenoord, we played away at Everton. Every time I had the ball, there was whistling!"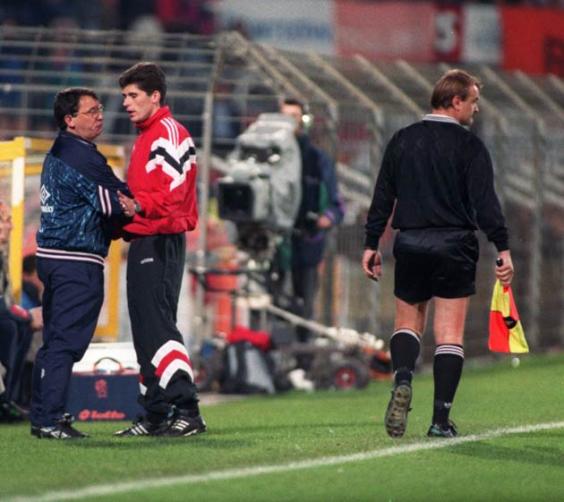 Not everyone was upset about it. "Still Irish and Scottish people come up to me [he mimes applause] and they say 'fantastic' and English people still hate me for that! But I say it was the referee, he took the bad decision. It was not a red card [when it should have been] and he repeated the free-kick [after the referee decided Paul Ince had encroached]."
Koeman never played in England although he was once close to signing for Everton. "When I was young I was a fan of Tottenham and Glenn Hoddle because he wasn't the typical English footballer and that was nice to see. He was technically strong and an unbelievably good player.
"I was always watching English football, Match of the Day, that kind of programme. There was more competition, it was at a higher tempo. The referees are not whistling for stupid things, they let the play go on. The Dutch, we like English football."
Reuse content