Steven Gerrard will announce tomorrow that he will leave Liverpool for a new team at the end of the season, bringing to an end a 25-year association with the Merseyside club and most likely preface a move to the MLS in America.
The Liverpool captain will be 35 in May and is at the end of his current contract with the club, and the move today is an attempt to clarify his future and end the growing speculation of a rift with Brendan Rodgers. The situation over Gerrard's future has become awkward and both parties hope this will enable the club to approach the end of the season without it hanging over them.
Gerrard is thought to be mulling over a number of offers, including one from the Los Angeles Galaxy in the MLS. He has intimated that any move will be decided on what is best for his family and that he will not be playing any longer in the Premier League because he has no desire to face Liverpool as an opposing player.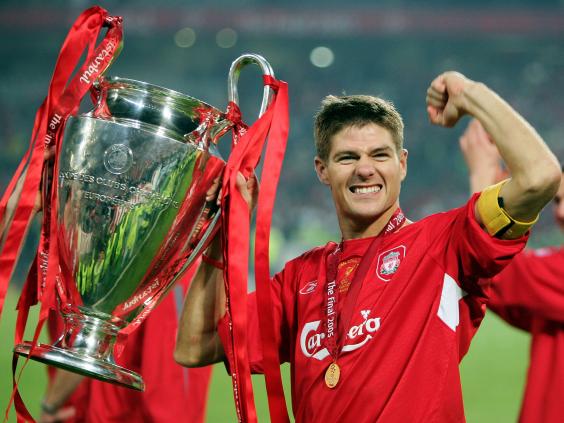 The decision over whether to stay has been facing him all season, having come so close to winning his first Premier League title in May. This season has put strain on his relationship with the club at times, especially when Rodgers left him out of the Champions League side to play Real Madrid in the Bernabeu stadium.
Steven Gerrard in pictures
Steven Gerrard in pictures
1/11 England Under-21s

Steven Gerrard of England celebrates his 13th minute strike during the England v Luxembourg European 2000 Under-21 Qualifying match at the Madejski Stadium, Reading, England. The match finished in a 5-0 win for England

Getty Images

2/11 England 5 Germany 1

Gerrard celebrates his goal in the 5-1 win over Germany, one of his England highlights

Getty

3/11 Euro 2004 qualifiers

Gerrard celebrates after scoring the equaliser during the Euro 2004 European Championships Group 7 against Macedonia at St Mary's Stadium in Southampton, England

Getty Images

4/11 2006 World Cup qualifiers

Gerrard celebrates with Michael Owen during the FIFA World Cup 2006 group six qualification after scoring against Austria in Vienna

EPA

5/11 Beckham and Gerrard

David Beckham and Gerrard in England colours together. The pair were at the heart of England's 'golden generation'

Getty Images

6/11 Beckham and Gerrard

And now Gerrard could follow Beckham in a move to the MLS and LA Galaxy

GETTY

7/11 Champions League success 2005

Gerrard captained Liverpool to their famous penalty shootout European Cup victory in 2005

Getty

8/11 England Player of the Year

Gerrard was named England player of the year in 2013

AFP

9/11 2014 World Cup

Gerrard captained his country to the 2014 Fifa World Cup in Brazil last summer

AP

10/11 An early exit

But was unable to prevent defeats to Italy and Uruguay that paved the way to England's early exit from the tournament

Getty Images

11/11 International retirement

Gerrard would go on to announce his international retirement after the ill-fated trip to Brazil

Getty Images
As of today, Gerrard is into the final months of his contract and, under Fifa regulations, able to speak to clubs outside the Premier League to negotiate a new deal for the end of June.