Subway Australia have come in for stick from Liverpool fans on their Facebook page after a promotional advert included forward Raheem Sterling... twice.
The poster, billed to promote tickets for Liverpool's pre-season clash against Adelaide United, featured Philippe Coutinho alongside the unhappy forward - one with long hair and one with short hair.
The US franchise were announced as one of Liverpool's global partners last summer.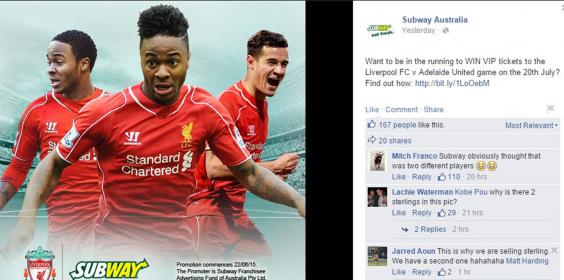 Posted at 7.15am BST on Tuesday morning, the error still hadn't been spotted at the time of writing.
Facebook user Mitch Franco was quick to spot the clanger, writing: "Subway obviously thought that was two different players."
Meanwhile, Jarred Aoun came up with an ingenious reason for Sterling's potential sale this summer, commenting: "This is why we are selling sterling. We have a second one hahahaha."
Lee Patouras added: "Stick to making sandwiches subway."
The 12 worst haircuts of the 2014/15 Premier League season
The 12 worst haircuts of the 2014/15 Premier League season
1/13 Raheem Sterling

The local barbers of Liverpool will be devastated to see Sterling depart, with the youngster's hair seemingly updated on a weekly basis.

GETTY IMAGES

2/13 Mamadou Sakho

However Sterling was trumped in the game of daft haircuts by his Liverpool team-mate Sakho. The defender apparently took some inspiration from roadside parking controls.

GETTY IMAGES

3/13 Danny Rose

The Spurs player caused a small uproar with his choice of hair dye due it matching the colour of arch rivals Arsenal.

Getty Images

4/13 Arsene Wenger

Most people like it when a trim gets noticed, but the Arsenal manager must have been overwhelmed when he showcased his 'new' haircut at his side's match with Swansea. Despite keeping to his usual short back and sides, the internet nearly melted.

GETTY IMAGES

5/13 Jack Grealish

The slick-back look was best perfected by Aston Villa's hot prospect. With England looking to tempt him to switch allegiance from the Republic of Ireland, the promise of some brylcreem in the Wembley dressing room probably wouldn't do any harm.

GETTY IMAGES

6/13 Juan Cuadrado

Chelsea bought some silky skills when they signed Cuadrado in January, and as an added bonus evoked memories of former player and manager Ruud Gullit.

GETTY IMAGES

7/13 Willian

The Brazilian's hair threatened to get out of control at points this season.

GETTY IMAGES

8/13 Marouane Fellaini

However, when it comes to the afro look, the winner remains undisputed.

GETTY IMAGES

9/13 Radamel Falcao

The Colombian sported long hair all season, so when he stepped out at Manchester United's awards dinner with a new look, it caused a ripple in the football community. Some even used it to find clues as to where his future may lie.

GETTY IMAGES

10/13 Marcos Rojo

Another Manchester United player not afraid to take risks in the scissors department has been summer signing Rojo. This front-heavy haircut in particular looked like it could have been inspired by Ronaldo's 2002 World Cup final effort.

GETTY IMAGES

11/13 Bacary Sagna

The Manchester City defender has had the same haircut for years yet it still manages to surprise.

GETTY IMAGES

12/13 Yannick Bolasie

The Crystal Palace player wanted to go blonde. But just on 20 per cent of his head.

GETTY IMAGES

13/13 Steven Gerrard

And finally, an honourable mention to Steven Gerrard who over 17 years in the Premier League didn't change his haircut once.

GETTY IMAGES
Subway's error is not nearly in the same league as fellow sponsor Dunkin' Donuts decision to replace the Hillsborough memorial flames with milkshakes on the club crest. 
Reuse content