Two games into the season and Dick Advocaat was asked about regret on Friday. This is where Sunderland are.
After comprehensive defeats by Leicester City and Norwich City, Advocaat was questioned about his and Sunderland's immediate future, and the 67-year-old Dutchman did not take the opportunity to say he will see out his one-year contract.
"I don't want to discuss that now," Advocaat said. He was more emphatic on Sunderland's season and said that if the club does not sign some high quality players in the remainder of the transfer window, it will be a season of toil.
Asked if Sunderland can compete in the Premier League without significant investment, Advocaat replied: "I think not.
"Watching what other teams are doing at the moment, we stay a little bit on the same level as we were before. We still have a week, but financial-wise, at the moment, we can't compete. No.
"You always get what you pay for," Advocaat added. "Manchester City get a central defender this week for £32m. Chelsea have one bad game and they buy Pedro for £22m. And we have Duncan Watmore.
"That's the difference. But I have to be fair to the owner, he never mentioned a figure to me."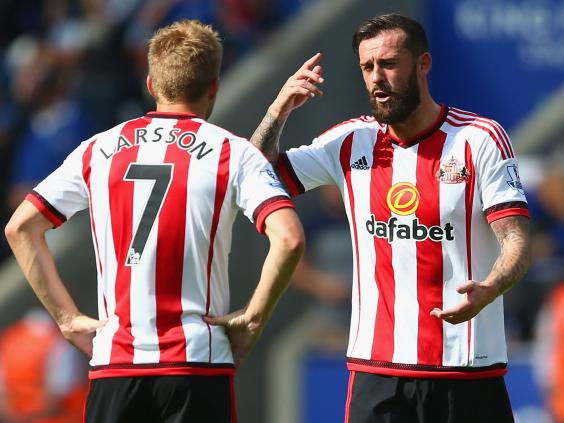 The widespread assumption on Wearside is that the owner, Ellis Short, persuaded Advocaat to return to the club by agreeing to recruit in numbers and quality. This seemed to be Advocaat's incentive. Because this has not happened, the question came about regret.
"I think it is a little bit unfair to our owner, because everybody is jumping on him," Advocaat said. "I just want to say that we had a meeting and he said: 'We have to invest to make the team better', and that's what we've tried to do.
"But he did not mention figures. He said we have to invest to make the team better, but he never said to me £10m, £20m, £30m, £40m, £50m, £60m, like the other teams are doing."
Advocaat had previously mentioned "five or six quality players" and yesterday he confirmed that:  "Yes, I definitely have said that."
Jeremain Lens, signed from Dynamo Kiev for around £8m is the one major Sunderland signing this summer. When pushed on the apparent distance between his and Short's assessment, Advocaat explained: "He says we have four or five players. But I said we need quality players."
Without that influx, Advocaat added Sunderland's Premier League aim is: "To stay in it."
No more? "No."
So it's a fight against relegation? "Yes. If we get the players in we are working on it will be easier than last season, but the problem is that all the other teams are spending fortunes, and we cannot."
Premier League Power Rankings - Game Week 3
Premier League Power Rankings - Game Week 3
1/17 17) Jefferson Montero (Swansea City) - new entry

Branislav Ivanovic then Daryl Janmaat felt the full force of the Ecuadorian's devastating start to the season - Sunderland's Billy Jones is the next in line for a public humiliation. Last fixture: W - 2-0 - Newcastle Next fixture: Sunderland (a)

AFP/Getty Images

2/17 16) Dmitri Payet (West Ham) - new entry

Has had an impressive start to the season and scored his first goal for the Hammers last weekend. With Andy Carroll and Enner Valencia limiting Slaven Bilic's options up top, the attacking midfielder will need to chip in with a few more goals. Last fixture: L - 1-2 - Leicester Next fixture: Bournemouth (h)

Getty Images

3/17 15) Yohan Cabaye (Crystal Palace) - down 6

Palace were pretty unlucky not to pick up a point against the Gunners - Francis Coquelin should have seen red for a couple of fouls that could have seen him pick up a second yellow. Cabaye matched his counterparts in yellow and Palace will hope to build on a solid start at home to Villa. Last fixture: L - 1-2 - Arsenal Next fixture: Aston Villa (h)

Getty Images

4/17 14) Nathan Redmond (Norwich City) - new entry

Never mind the atrocious defending, it was a lovely goal by Redmond who looks like he could be a break-out star for the Canaries as they fight relegation. A good showing against a solid Stoke team will see his stock rise further Last fixture: W - 3-1 - Sunderland Next fixture: Stoke City (h)

Getty

5/17 13) Salomon Rondon (West Brom) - new entry

A club record price-tag will come with hefty expectations. Rondon came on in the closing stages against Watford and didn't have much of a chance to show what he can do - the powerful Venezuelan will want a good showing against the Premier League's current 'crisis club', Chelsea. Last fixture: D - 0-0 - Watford Next fixture: Chelsea (h)

Getty Images

6/17 12) John Stones (Everton) - new entry

How apt that the Chelsea target, the man being touted as a replacement for John Terry, comes up against Manchester City and Sergio Aguero - the man who many have said ended the career of the former England captain at the Etihad last Sunday. A strong showing against Aguero will only reinforce Jose Mourinho's desire to bring the budding star to Stamford Bridge. Last fixture: W - 3-0 - Southampton Next fixture: Man City (h)

GETTY IMAGES

7/17 11) Troy Deeney (Watford) - down 6

Watford didn't create many chances against a West Brom side content to pick up a point at Vicarage Road last Saturday. Southampton will, presumably, show a bit more willingness to attack - which could give Deeney the sniff at goal he didn't have against the Baggies. Last fixture: D - 0-0 - West Brom Next fixture: Southampton (h)

Getty

8/17 10) Wayne Rooney (Manchester United) - down 2

Another week, another sluggish showing from Wayne Rooney as United's main striker. Memphis Depay impressed in the Champions League but Pedro has now gone to Chelsea - the pressure is on for Rooney to deliver as United's front man, but can he do it anymore? Newcastle's porous defence may help. Last fixture: W - 1-0 - Aston Villa Next fixture: Newcastle (h)

Getty Images

9/17 9) Harry Kane (Tottenham Hotspur) - up 2

The England striker was 'too tired' to play more than an hour against Stoke last week, but will Mauricio Pochettino really risk resting his talisman from the start? Saido Berahino is still a target while Clinton N'Jie has arrived, but isn't really a central striker. Last fixture: D - 2-2 - Stoke Next fixture: Leicester (a)

Getty Images

10/17 8) Riyad Mahrez (Leicester City) - up 6

What a start for the Algerian, three goals in two games for Claudio Ranieri's surprise package. Both wins were extremely impressive and well deserved - a win against an unconvincing Spurs team could do wonders for their confidence. Last fixture: W - 2-1 - West Ham Next fixture: Tottenham (h)

Getty Images

11/17 7) Jermain Defoe (Sunderland) - down 3

The boos rang out early on in the Stadium of Light and Sunderland already look doomed. Defoe struggled to get a sight at goal against newly-promoted Norwich and has now been linked with a move to former club Bournemouth. We can't say we blame him. Last fixture: L - 1-3 - Norwich Next fixture: Swansea (h)

Getty Images

12/17 6) Romelu Lukaku (Everton) - up 9

That's more like it. When you pay £28m for a striker you expect something special and that was the exact performance Lukaku delivered at St Mary's. The continued inclusions of Ross Barkley and Arouna Kone, especially, to offer genuine support to the striker have helped - he is now getting chances made for him. Up next is a big test against a rare physical equal, Vincent Kompany. Last fixture: W - 3-0 - Southampton Next fixture: Man City (h)

Getty Images

13/17 5) Eden Hazard (Chelsea) - down 4

Like the rest of the Chelsea team, Eden Hazard has looked completely out of sorts in the opening two weeks of the season. Gone is the vibrant attacking threat who has been compared to the likes of Messi and Ronaldo, in his place is a jaded winger without the energy to beat a man. One feels a fully refreshed Hazard may have scored that chance to make it 1-1 at the Etihad. Last fixture: L - 3-0 - Man City Next fixture: West Brom (a)

Getty

14/17 4) Christian Benteke (Liverpool) - new entry

Brendan Rodgers said that he'd never had a striker like Benteke at Liverpool, someone who could give him a 'different dimension'. His physicality and ability to hold up the ball will be needed at the Emirates where Liverpool will try to out-muscle the Gunners. He is still trying to find a real connection with his new team-mates but there have been signs of it in the opening two matches Last fixture: W - 1-0 - Bournemouth Next fixture: Arsenal (a)

Getty Images

15/17 3) Sergio Aguero (Manchester City) - new entry

As long as Sergio Aguero stays fit, Manchester City will be among the favourites for the title. There is no other striker like him in world football - so adept with his movement in and around the box that he makes world class defenders look like Sunday league players. He should've scored more against Chelsea but even though he didn't put the chances away, his ability to find space is a sight to behold. Last fixture: W - 3-0 - Chelsea Next fixture: Everton (a)

GETTY IMAGES

16/17 2) Alexis Sanchez (Arsenal) - new entry

The Chilean is just so crucial to any hopes Arsenal have at the title this season. A week earlier in the defeat to West Ham, the Gunners looked so lost that Wenger was forced to rush his main man back despite promising him a longer rest. His effort and work rate set the tone for the rest of the team and his quality makes him their go-to guy. Arsenal are a completely different prospect with him in the team. Last fixture: W - 2-1 - Crystal Palace Next fixture: Liverpool (h)

Getty Images

17/17 1) David Silva (Manchester City) - up 1

Silva is a singular talent in the Premier League. There are others like him - Juan Mata, Mesut Ozil - but neither of those two players has matched the level that Silva can reach when he is on form. Chelsea had no answer for the brilliant Spaniard, who makes the rest of the Manchester City team tick. The biggest difference between the two teams last week. Last fixture: W - 3-0 - Chelsea Next fixture: Everton (a)

Getty Images
One opportunity Advocaat did take was to have a nip at Jermain Defoe, who on Thursday made a public request to play in the traditional No 9 role. "Jermain Defoe will play on the left or the right side," Advocaat responded. "Or on the bench.  Nobody can tell me where he has to play. I decide which player plays where, not players."
There is fresh focus on Sunderland, recruitment and Defoe as Swansea City are today's visitors to the Stadium of Light.
Defoe arrived in January as part of the swap deal that saw Jozy Altidore leave Wearside for Toronto. Altidore had been signed by Sunderland in the Paolo Di Canio summer of 2013 for £6.5m. It was the same week that Swansea also signed a striker from the Netherlands: Wilfried Bony.
Bony cost £12m, scored 34 goals in 56 starts and then made Swansea a £16m profit when sold to Manchester City in January.
Altidore scored three in 29 starts for Sunderland and unfortunately for him became a joke figure. The striker is perhaps one of the reasons why Short is reluctant to spend and spend. Altidore also acts as emblem for the lack of football nous at the Stadium of Light.
Huw Cooze is the supporters trust representative on the Swansea board. The trust owns 21 per cent of the club and Cooze said a degree of Swansea's rise is down to the acumen of their chairman, Huw Jenkins.
Jenkins makes good decisions, especially in terms of recruitment. He replaced Kenny Jackett as manager with Roberto Martinez and when he got one wrong – Paulo Sousa – he brought in Brendan Rodgers. When Brian Laudrup surprisingly departed last year, Jenkins invested in then 34-year-old Garry Monk. There has been turnover at Swansea, but not rupture.
"We've had managerial change but 'the Swansea Way' continues," Cooze said. "We've a structure and a pattern. Our Under-10s play a certain style.
"It goes back as far as Brian Flynn and Kenny Jackett. Some might say Huw Jenkins is not 'a football man' but he had a sniff of professionalism at Bristol Rovers, he's got common sense and he understands Swansea as a place and as a club.
"Huw is a shareholder, chairman and father figure. He is also the sporting director – effectively.  He just doesn't want to be called that."
Sunderland, too, have a sporting director, Lee Congerton. But there is uncertainty as to his power.
If the club had a comparable figure to Jenkins it was Niall Quinn. But Quinn left Sunderland over three years ago – and there had been some poor recruitment during his tenure.
All eyes are now on Short. A Texan billionaire based in London, Short has been popular on Wearside.
Across from the stadium is the fanzine A Love Supreme and Short has been known to pop in. He has laid on bashes to which supporters have been invited. "At that level, he's been good," said Martyn McFadden, A Love Supreme's editor. "And he doesn't have to be an evangelist like Quinn. But Short needs to communicate better at board level and put out a statement now and again about his plans."
McFadden, like so many, had assumed Short and Advocaat had an agreement on enhanced summer recruitment. Now McFadden added, if that's not the case: "I don't blame Advocaat if he goes."
Reuse content