Swansea have taken the heroic decision to subsidise the matchday tickets of fans travelling to away matches so that they won't have to pay a penny over £22.
In an announcement that has been widely applauded by all areas, the "True to 22" fans initiative is a brand new scheme introduced for the 2015/16 season that will see adult ticket prices capped at a maximum of £22. It gets even better for concession and kids prices, which have been set at £15 and £10 respectively.
The tickets must be purchased through the Jack Army scheme, but for many fans the hopes is that this initiative will filter through to the other clubs in the Premier League and beyond.
Football Value Index top 10 and Englishmen
Football Value Index top 10 and Englishmen
1/11 16) John Stones (Everton)

£12m

GETTY IMAGES

2/11 19) Calum Chambers (Arsenal)

£10.6m

Getty Images

3/11 9) Luke Shaw (Manchester United)

£18m

Getty

4/11 8) Jose Gaya (Valencia)

£18.3m

Getty

5/11 7) Mateo Kovacic

£18.5m

GETTY IMAGES

6/11 6) Hakan Calhanoglu (Bayer Leverkusen)

Getty Images

7/11 5) Jose Gimenez (Atletico Madrid)

£21.4m

Getty Images

8/11 4) Domenico Berardi (Sassuolo)

£21.6m

Getty Images

9/11 3) Memphis Depay (Manchester United)

£23.8m

Getty Images

10/11 2) Marquinhos (PSG)

£27.8m

Getty Images

11/11 1) Raheem Sterling (Liverpool)

Getty Images
At present, fans visiting Arsenal's Emirates Stadium for an away Premier League match have to pay up to £62 per match depending on what category match it is, while a number of other clubs charge large fees that has priced some fans out of travelling to follow their club every week.
"The club was very proactive on its Away Supporters Initiative (ASI) last season,'' Swansea Vice-chairman Leigh Dineen said. "But we believe our 'True to 22' pledge has taken it to a new level.
"We worked hard on reducing away ticket prices for our supporters last season through reciprocal deals with other clubs. Unfortunately, we were unable to finalise deals with all the clubs for different reasons.
"Therefore, while we introduced other away fan benefits, we felt it would be more beneficial to our supporters if we took the step of guaranteeing them cheaper tickets for all our away games, whether there was a reciprocal deal in place or not."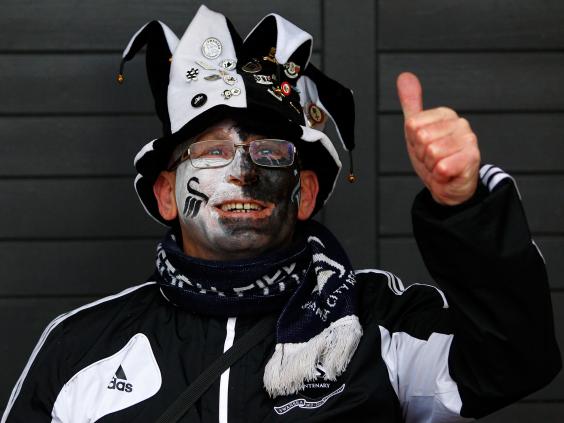 According to the Swans Supporters Trust, fans are set to save more than £250 should they travel to every Premier League away game this season.
"As a fan-owned club, we are well aware of how expensive it is to follow the team to away games, especially with the increasing transport costs,'' said Swans Supporters Trust director, Huw Cooze.
"But this 'True to 22' pledge means an adult can now watch every one of our away games in the Premier League for a total price of £418. That's more than £250 cheaper per adult than the amount we believe it would cost this season without our subsidy."
Reuse content