When Jose Mourinho left Chelsea the first time around, more than six years ago, Brendan Rodgers was the club's reserve-team manager with a page in the matchday programme and a profile that did not extend much further than the gates of Cobham.
There are some over the years who have overstated their closeness to Mourinho, or claimed tenuous status as one of his coaching prodigies, but there is no doubting that Rodgers was the real deal. "One of my best friends in the game," was how Mourinho referred to the Liverpool manager this week, and with none of the excruciating forelock-tugging that once accompanied his elegies to Sir Alex Ferguson.
There is exactly 10 years between the ages of Rodgers and Mourinho – they share the same birthday, 26 January – which is not far from the 11-year difference between Mourinho and his mentor, Louis van Gaal. Of course, like Mourinho, Rodgers has ploughed his own furrow, but there is no question that the association has been a help and that the friendship between the two is genuine.
Which means that tomorrow's game between Chelsea and Liverpool, the Premier League match of the weekend, takes place amid a very different atmosphere between the benches to that during Mourinho's first stint at the club. The relationship between Mourinho and Rafa Benitez became toxic, after a reasonably friendly start, and never recovered. The two sets of supporters dislike each other even more.
In the aftermath of victory over Swansea on Boxing Day, Mourinho was invited to analyse Rodgers' impressive start to his second season and he described him as "good" (twice) and "intelligent" which even by his revised standards of behaviour was striking. Of course, there was the dagger thrust about the rest time afforded to Liverpool because of their non-participation in Europe, but it was never going to be all one-way.
How quickly the willing apprentice finds himself in a position to challenge the master. The last time Mourinho won a Champions League title, with Internazionale in May 2010, Rodgers was still out of work after his bruising six months as manager of Reading. In fact, there were times that season when you might bump into him at Fulham Broadway station heading to watch the game at Stamford Bridge.
Since he took the Swansea job in July 2010 his progress has been remarkable, justifying the leap of faith Chelsea took recruiting him from Reading's academy nine years ago and his subsequent promotions under Mourinho. He was hired by Neil Bath, Chelsea's academy manager, and was part of the young coaches who fastened on rapidly to Mourinho's way of working.
In those days, Mourinho demanded that all teams at the club, from the academy downwards, played the same way. The level of detail in his preparation was unprecedented. Those who worked there at the time still talk about his introduction of the monthly schedule, a break from the old-school approach of football where days off and training sessions were decided on an ad hoc, day-to-day basis.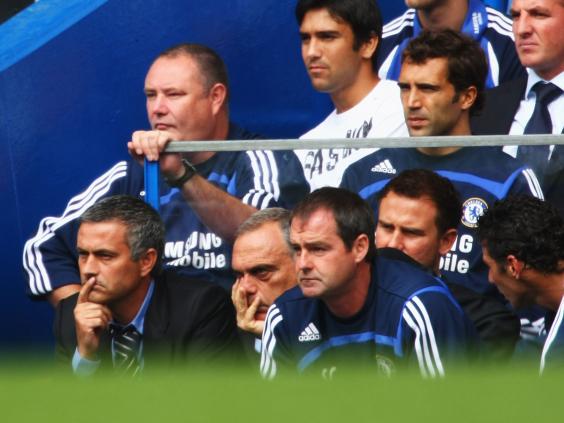 Rodgers soaked up the knowledge and impressed Mourinho with his willingness to learn. Until then Mourinho had always been regarded as the young one but at Chelsea, with Andre Villas-Boas also working for him, it changed. This summer, Mourinho warmed to the theme of being "the godfather" of English football, with a younger generation of managers learning under him. Since then, Villas-Boas and Steve Clarke have both lost their jobs, but Rodgers is thriving.
Were Liverpool realistic title challengers as the season approaches its halfway stage? "I think they are," Mourinho said. "Because they are good. Because Brendan is good. Because they have time to prepare the team tactically. Because they are not involved in the heat of the knockout situation in the Champions League or even Europa League. These players are going to play 60 matches for Chelsea. Liverpool will play 40 matches. It's a big difference. Quality plus ambition plus this advantage, so yes.
"The manager is one of my best friends in the game, so no rivalry. Full respect for a team with the history like Liverpool. He's doing fantastically. But he's training every week in a calm way. Every day. Maybe twice a day. Which is a big, big advantage.
"He needs to work well, but he has a big advantage. The way you build your team ... you know how many tactical works [sessions] I've done since pre-season? Not many. It's easy for a team who do that every week to have some dynamic. Other teams need more time. They have had more time to work. Not to be involved in European competition gives them a big advantage: not in terms of resting, but in terms of work."
It was in the two clubs' last meeting that Luis Suarez sunk his teeth into Branislav Ivanovic's arm and was subsequently banned for 10 games. Had it happened on Mourinho's watch he would have taken full advantage of the situation but he is less interested in anything that pre-dates his current time at the club.
"I think Iva is a big guy," Mourinho said. "When I say 'big guy', I mean big, strong heart; big, strong personality. He's not a Mickey Mouse player who complains at little things. This was a big thing, but Iva thinks it's something from the past. Everyone moves on. He's moved on."
Rodgers has set his stall out this season with an attacking brand of football that was expansive even in defeat to Manchester City on Boxing Day. For Mourinho, the journey with his Chelsea team has been much more conservative. He began the season by saying that he would school this group of players and that it would take time, although it is being held back considerably by the failure of his strikers to score.
That said, there is just a difference of four from last season in terms of goals scored in the league, which shows it is a problem that has been around for some time. Chelsea are two points better off than they were at the same stage last season, when they were 11 points behind the leaders Manchester United, as opposed to the two-point deficit to current leaders Arsenal.
One big difference is Juan Mata who, despite having been used more often by Mourinho, has scored just once for his club this season, in the Capital One Cup. By the same stage last year he had 13 goals. What Chelsea lack is the individual that might see them through the hard times. Eden Hazard, their top goalscorer with eight, and John Terry, who has started every league game, are the closest they have.
It will be interesting to see how Mourinho approaches tomorrow. He has to cope with Suarez but also acknowledged that "to be fair, Liverpool did very well without him when he was suspended". He will be under no illusion that Liverpool will come to west London believing they can win. And as much as he likes his friend, there is no way Mourinho will want to give up to him that unbeaten record at Stamford Bridge.
Reuse content