The Manchester United careers of Ryan Giggs, Paul Scholes, David Beckham, Nicky Butt and the Neville brothers, Gary and Phil, are chronicled in the film, The Class of 92, out this weekend. Here, The Independent tracks down five more members of United's 1992 FA Youth Cup-winning squad to find out their memories of that pivotal season, and how their lives have panned out since.
Raphael Burke
Bristol City academy coach
What I remember most was the hunger of those lads that made it. It really has to be a burning passion in you if you want to succeed. I have read somewhere Gary [Neville] saying that he gave up his friends because he just wanted to be a footballer. I didn't have the hunger at the time. It's best I am honest about it because otherwise you end up blaming everyone else.
Some teenagers just don't have the maturity to realise what they have. David, Nicky, Gary – they had the maturity to realise this was a precious chance at United. I left in April 1993 even though I had a year left on my contract. I had been at Lilleshall [the now defunct Football Association school of excellence]. I thought at the time we had a lot of wingers at United. I had been away from home in Bristol for a long time. I asked to leave.
After that I worked in an office and then on a fruit and veg stall. I had to get up at 5am to start work – you think to yourself, "This is the real world!" When I watched the 2002 World Cup I had played or trained with most of that England team, either at United or Lilleshall.
For the last 12 years I have been coaching. I absolutely love my job. I don't see what happened at United as negative. I'm a Christian and I believe that everything happens for a reason. I love helping the next generation. I have coached boys who have gone on to sign professional contracts and play first-team football. I always think, if I can get him beyond what I achieved, then it is job done.
I am looking forward to taking my daughter to see the film. She has started playing football and takes an interest in what I did. I tell her that I feel privileged to spend my working days out on a football pitch.
Lenny Taylor
Electrical labourer
I was a sub in the first leg of the 1992 FA Youth Cup final against Crystal Palace and just a squad member in the game at Old Trafford. United made it possible for me to get a medal because I was involved in the semi-final. It meant a lot to me and I have still got it.
I was spotted playing in Birmingham by the scout Geoff Watson. He invited me to a mass trial game at Nuneaton for lots of boys. Sir Alex was there! We only played for half an hour each but he picked me out. I did a year as a schoolboy and then, when I left school, a two-year YTS. I was a right-back and a centre-half. When I played full-back they compared me to Paul Parker. That wasn't bad.
It's so amazing to be part of the foundations of what the guys achieved. When we were young it was one for all and all for one. When one went, we all went together and we were just unstoppable. It hadn't been done since the Busby Babes.
We knew that Ryan was streets ahead because he was involved a few years before us. Once the other lads started to come through we saw the potential in all of us. There were 20 lads, and lots of them could have gone on to have success. Gary Neville was right-back ahead of me and he has gone on to do United proud.
I got a little feeling I wasn't going to be offered a pro deal. You knew deep down. Sir Alex called us into his office. He praised us for what we had done but said, "I can only take so many".
I went to Port Vale for a trial and then Walsall for a couple of months. I played five years at Solihull Borough but with work it just kind of dwindled away. I'm proud to have been part of United. Even though I wasn't there with them as they went on to have success, I felt connected.
Colin Telford
Head of education at Ireland football coaches' association
I still remember the first game of one season in the youth team. The ball went out to Becks, who was on the edge of the 18-yard box, about three metres wide. He just wrapped his right foot around it. The ball never rose more than two inches above the ground. It never spun. Straight in. Time felt frozen for a few seconds.
At the start it was not like this team was breaking any records. They won the FA Youth Cup in 1992 and that was it. They developed. Becks never stopped practising, free-kick after free-kick. Gary Neville was a really tigerish, aggressive footballer and he carried that through into the first team. They were like that. Every time they went up a level they were able to progress. The way Nicky Butt played in the first team was no different to the way he played in the Under-18s.
I remember the first time Paul Scholes turned up, like a wee boy who had got off at the wrong bus stop. At the beginning it was like, "What's he doing here?" The first match he started on the bench for the "B" team, which was then the lowest team at the club. Others progressed differently, Phil Neville was still a schoolboy but playing in the Under-18s team.
I grew up in Belfast and was spotted playing for a local club in the Milk Cup over there. I signed two years schoolboy, two years apprentice and two years pro. A few months in I started getting pains in my back and through that great period of winning the cup I was injured.
I left about a week before Eric Cantona signed in 1992 and joined Raith Rovers, where Jimmy Nicholl was manager. I had a great relationship with Alex Ferguson. I had been in digs with his son Darren and spent some of my holidays staying at the manager's house. He advised me that I would be better getting experience elsewhere.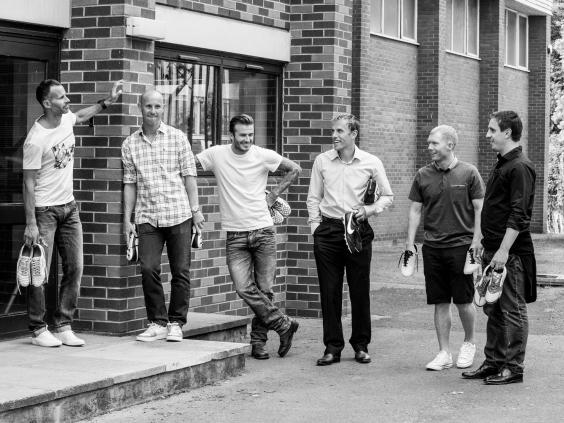 Andy Noone
Environmental consultant
I went over to The Cliff to take part in the filming for The Class of 92. I have to say, it was absolutely brilliant. I got changed in the same seat I did 20 years ago. It was great seeing all the guys, not just those who have gone on to have such incredible careers. You do wonder what they will be like but it was the same, having a laugh and taking the mick.
It was a fantastic day even though I ended it by rupturing my Achilles tendon during the game we played. I did feel a bit like the village idiot but I guess there's no better way of hanging up your boots for good than playing with some of the best United players of all time.
I grew up in Salford and joined United at nine. I signed an apprenticeship at 16 and was in all the squads for the 1992 cup run. I was a centre-forward, although I did play in defence for a short period. I was in the team the previous year when we were beaten by Sheffield Wednesday in the semi-final.
When we were growing up Nicky Butt and Ryan Giggs stood out because, at 14, you could see they would go on to be the main men. Even so, to go on to do what they did probably surprised a lot of people. The dedication and belief all of them had stood out.
The day Sir Alex told me I was being released was probably the worst day of my life. You're there for such a long time it becomes part of your life. They did everything they could to find me a new club. After United, I did 12 months at Bury and played at Mossley, Atherton Laburnum Rovers, Beaconsfield and Salford City. I finished when I was 31.
I work in Salford Quays now and I can see Old Trafford from my office window. It always brightens my day. I still support United just as much as I did when I was kid in the youth team.
Chris Casper
Premier League club support manager for academies
We changed the culture. For too long there had been players coming through the system at United who were very good but didn't quite fulfil their potential. It was a professional dressing room and we took it up a notch. I had trained with the first team at Burnley when I was 13 so I had an idea what it looked like.
Sometimes I had the mickey taken for being "too mature", which was water off a duck's back. Gary Neville was  the same, very level-headed. We weren't a bunch of angels but we knew what we wanted to be.
People used to say we were extra special but if that was the case we wouldn't have lost the 1993 FA Youth Cup final to Leeds, would we? But don't get me wrong, in those two years we were very good.
In the second year of our apprenticeships the "A" team was opened up for all pros to play in. It was really competitive. Even so it was mostly apprentices in that side. We were playing against teams with established pros. Eric Harrison would come in before games and say, "They've paid you a compliment with the team they've picked". We won more than we lost.
With Scholesy, for instance, it was only at the end of the first year of him being a pro when you really thought, "Blimey, he can play". He was always a good player but then when he was around the first team he was dominating training sessions.
I left in 1998. I was 23. I had played for the first team and signed a couple of contracts but it wasn't enough. I needed a career. I went on loan to Reading and while I was down there the deal was done to join them. I left with a real spring in my step. I got injured at 24, which was unfortunate but that's life – it happens. I had 10 great years at United.
Reuse content