Their names fill the papers on a daily basis. Van Gaal, Wenger, Pellegrini and Mourinho; sometimes you might think there are no others. One eminent sports writer likened them to a Hollywood cast list. But another one is coming — perhaps.
Burnley's promotion to the Premier League last season did not just take the football media by surprise, it astonished most Burnley supporters. We know now that it happened; the fixture list tells us. But until that list came out, many of us still looked at the Championship table to assure ourselves that we were still second.
It's a fairytale story. There's a _Moneyball element, a homespun club with homespun directors that defied the odds, the critics and the pessimists, the little club that kept on winning and drawing and lost just five games all season.
I've kept diaries for years and written a dozen Burnley books and never had any intention of writing something this last season – until late March when the signs were there that something huge was on the cards. The result was something that by the end of the book became almost a study of how a small town, small club, but with brilliant management could achieve the most stunning success imaginable. It morphed, as the season progressed, from being a fan's wide-reaching and personal diary into a study of how one man can lead and motivate others, so that the team becomes greater than the individual parts.
I've met Sean Dyche just three times and what comes across is how down to earth he is, how knowledgeable, how human. What you see is what you get; there is no arrogance, conceit or remoteness. He has a wry and self-deprecating sense of humour. When Verona came to Burnley and he saw the incredible good looks of star player Luca Toni, he says he went quite dreamy eyed.
Perhaps all this is to do with what he sees as being the basic core values of behaviour, politeness, punctuality, smartness, hard work, belief and integrity. He says that these are the glue that holds everything together. When he enters a room you sense the persona and magnetism. He is a big man. You sit up and take notice. There's an iconic picture of him as a player on the cover of an old Millwall programme bearing down on you as you look. It's frightening. And that's just a picture.
When the Supporters Club by coincidence stayed in the same hotel as the players for the game at Yeovil we saw his impact on the squad at first hand. They were smart, courteous and chatty. There wasn't one daft hair style. No one walked around texting. No one wore those monster headphones that tell ordinary mortals not to bother us. They were comfortable and at ease with each other. Egos were hard to spot.
Dyche talks a lot about alignment. Players who find it difficult to align he will chat with. If they still find it difficult, then it's goodbye. He searches for players who have been "schooled in the right way", players with solid attitudes who put team before self. None of this is surprising. He started under Brian Clough. He attributes his values to the way he was brought up in a close family. His father was not averse to giving his workforce a 'straightener' every now and then. I am not privy to what goes on in the dressing room at Turf Moor. But I can well imagine him giving his own workforce a 'straightener'if warranted.
His manner and charisma got him the job at Turf Moor in the first place. The story is well reported that he hadn't been long at Watford before he was replaced. Less well known is how the Burnley co-chairmen John Banaszkiewicz and Mike Garlick were hugely impressed by the way he conducted himself at interview. According to both chairmen, whilst other candidates slouched in their chair, Dyche stood to give a PowerPoint presentation.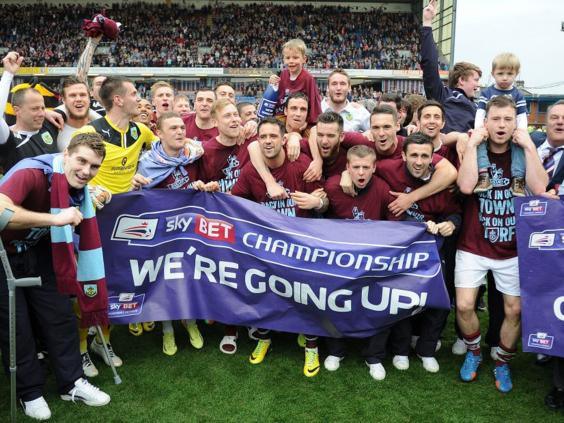 My book is one you can read on two levels. First it is a record of a season through a fan's eyes, and a disbelieving fan at that. But secondly as the season progressed Dyche became a huge focus. A poem by Walter Wintle, of great inspiration to sprinter Jesse Owens, could have been written for him. Just four verses long, it ends:
Life's battles don't always go to the stronger or faster man.
But sooner or later, the man who wins is the man who thinks he can.
Mind over matter is a central plank of his philosophy. He urges his players not to set limits on themselves. "Be the man that makes the difference," he tells them.
"The harder I work, the luckier I get," is one of his maxims.
"I love the relentless nature of a side that never gives up," he said and it was a quality that was evident throughout the season.
"One game at a time," was his constant mantra.
But maybe his greatest strength is his ability to work with what he has got. 'I look at the group I've got and then I decide what strengths and weaknesses they have and then I formulate an appropriate way the players can work in order to be collectively successful.' He doesn't reinvent the wheel. It sounds so simple. But it worked and maybe it will all work again.
Think of Dyche and his distinctive sandpaper voice, and then Al Pacino giving the "inches" speech to his team in Any Given Sunday. Maybe Van Gaal, Mourinho, Pellegrini and Wenger will be joined by another cult figure this season.
Burnley v Chelsea is live on Sky Sports 1 tomorrow, kick-off 8pm
'Who Says Football Doesn't Do Fairytales?' is available price £14.99 from pitchpublishing.co.uk and all good booksellers
10 reasons why Burnley won promotion to the Premier League
1. The manager: Sean Dyche showed leadership, knowledge, expectation. He drilled into his players an insatiable will to win.
2. An incredible level of fitness, the foundations laid in pre-season training. Stats showed it never dropped and even increased at the season's end.
3. Mark Howard and his sports science staff were crucial. His mantra – any injury is an injury too many.
4. Team spirit was as good as anything ever seen at Turf Moor. Egos were weeded out. Divas were in short supply.
5. The pressing game never let other teams settle. They were hassled, harried and hustled.
6. Every player had his best ever season, Tom Heaton and Sam Vokes being the best examples. Everyone played at their maximum.
7. It was a season of superb goals, so many it was difficult to pick the best of the season. The quality was outstanding.
8. The miserly defence shut other teams out: 21 clean sheets and only 37 goals conceded.
9. When Charlie Austin was sold, Sam Vokes and Danny Ings answered the challenge to fill his shoes. Their 41 league goals was the best since Andy Lochhead and Willie Irvine in the 1960s.
10. Swift transition through the units, endlessly practised. Goal of the season was a five-man, 15-second move from the keeper onwards against Wigan.
Reuse content