Tim Howard will end his 10 year spell at Everton at the end of this season, it has been confirmed. The USA international will join MLS side Colorado Rapids.
The 37-year-old will bring down the curtain on a Premier League career that started with Manchester United in 2003 before he moved to Goodison Park in 2006 - at first on loan and then permanently a year later.
"I will remain an Evertonian for life. This will always be my team, my Club," he said.
"I sacrificed so much to play the amount of games I have over a 10-year period, so I will continue to support this club that I love.
"The club is amazing, I love it and I will always be an Everton player."
During his career, which has included 412 appearances for Everton, Howard has collected many records. His total of 115 clean sheets with Everton is the fourth highest in the Premier League with a single club and his 131 career clean sheets in the Premier League from 392 games is the ninth highest among goalkeepers. His total of 210 successive league games between September 2007 and March 2013 set a Premier League record for one club and fell only two short of the club record in all league games set by Neville Southall.
It remains the second longest run of successive games in Premier League history by any player.
"I have been at Everton 10 years and it's been a brilliant 10 years. I spoke to my family, I spoke to Roberto and I spoke to the Chairman, Bill Kenwright," Howard explained.
"We had really great discussions and we all felt this was the right move and the right time. They supported my decision, they have always been 100 per cent committed to me and they appreciated the fact that it's time for me to go back home and play my football.
"There are a few more months left which I am excited about because I realise it's now coming to an end, so I will get my head down and enjoy the remaining time.
"I will miss it a lot. This is home. I grew up here. To stay 10 years in any place is a long time and this has become without doubt my family. You see the same faces every day and you have respect for them, you have love for them and a great working relationship. And because this is home, of course I will miss it, but I'm excited about my move to Colorado Rapids and continuing my career with them."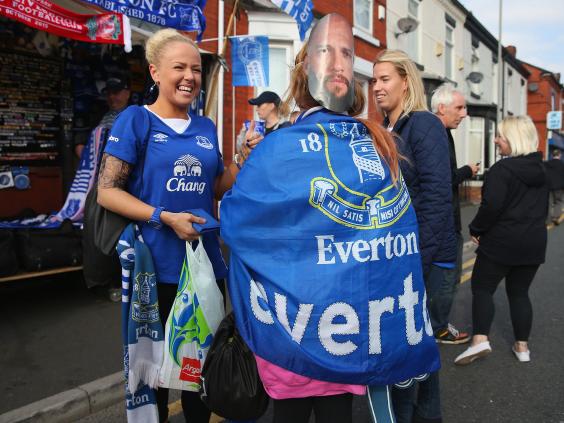 Howard, who signed for Manchester United from MetroStars, will become a Designated Player for the Rapids in MLS's Secondary Transfer Window on July 4.
Everton manager Roberto Martinez said: "Tim is such an incredible character. With certain players, their contribution goes a little bit further than starting in the team or not and Tim is probably the perfect case of that.
"For us now, it is time to thank him, have a celebration and show how much we appreciate him and how thankful we are of his role in these last 10 seasons.
"The modern game doesn't allow you to have that loyalty or that continuity. When you are coming from another country it makes it even harder. The consistency in his character allows him to perform consistently and, as a performer, it will be difficult to find another as consistent as he is.
"Tim was very keen to be able to be close to his children and he feels it's the right time to go back home and start a new chapter."
Chairman Bill Kenwright also paid tribute to Howard: "I've been an Everton fan for over 60 years and a member of the Everton Board for nearly 30 years. In that time I've obviously met and indeed worshipped many players who have worn the blue and white with distinction. Even though he didn't wear the blue and white, Tim Howard stands at the very top of that group of players. Both on and off the pitch throughout his time at Goodison he has always been the perfect 'Blue'. The best in every way. A massive individual of not only great talent but also great loyalty and integrity. I know for a fact that he might be leaving but the Club will always be with him. As indeed will he always be with us. Respect, Tim! From your fan and Chairman, Bill."
Reuse content