Over all the time I spent at Tottenham Hotspur during Gareth Bale's time there, I never saw him lift a weight once. All that power and strength? It is partly natural, and partly the development of a player who trained and played with such dedication that he became one of the great footballers of his generation.
It has been a wonderful year for Gareth, even if it might not be enough to win him the BBC Sports Personality of the Year award this time, after he was named on the shortlist. I am sure there will be other chances. Looking back at the relatively few footballers who have won the award, with the exception of Ryan Giggs in 2009, it tends to be given to players for their achievements in international, rather than domestic, football.
Watching Gareth when I worked at Spurs under Harry Redknapp, and then Andre Villas-Boas, I felt it was just a matter of time before he flourished into the player he has become. That was why there was no serious consideration to him being sold in the early days. Daniel Levy deserves credit on that front, too. He believed in Gareth.
I will never forget the night that Spurs played Inter Milan at San Siro in October 2010 and lost 4-3, having been 4-0 down at half-time. With his second-half hat-trick, that was the night Gareth's career went to a different level, although it is often the small details that get lost along the way.
BBC Sports Personality 2014 Shortlist
BBC Sports Personality 2014 Shortlist
1/10 Gareth Bale

Footballer

2/10 Charlotte Dujardin

Dressage Rider

3/10 Carl Froch

Boxer

4/10 Kelly Gallagher (right) and Charlotte Evans

Skier and Guide

5/10 Lewis Hamilton

Formula One Driver

6/10 Rory McIlroy

Golfer

7/10 Jo Pavey

Track Athlete

8/10 Adam Peaty

Swimmer

9/10 Max Whitlock

Gymnast

10/10 Lizzy Yarnold

Skeleton Bobsleigher
The dressing room that night at half-time at San Siro was like hell. Our goalkeeper Heurelho Gomes had been sent off. Harry's blood pressure was going off the scale. I had been watching the game from the stands and before Harry spoke to the players, he gathered those of us in his staff together in a little side-room for a chat.
It was suggested that he take Gareth off, rest him for the weekend and thicken up the midfield to stop it getting any worse. Harry was adamant: Gareth was our best attacking player, we were not going to substitute him.
He went on to score that hat-trick and took apart Maicon, the Brazilian right-back, in the second half. When we came back on the plane to London that night the mood was not that of a team which had been beaten. In some respects it felt like a win. At home, Gareth did the same again and we won 3-1.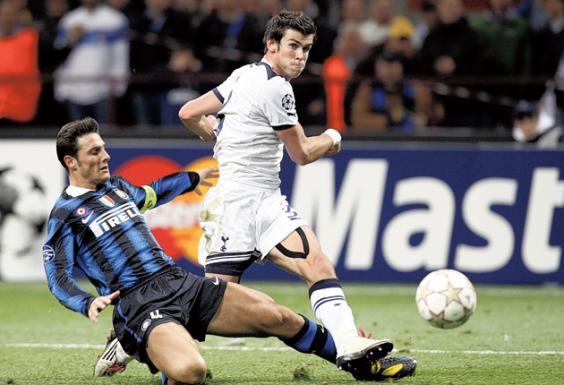 We always believed he had potential, he just needed a run in the team and he got it when Benoît Assou-Ekotto was injured in January 2010. The trick was changing Gareth from a left-back to a left-winger, and then to the kind of all-round attacking player who runs at the heart of the opposition defence, like Cristiano Ronaldo.
In fact, it was Ronaldo whom we used as an example in those days. Our feeling was that the opposition right-back would go to bed the night before a game with a plan about how he was going to handle Gareth. If we could encourage Gareth to run at the centre-backs as well then he would have that element of surprise. Centre-backs are centre-backs for a reason, they tend to be big, upright players and they struggle against individuals like Gareth.
Getting him playing centrally was all about scoring goals. At the time a lot of Spurs fans were not happy with that transition from winger to central player, and would sing about Gareth playing on the wing. But he has developed into that Ronaldo-style player. That is where he will thrive in the future and the goals have come.
Playing under Andre in his final season at Spurs, Gareth scored so many winning goals. That is the kind of return that transforms a club from mid-table mediocrity to challenging among the top sides.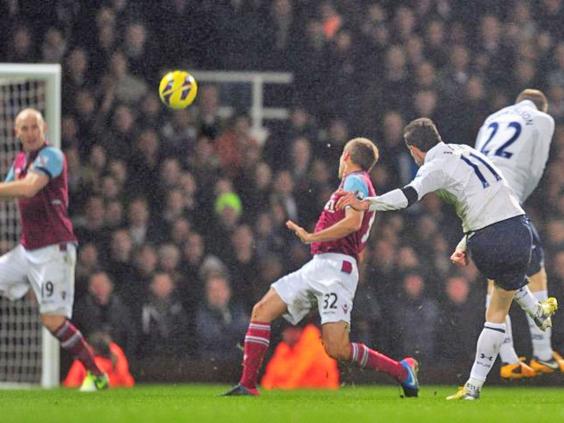 Of course, there have always been lots of people who would like the credit for Spurs signing Gareth from Southampton in 2007. I have never seen so many scouts put their hands up to claim that one. The truth is he was watched by a lot of Spurs scouts and none of them ever wrote a report that recommended anything other than the club sign him.
When Real Madrid came along it was an opportunity he could not turn down. Had it been another club I don't think the temptation to move in the summer of last year would have been that strong. But it was the biggest club in the world, those famous white shirts. He had to go. No one forced him to do it, he wanted it himself. It was more of a case that this was a challenge he could not ignore.
He has adapted to the demands of Madrid brilliantly. It helps when you have those great players around you, although that brings its own pressures, too. We take a lot of players from overseas who need time to adapt to the Premier League but with Gareth in Spain the transition has been seamless. He won the Champions League in his first season. He has learnt from Ronaldo rather than become his rival.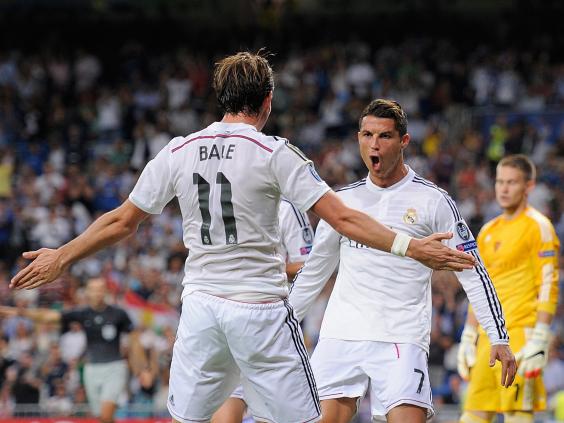 I have seen the stories about him bulking up and, unless he has changed since his time at Spurs, I would guess that he has not been spending his time in the gym on the weights. I notice that Gareth has said the same himself. He was always a player who concentrated on working on the pitch rather than inside. He is a sound character, too. I would even say he is the sort of bloke you would be happy for your daughter to bring home.
It will be interesting to see what he can achieve for Wales, too. He has the benefit of being part of a decent group of players – including Aaron Ramsey, Joe Allen and Ashley Williams – although there is no doubt who is the main man.
The thing about Gareth is that he delivers. He gets you that goal when you need it. The only player I can compare him to in that respect is Alan Shearer, my old team-mate. When Alan put the ball on the penalty spot it was only a question of which corner of the goal he would bury it, not whether he would score or not. It is a great quality to have and it will take Gareth a long way.
Reuse content