Tim Sherwood is the only manager Aston Villa have spoken to in their quest to replace Paul Lambert and the club are hoping to come to an agreement with the former Tottenham Hotspur man over the weekend.
The club have revised their plans and instead of going for a short-term candidate to take them to the end of the season – and keep Villa in the Premier League – they want someone for the long-term who will secure them survival and build for the future.
Sherwood, 46, has been in contact with the Villa chief executive Tom Fox and ideally the club would like to have him in place ahead of the next league game, against Stoke City a week tomorrow. The former England manager Glenn Hoddle, who left his coaching role at Queen's Park Rangers after Harry Redknapp's departure, is not understood to have had any contact over the job despite being named as one of the potential candidates.
A long-term project is the kind that Sherwood has sought since leaving Tottenham at the end of last season. Villa want a manager who can make progress in the Premier League in the same way Southampton and Swansea have done – with astute signings and by developing young players
Sherwood had extensive talks over the QPR job and sought basic assurances about the club's plan after the summer, when they face the prospect of a £40m fine from the Football League for contravention of its financial fair play rules.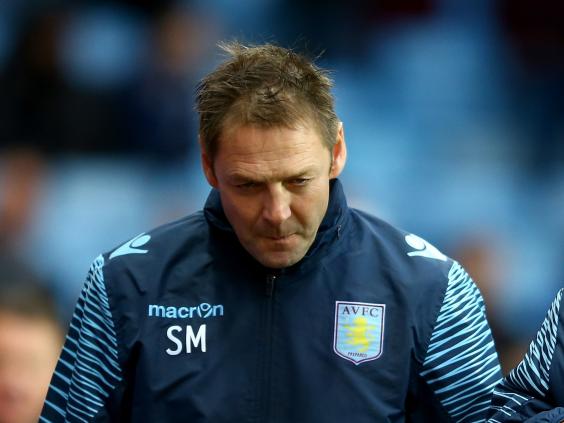 The two parties could not reach agreement and Sherwood now finds himself in contention for a third different job in the space of two months, following his talks with West Bromwich Albion at the end of December, and then QPR.
While the situation at Villa has obvious challenges – they are in 18th position with just 13 games to go – the size and potential of the club is a huge attraction. Chris Ramsey and Les Ferdinand were Sherwood's coaching staff during his time at Spurs in the developmental role as technical coordinator and then manager. But with those two both at QPR, Sherwood would have to recruit a new assistant at Villa.
As well as Fox, there has also been input from the director of recruitment, Paddy Reilly. Any appointment will have to be approved by the owner, Randy Lerner.
In the meantime, Scott Marshall, formerly a coach under Lambert, will take the team against Leicester City in the FA Cup along with Andy Marshall, the goalkeeper coach. Scott Marshall said that he did not consider himself a candidate for the job in the long-term.
"This is a big club and it's not somewhere for someone to cut their teeth," he said. "It's certainly a big club and I would say there's not many things which are going to prepare you for this experience so I think a manager with experience is probably necessary but it's not really my decision or my call."
Reuse content