Tomas Rosicky has given a sign of his frustration at not playing regularly for Arsenal, and claimed that he is "not in physical decline" despite being the oldest player left in the Gunners squad.
The Czech midfielder has made just one start this season which came in the League Cup defeat to Southampton, and has appeared from the substitutes bench seven times in what has been a frustrating start for both Rosicky and the Gunners.
Arsenal have won just four of their 11 Premier League matches with their 2-1 defeat last time out against Swansea causing the fans to seriously question Arsenal's title credentials despite shelling out over £80m in the summer.
Rosicky explained in an interview with The Times that he struggles to settle into games when he is constantly in and out of the side, and feels that he has had less of an impact on their performances this season than he has done in recent years.
Arsenal's injury list
Arsenal's injury list
1/5 Mikel Arteta (midfield)

Like Diaby, the Spaniard is closing in on a return but the Swansea match will come to soon. The club captain last played in November.

Getty Images

2/5 Mathieu Debuchy (defender)

Returned in the FA Cup semi-final win over Reading but has since been ruled out with injury and Wenger confirmed he remains 'unavailable'.

GETTY IMAGES

3/5 Alex Oxlade-Chamberlain (midfield)

Suffered a hamstring injury against Manchester United in the FA Cup and hasn't played since as it has exacerbated a groin problem. Out at least until May and facing surgery in the summer.

4/5 Aaron Ramsey (midfield)

Aaron Ramsey caught a kick on his calf during the win over Hull and was later substituted. The Welshman was rated 50/50 for the Swansea match by Wenger, but it now appears that he is a major doubt for the clash at the Emirates.

Getty Images

5/5 Danny Welbeck (forward)

Danny Welbeck has not played since the goalless draw with Chelsea towards the end of April after suffering a knee injury. Wenger has confirmed that the injury is 'nothing major', and that he should return to full fitness before the end of the season.

GETTY IMAGES
"The coach is trying to find a system that best suits the players, and vice versa," said Rosicky.
"I'm not in this alone - there are other players in a similar boat. When we do get a chance, it's harder for us to get into our rhythm.
"So far, this season has been disappointing for us. We haven't played well, and when I've played I've not been at the forefront of things."
Rosicky did go on to recognise that, as the oldest member of the current Arsenal squad at 34 years old, his age may be an influence on Wenger's decision not to play him as much as he is used to. Captain Mikel Arteta is the next oldest player at 32, but while the Spaniard is out of contract at the end of the season, Rosicky is tied down to the club until 2016 after signing a new deal at the end of last season.
Rosicky went on to suggest that he does not believe his physical fitness is declining with his age, and revealed that he is still high up on the club's speed testing despite the likes of Theo Walcott and Alexis Sanchez in the squad.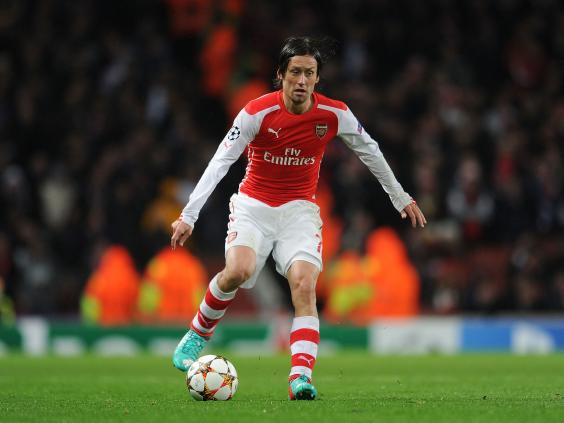 "I'm not sure what's going on," Rosicky added. "I understand that I am 34 years old and that it probably plays a role, whether I like it or not. That's without a doubt.
"However, I'm not in physical decline. When I played for the national team against Netherlands, I ran 12 kilometres and according to the tests at Arsenal I'm in the top five in terms of speed.
"I'm not sure what's going on,' he said. 'I understand that I am 34 years old and that it probably plays a role, whether I like it or not. That's without a doubt.
"However, I'm not in physical decline. When I played for the national team against Netherlands, I ran 12 kilometres and according to the tests at Arsenal I'm in the top five in terms of speed."
Reuse content