There's been so much talk about Tottenham and the way they've nurtured affection among the neutrals this season: Tottenham the "English" team; Tottenham the "young" team. Well, let's get into the brass tacks of their football this weekend and make one thing very clear: that the reasons for appreciating them go way beyond an emotional response like that. They're excellent – technically and tactically: incredibly well-balanced and potentially on the brink of being something very, very big in British football.
It all begins with the defence. So often in years gone by that's been their Achilles' heel but the picture's very much changed now. They've the best defence in the Premier League this season: no side has conceded fewer than them, with Manchester United, who have shipped two more than Spurs' 18, being the nearest competitors in that respect. 
The defence, in turn, all starts with Hugo Lloris, who keeps the second-highest line in the Premier League as a "keeper-sweeper", with only Leicester City's Kaspar Schmeichel ahead of him in that respect. No keeper has played more short passes than Lloris. Everything flows from him.
The Frenchman having the confidence to play so high has a vital domino effect. It means that the different lines of the Spurs side – defence, holding midfield and attacking players – operate high up, too. Very often, playing so high would create a problem, when opposition sides look to counter-attack down the flanks as they do in the British game, capitalising on the spaces created out wide which our predilection for 4-2-3-1 and attacking full-backs creates.
Not for Tottenham. The way that a critical cog of three interconnecting players – the central defenders Toby Alderweireld and Jan Vertonghen and defensive midfielder Eric Dier – operates in front of Lloris enables them to have far fewer fears than most teams about being countered. The central defenders Alderweireld and Vertonghen are also accomplished full-backs for their country – Belgium. That means one anxiety that generally afflicts centre-backs, who don't like to venture beyond the width of the 18-yard box, does not apply in their case. Those centre-halves are very happy to go out wide to cover.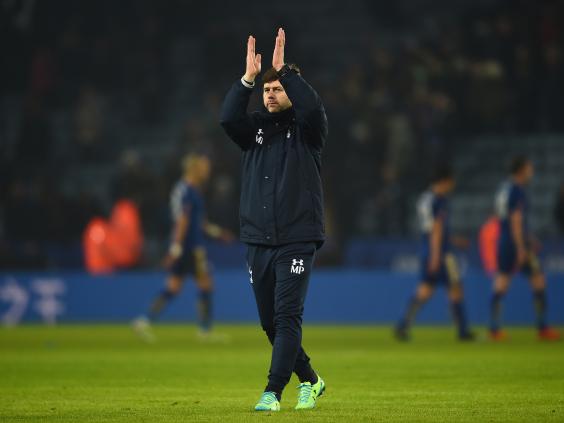 And that's where Dier comes in. He has often played at centre-half as well, so he is happy to drop back in and cover when one of the central defensive pairing ventures out wide. Unlike most 4-2-3-1 set-ups, where the defensive midfielder and centre-halves create a triangle, the Spurs trio near enough create a flat line of three, enabling them to cover the width and ward off dangerous counter-attacks down the sides. Another of the things I like about Dier is that he is not one of those centre-backs operating in midfield who instinctively drops deeper into defence. He keeps his position. 
And with all of those mechanics working so well at the back of the team – a little-changed side, week by week, incidentally – the more advanced players like Harry Kane, Mousa Dembélé and Dele Alli have the confidence to know that they can keep that high line, get among the opposition and not let them play. 
The full-backs are also happy to play as wingers because they know that the centre-backs will be covering as good as directly behind them. It's no coincidence that Spurs have had more shots on target than any side in the division and, even more significantly within this assessment, faced fewest shots on target. They are not giving opponents a look-in.
In football, they coach us that when in possession you make the pitch as big as possible but when out of possession you make it compact in your own half, putting the onus on the other team to break through you. Spurs are very unusual in that they make the space very compact in the opposition half, not feeling the need to withdraw. That means the opposition midfielder does not have the time and the frequent touches to steady himself to make the wide pass. He's under pressure immediately to find that space out wide. And when he does so, he finds that Alderweireld-Vertonghen-Dier axis to contend with: effectively, that flat back three.
Spurs certainly have the youngest squad. The average age of the starting XI this season is younger than any other side's, at 24 years and 302 days. So as long as they keep those players together – with the club's ability to retain manager Mauricio Pochettino crucial in that respect – they can only get better and better.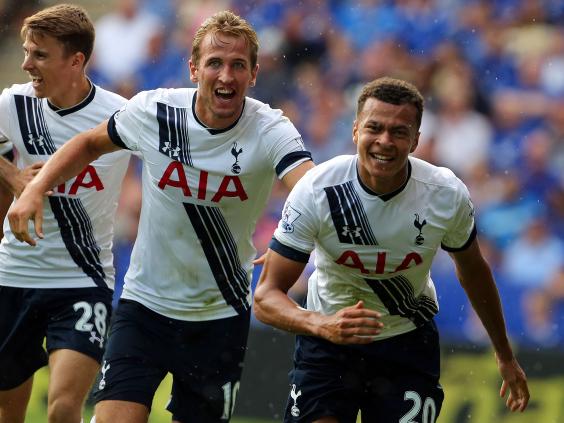 Of course, the youthfulness can bring inexperience, too, and if there is a weakness then it is the failure to hold leads at times. Only three teams have lost more points from winning positions in the Premier League this season. Better game management is needed at times. That could be the difference between them winning the league and being a strong part of the race for a top-four finish.
It's a tough challenge for them today at Crystal Palace, who are on a five-game Premier League run without scoring which will end soon enough. It's potentially a pivotal weekend, which will teach us very much about what the big clubs are capable of in the Premier League, though with Tottenham there is less suspense. Win, lose or draw, this is a team with a very impressive piece of mechanics at its core.
Martinez is undermining team with laborious build-up
In many respects, Everton are the diametric opposite of Tottenham. Their defensive record is the seventh-worst in the Premier League and that's because of the way their manager, Roberto Martinez, is asking them to build play, rather than any fundamental failure to defend. 
We talked a few weeks ago about the way that the combination of Gerard Deulofeu and Romelu Lukaku was beginning to stretch opposition defences, but Deulofeu is out of favour at the moment and the side have reverted to that habit of retreating and allowing teams to push high on them. I'm frequently seeing Lukaku disappearing into midfield to fetch the ball, frustrated because there is no direct service to him. When you retreat in the way Everton do and build in such a laboured way, you are creating the risk of a turnover of possession and opposition teams scoring. The way they led so late at Chelsea and ended up drawing epitomised that fact.
This intricate build-up play is something Martinez has always liked and I'm not even sure that they want to do so at times. They conceded more goals than any Premier League team last season by losing the ball in their own half.
Reuse content