A day to remember at the old White Hart Lane, for everyone except some of the main participants: Wayne Rooney, Chris Smalling, Jose Mourinho and Manchester United.
They really did look like reluctant guests at a party they never wanted to attend. United of course have bigger concerns now than performing for someone else's big show, and Mourinho made that perfectly clear by putting out what was essentially a second team, with most of these players unlikely to play in the Europa League final against Ajax next week. 
That actually made them the perfect guests from Spurs' perspective, because they so meekly allowed Mauricio Pochettino's to make the White Hart Lane even more of a stage to exhibit their talents, and also give the stadium the farewell win they so desired. The reality was United were battered, even if the narrow final score said otherwise.
Tottenham vs Manchester United player ratings
Tottenham vs Manchester United player ratings
1/22 Hugo Lloris – 6 out of 10

The keeper made a handful of crucial saves today to keep his side in the lead. He commanded his box well and was quick off the line.

2/22 Kieran Trippier – 4 out of 10

The defender struggled to keep up with the pace and ability of Martial. Was on the backfoot for much of the game.

3/22 Toby Alderweireld – 6 out of 10

He held the line well at the back and made a number of crucial interceptions and blocks.

4/22 Jan Vertonghen – 6 out of 10

It was a disciplined display at the back, but at times he was dragged out of position in the hunt for possession.

5/22 Ben Davies – 7 out of 10

Davies assisted Wanyama's goal in sublime style and his deliveries into the area throughout were problematic for United.

6/22 Eric Dier – 6 out of 10

Dier used possession well and continued to provide service for the forwards throughout.

7/22 Victor Wanyama – 7 out of 10

He scored the opener, worked relentlessly and his passing was faultless.

8/22 Christian Eriksen – 8 out of 10

As always with Eriksen, his deliveries were remarkable. His ability to pick a player out within a group is simply sublime.

9/22 Dele Alli – 8 out of 10

His movement off the ball upset United and caused chaos within their defence. He tested De Gea on several occasions – top display.

10/22 Son Heung-min – 6 out of 10

An energetic display, but it would have been encouraging to see him shoot more.

11/22 Harry Kane – 7 out of 10

He scored Tottenham's second which capped off a terrific display from Spurs' main man.

12/22 David De Gea – 7 out of 10

De Gea made several saves to prevent Tottenham extending their lead. Very dominant goalkeeping from the 26-year-old.

13/22 Eric Bailly – 7 out of 10

Held his position well at the back and was excellent in the air. A disciplined display from the 23-year-old.

14/22 Chris Smalling – 5 out of 10

He struggled to keep up with the movement of the Spurs forwards and, as a result, he was repeatedly dragged out of position.

15/22 Phil Jones – 6 out of 10

Jones held the line at the back reasonably well and controlled the United defence. A textbook display.

16/22 Daley Blind – 5 out of 10

Blind lunged into challenges, which left the United defence vulnerable at times.

17/22 Michael Carrick – 6 out of 10

As always, his vision when in possession was impressive. He was pumping balls up to the forwards relentlessly.

18/22 Axel Tuanzebe – 7 out of 10

The youngster held his own out there against a quality strike force. Made a number of vital tackles and interceptions.

19/22 Jesse Lingard – 5 out of 10

Lingard looked lost at times and was drifting into the background of the game. Needs to do more when he is in possession.

20/22 Juan Mata – 6 out of 10

He was impressive in possession, but it would have been encouraging to see him with more of the ball.

21/22 Wayne Rooney – 5 out of 10

He scored United's only goal, which went some way to redeeming his poor defensive play.

22/22 Anthony Martial – 7 out of 10

His energy and pace provided a positive prospect for United. He troubled the Spurs defence with his trickery and footwork.
If Mourinho was making it clear to everyone that this game was meaningless to him, though, it still had meaning for some of the players involved - a few pointers for the future.
That future does not look all that promising for Wayne Rooney.
Much was made in midweek of his comments about potentially staying at United, but it's difficult to see how that could happen, given how he seemed to find a lot of basic tasks quite difficult here.
The very fact Mourinho has suddenly restored him to the starting XI for games the manager so evidently cares little about says enough, and Rooney's contribution for the goal here - the first United have scored away to another top-six side this season - probably didn't offer enough of an argument to keep him.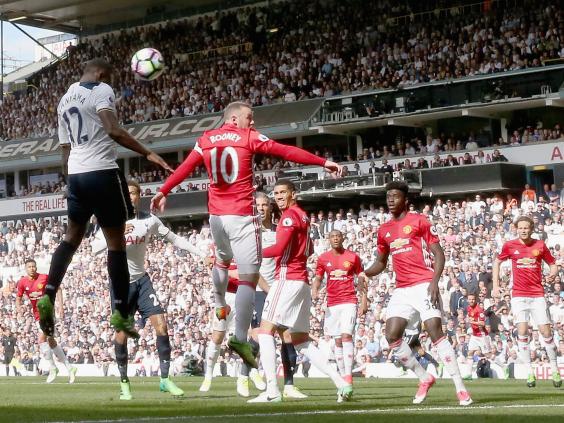 It was pretty much the only thing he did with force or conviction, beyond three fouls that, on another day, might have seen him sent off for two bookings. The goal at least showed that he hasn't lost his goal-scoring instinct. Nonetheless, the vigour which marked his early days was nowhere to be seen. This is a player who was once and for a long time one of the most physically intimidating forces in world football, but was here watching player by player breeze past him all as he missed challenge after challenge.
It was all too conspicuous that Rooney also lost his man and failed to head clear the deliveries which handed Spurs both their goals.
The contrast with the life and focus in Marcus Rashford's game was all too clear when he was introduced as a sub, although the recent argument over whether the younger player is better at 19 than Rooney was should be quickly dismissed. Rooney was a special talent, performing like he was a player 27 years of age at that point, and someone who regularly carried and lived up to huge responsibility.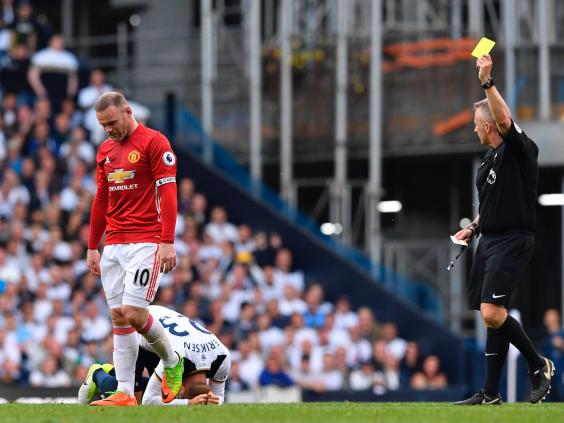 That makes it all the more of a shame that his game now makes it so hard to remember this. What is not so striking is that he has become so easy to play against.
Whether United should be this easy to play against in a game like this is another question. None of it will matter if they do go and lift the Europa League, but should there be a duty to offer a bit more in such games? Should they be allowing the league season to drift away like this? Should they not show a bit more pride?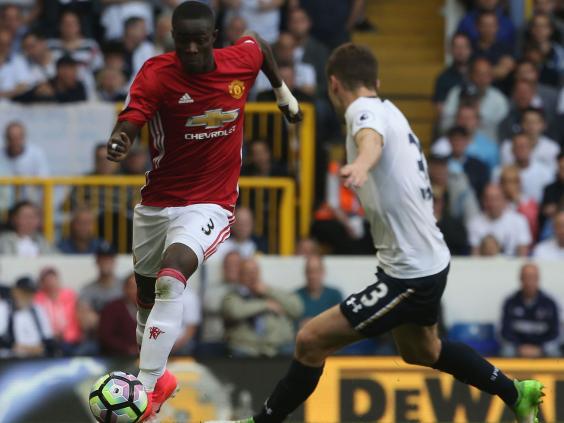 Eric Bailly didn't allow the game to drift and, suspended for the Europa League final, he was one of their fiercest performers here. Axel Tuanzebe also continued to show he does have a future, as Mourinho opted to use him in a man-marking role the manager has shown an increasing penchant for. This time it was Christian Eriksen given special attention, in the same way that Ander Herrera was charged with dealing with Eden Hazard against Chelsea and Matteo Darmian was with Mesut Ozil at Arsenal.
Beyond that, though, there was little of note here for United.
They were merely a famous name that gave Spurs the most fitting of wins for the last game at this intimate, old stadium.
Reuse content