The whistle went and Mauricio Pochettino stormed down the tunnel, demonstrably angry with what he'd just seen. His fury was clear for all inside White Hart Lane to see, as it had been for much of the first-half, stalking around his technical area and remonstrating with his staff back and forth on the bench throughout. Tottenham were 2-0 up and cruising to what would become a 12th consecutive win on their own patch. Not that you would know it from watching the man who has made it all happen. Pochettino is a perfectionist for whom nothing is ever enough.
"I was happy," the Argentine insisted afterwards. "But if you remember in one of the last moments of the first half we nearly conceded a goal, and that makes 2-0 2-1, and it is a big problem for the second half because you have given belief to the opponent. That is why, because from the touchline if you can help the team to translate the idea that we must always be alive, that is important."
That, in essence, is Pochettino. Always alive, always at it, always focused on the bigger picture. "I am a very relaxed, calm person," he says. "It's not difficult for it to be exciting for me. I am emotional during the game, but I try. I am how I am."
Tottenham 4 Bournemouth 0 player ratings
Tottenham 4 Bournemouth 0 player ratings
1/23 Tottenham vs Bournemouth player ratings

Who impressed and who struggled at White Hart Lane?

Getty Images

2/23 Hugo Lloris – 6 out of 10

The goalkeeper had a very quiet display today due to lack of Bournemouth action going forward.

Getty Images

3/23 Kyle Walker – 6 out of 10

Gave a desirable wide outlet for Spurs, but he tended too take a touch too many and lose possession at times.

Getty Images

4/23 Toby Alderweireld – 6 out of 10

It was a relatively straight forward afternoon for the centre back, helped by very little Bournemouth action going forward.

Getty Images

5/23 Jan Vertonghen – 6 out of 10

Made a number of crucial clearances and began moves from the back of the Spurs side, which was encouraging to see.

Getty Images

6/23 Ben Davies – 5 out of 10

Was wasteful in possession at times, but he managed to get away with it against a Bournemouth side that failed to utilise their possession.

AFP/Getty Images

7/23 Eric Dier – 6 out of 10

He tackled relentlessly and moved the ball well all afternoon. He had an eye for goal today also, but failed to find the back of the net.

Getty Images

8/23 Mousa Dembele – 8 out of 10

Scored his first goal of the season, which was fully deserved following a disciplined and comfortable performance.

Getty Images

9/23 Christian Eriksen – 8 out of 10

His deliveries into the box from open play, corners and free kicks provided constant pressure for the Bournemouth defence. Assisted Dembele's opener.

Getty Images

10/23 Dele Alli – 7 out of 10

The youngster was a key element to almost every Spurs move. His ability to read the game allowed to the home side to break down the Bournemouth midfield with ease.

Getty Images

11/23 Heung-Min Son – 7 out of 10

He scored the second for Spurs and played emphatically for the remainder. He chased down loose balls, made tremendous off the ball runs and passed immaculately.

AFP/Getty Images

12/23 Harry Kane – 8 out of 10

His return to the starting line up ignited a tremendous display. He assisted Son's goal and scored just minutes after the half time interval.

Getty Images

13/23 Artur Boruc – 6 out of 10

Despite letting in four goals, the keeper made a handful of important saves to stop this being a whitewash for Spurs.

Tottenham Hotspur FC via Getty I

14/23 Adam Smith – 5 out of 10

Cleared the danger on several occasions and tackled well at times, but he failed to maintain the energetic Spurs forwards.

AFP/Getty Images

15/23 Simon Francis – 3 out of 10

Failed to clear the danger numerous times and his tight marking technique proved hopeless for Kane's goal.

Getty Images

16/23 Steve Cook – 4 out of 10

Made to look inadequate on several occasions today against the Spurs strikers – particularly for Son's goal to double the scoring.

Tottenham Hotspur FC via Getty I

17/23 Charlie Daniels – 4 out of 10

Failed to provide any kind of positive influence on the game. Looked lost at times and continued to be dragged out of his position.

AFP/Getty Images

18/23 Junior Stanislas – 6 out of 10

His deliveries into the box proved problematic for Spurs and this should have been used a lot more for the visitors.

AFP/Getty Images

19/23 Harry Arter – 5 out of 10

Battled relentlessly throughout, but his efforts remain unrewarded. He gave it his all, but he failed to provide his strikers any service.

AFP/Getty Images

20/23 Jack Wilshire – 6 out of 10

He used possession well, despite being quickly closed down in the midfield. Subbed after the interval due to injury.

Getty Images

21/23 Marc Pugh – 5 out of 10

Lost possession inside of his own half on several occasions, which invited unnecessary pressure on the visitors. A man of his ability should be doing better on these momentous occasions.

Getty Images

22/23 Josh King – 6 out of 10

He held the ball up well when he was in possession, but aside from that he failed to make the impact that he has in recent fixtures.

Getty Images

23/23 Benik Afobe – 4 out of 10

Received no service from his side, but that is no excuse for his bizarrely quiet display today.

Getty Images
It's that attitude that has guided Tottenham right on to the coattails of Chelsea and a title race that seemed all but over just a matter of weeks ago is now anything but. Spurs are rampant, playing the best football in the Premier League and are, for the second season running, the sole challenger keeping the league leaders honest down the home stretch.
"To be there is important for Tottenham, looking only at us, it is a big improvement, for the second season to be there and be the team that is fighting for the title is a big credit to the players, the club and to the fans, everybody, because when you are competing with big sides like [Manchester] United, [Manchester] City, Liverpool, Arsenal, Chelsea I think for Tottenham it is a big achievement again to be the second team today in the table."
This has been an organic process for Pochettino and his club, working their way up from top four outsiders to title chasers over the last two and a half years with a combination of hard work, dedication, shrewd recruitment and even better management. Pochettino is proud of what they have achieved together and believes, unshakeably, that this is very much the beginning.
"If you analyse where we came from, it's a fantastic time for Tottenham. And how you build your project is important to analyse," he adds. "Tottenham is not building now in an artificial way. It is not about putting in money, money, money, money and build a fantastic stadium and a fantastic team. Tottenham is very genuine, and it is a very natural process, and it is so exciting because it is unique in the world."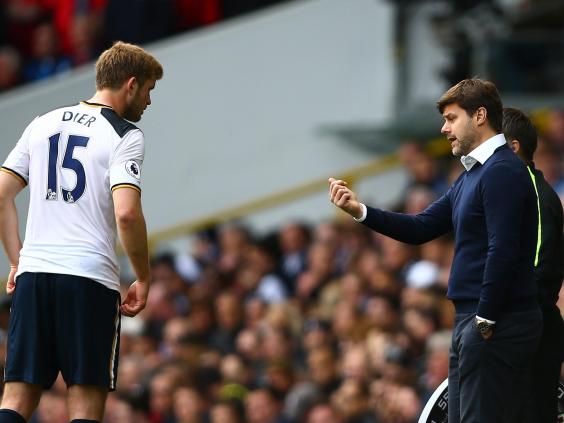 Pochettino's side face title rivals Chelsea in the first FA Cup semi-final next weekend almost a year removed from the infamous 'Battle of the Bridge' that saw Tottenham's title dreams evaporate so dramatically. So, is revenge on the menu at Wembley? Pochettino doesn't work that way.
"In football when you are competitive you want to win. And for me my feeling is – I started to play football when I was very young – I played for my pride. I didn't play for revenge or for money. I played for nothing more than pride. And that is how we need to feel. Last season they played to win, we played to win. If we lost, if we were not able to fight for the league, it was because of us and not because of Chelsea or a different opponent."
"I am so happy that we are second in the table, and we are very ambitious," he adds. "But we have work to do and we will see what happens."
For Pochettino, Project Tottenham has only just begun.
Reuse content