Tim Sherwood believes Aston Villa and Tottenham Hotspur are the only two big Premier League clubs willing to give young English players opportunities, and should be the first choices to join for any aspiring talents.
The Villa manager has given teenagers Jack Grealish and Rushian Hepburn-Murphy their debuts in the last few weeks, and was responsible for bringing through many Spurs players during his time as technical director and then manager at White Hart Lane.
Five of those young players were in Mauricio Pochettino's Tottenham team on Saturday and, despite Villa's 1-0 win, Sherwood praised his Argentinian successor for his attitude to youth.
Sherwood said he was "delighted" Spurs were using so many of those players, joking that the only thing he was not delighted about was when he "saw five of them on the team sheet".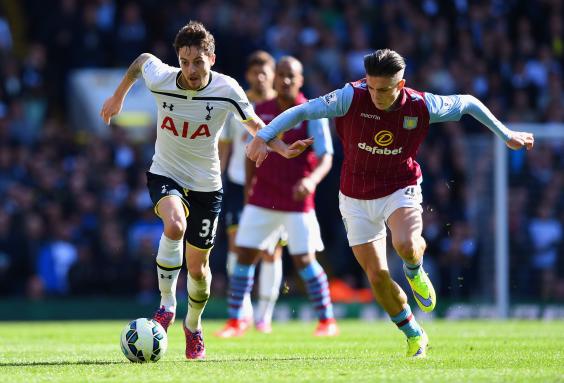 "That's been quite common this year, hasn't it?" he said. "Mauricio's done a good job here. He recognises good young talent, and he's continued their development. I have to give him a lot of credit for that. It's so easy to just take the money and go and spend.
"He's not done that. I'm not saying it's wrong to spend – sometimes you need to, but not at the expense of your young players, and I think he's got some real quality. So if you're a young kid coming through now, you ain't going anywhere else. You come to Tottenham, or come to Villa.
"They're two massive football clubs but you've got two managers who are going to give [young players] an opportunity to play."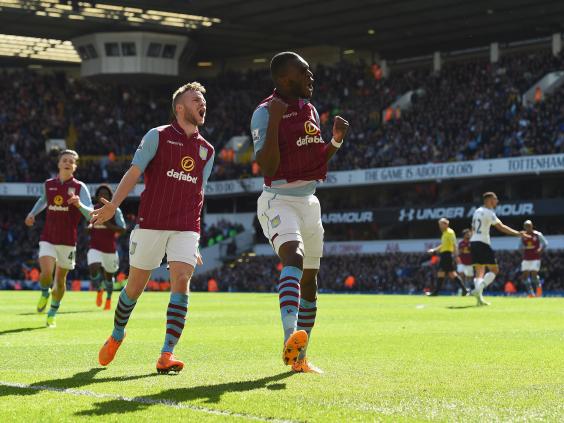 Christian Benteke is now 24 but has enjoyed a resurgence of late. His winner on Saturday – a precise header from a Leandro Bacuna cross – was his eighth goal in six games for Villa, and Sherwood likened the rediscovery of the Belgian's form to that of Emmanuel Adebayor at Tottenham last season.
"I've had chats with him [Benteke], told him what I think of him, and how everyone in Europe seemed to want him a year ago, and that doesn't just vanish, so let's get him back to firing, let's get him back to training properly, and scoring goals," Sherwood said. "He's worked hard on the training pitch; everyone else has worked hard behind him.
"They get on really well, the group. Perhaps too well at times – I want to see them be a bit nastier with each other – but he has a good group behind him, willing to give him the chances because they know what a threat he can be.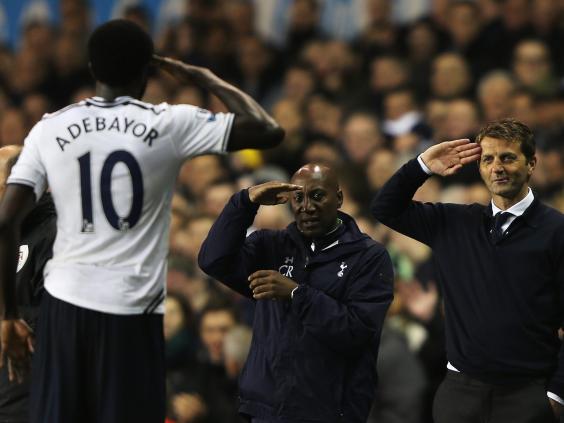 "It's like [Adebayor] – when I gave him an opportunity to come back into the group, he had to earn the right, and he did that by the way he trained. Christian's no different."
Pochettino, meanwhile, suggested that the demands of a Europa League schedule had been a factor in the way Tottenham have flagged towards the end of the season.
"It's difficult," he said. "It was a very long season. When you do a whole season playing Thursday, Sunday, maybe you arrive at the end at a very difficult level.
"When you are a young squad and you make the biggest effort during the season maybe you arrive, not physically but mentally, in a very difficult moment at the end of the season. We need to analyse that and to design a squad to arrive in a different level."
Pochettino admitted he had been thinking about making changes to his squad in the summer. "We have ahead six weeks but always you have in your head some idea, yes," he said.
Reuse content