West Ham United fans can claim to be the best in Great Britain after research revealed that their stadium has been 99.75 per cent full on average this season.
Premier League fans around nearly all of the clubs can be proud of their support this season, with only two sides seeing their stadium less than 90 per cent full on average so far in 2015-16 - only two non-Premier League clubs are averaging more than 90 per cent attendance in the UK this season.
With a league average of grounds being 95.86 per cent full, Premier League stadiums are also more full than Europe's other major three leagues, the Bundesliga, La Liga and Serie A, Germany is the only other nation with an average of more than 90 per cent.
Research by MyVoucherCodes shows that Upton Park is the fullest ground of all 92 in the football league, narrowly beating Norwich City's Carrow Road (99.71 per cent) and Old Trafford, the home of Manchester United (99.47 per cent). Arsenal, Chelsea and Stoke City are the only other three Premier League clubs to beat 99 per cent attendance.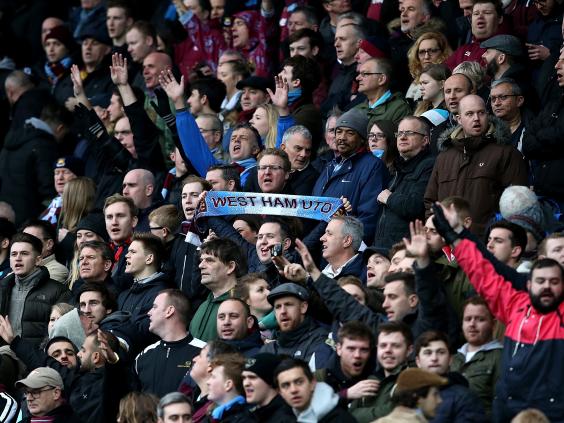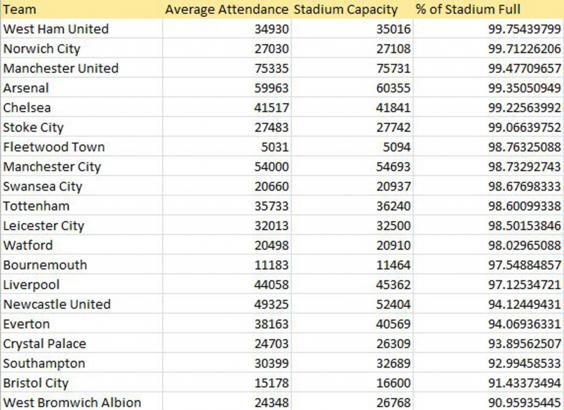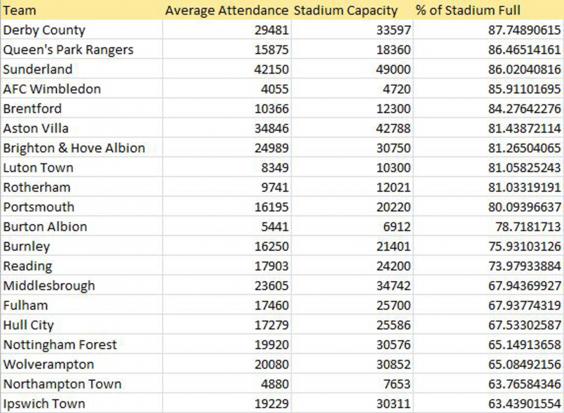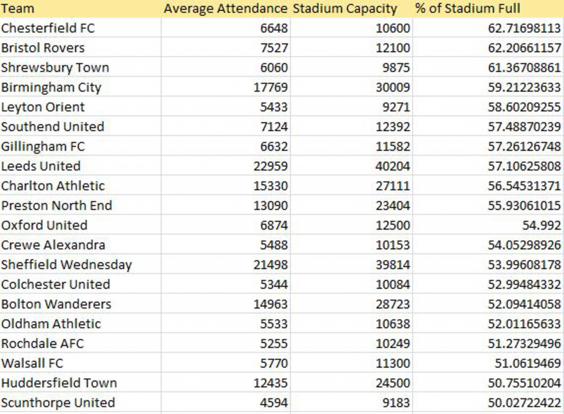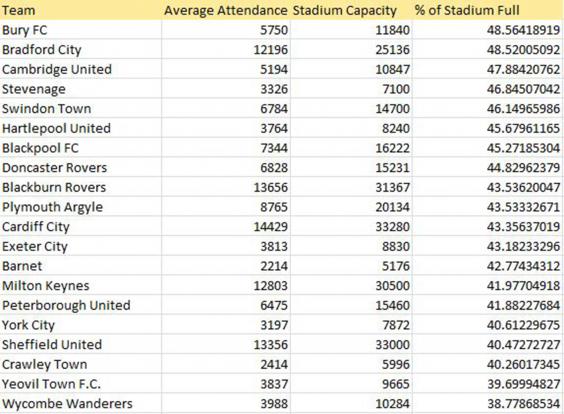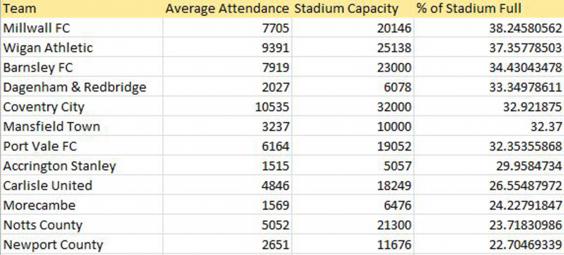 At the other end of the Premier League, Sunderland (86.02 per cent) and Aston Villa (81.43 per cent) fans are the only two clubs to average below 90 per cent average attendance - although it's hardly surprising with the pair stuck in the relegation zone for much of the season; West Bromwich Albion (90.95 per cent) are the final club in the bottom three.
There is quite a stark drop off in the Championship, where the league averages 65.5 per cent. Bristol City (91.43 per cent) break into the top 20 in Britain, but three sides - Blackburn Rovers, Cardiff City and MK Dons - all have attendances in the low 40s.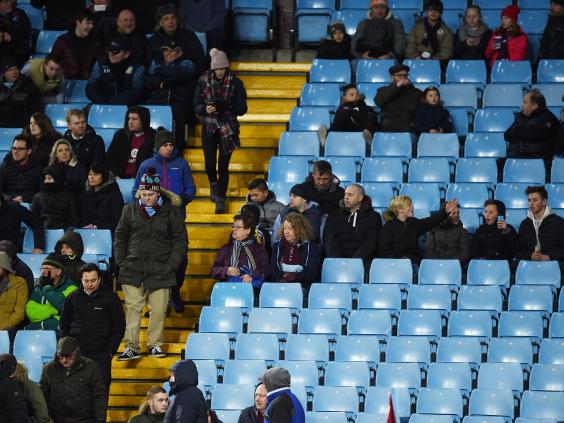 In League One (league average 50.78 per cent) and League Two (46.19 per cent) the averages dip further, although Fleetwood Town can claim to have some of the most dedicated support in the UK, with their 5,094-seat Highbury Stadium averaging 5,031 supporters, or 98.76 per cent, good for seventh overall.
Newport County's fortunes may have changed recently, they are now 19th in League Two after losing just three of their last 10, but they have the worst average of the 92 British clubs. Rodney Parade sees just 22.70 per cent of its seats filled on average, with only 2,651 fans attending the 11,676 stadium.
Despite being in League Two, Portsmouth still manage to attract an impressive 16,195 to Fratton Park, giving the club an impressive average of 80.09 per cent.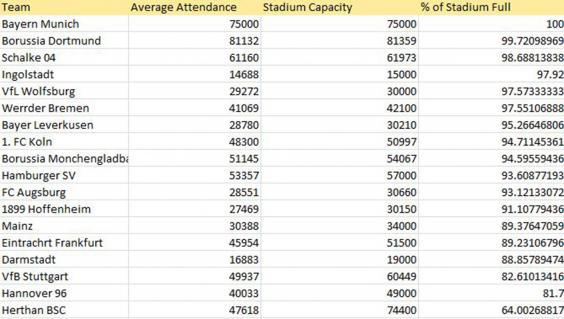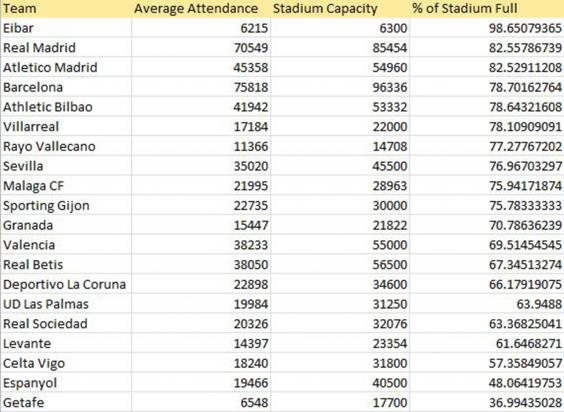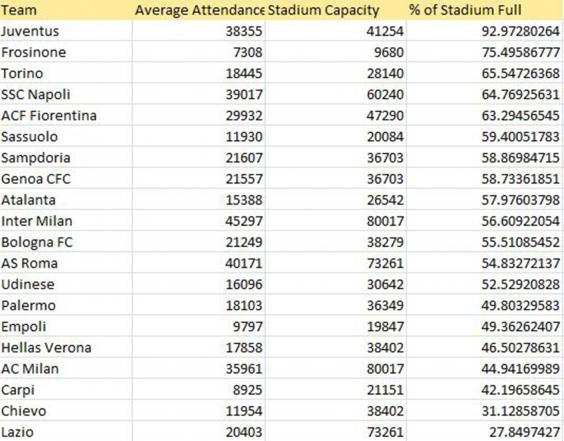 In La Liga, Barcelona, Real Madrid and Atletico Madrid are all in the top four - but are beaten by minnows Eibar to top spot. The tiny Ipuruar Municipal Stadium (6,300 capacity) is 98.65 per cent full on average.
Barcelona don't even manage to fill 80 per cent of the Nou Camp, the biggest stadium in Europe. Luis Enrique's men average 75,818 fans at the stadium, 78.70 per cent of their 96,366 capacity, while Real Madrid and Atletico Madrid both average 82.5 per cent. However, the league as a whole averages just 70 per cent, with bottom club Getafe averaging only 36.99 per cent.
Bayern Munich is clearly the hottest ticket in Europe, with the the 75,000-seat Allianz Arena a sell out in every game this season - they are the only club to average 100 per cent. Rivals Dortmund are not far behind, with an average of 99.72 per cent, only 200 seats are empty at the Westfalenstadion.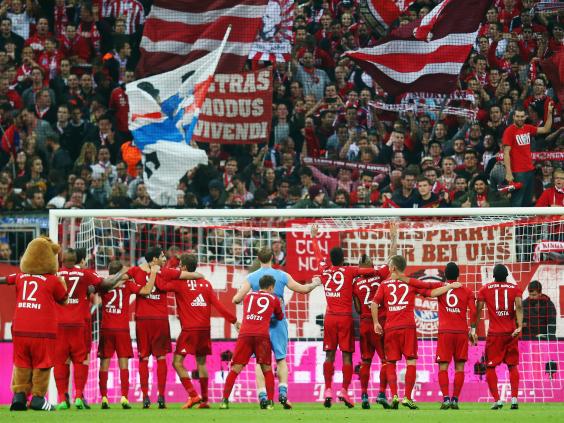 Overall the Bundesliga averages 91.64 per cent, with Hertha Berlin (64 per cent) the only club to get less than 80 per cent through the door - they still have more than 47,000 people turn up to the Olympiastadion.
The worst support comes in Italy, where Serie A only narrowly beats League One levels of support with an average of 55 per cent around the grounds.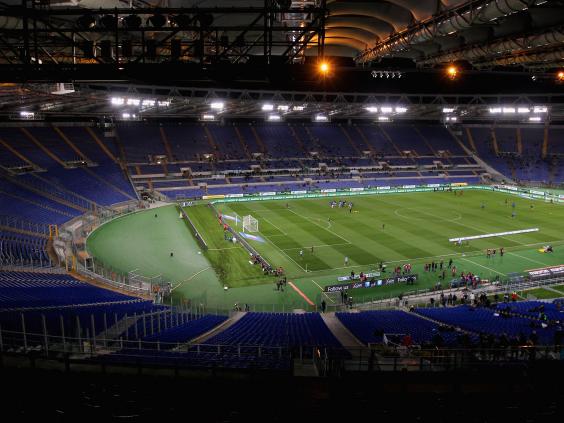 The Juventus Stadium is the only side to average above 90 per cent, although their stadium is relatively small (41,254 capacity) for a club with such histroy and tradition. Internazionale average the biggest gate in the country, 45,297, but that is only 56.6 per cent of the 80,017 San Siro.
Lazio's support do not turn out in numbers, with only 27.84 per cent of the 73,261-seat Stadio Olimpico full on average this season - the average attendance has been just 20,403. That number is lower than usual as they have had to play two of their home games without fans because of racist abuse directed at Napoli's Kalidou Koulibaly. City rivals Roma boast an attendance pretty much double that total, 40,171.
Reuse content