When Louis van Gaal was growing up, he had three heroes. There was Henk Groot, a striker who won four successive Dutch titles with Feyenoord and Ajax. There was John F Kennedy, whose assassination was, coincidentally, studied in almost obsessive detail by Sir Alex Ferguson. The third hero was Rinus Michels, the father of "total football".
It seems hard to imagine that the Manchester United manager, renowned for his tactical rigidity, should have anything to do with a coach who believed in complete fluidity of play and position.  And yet, especially in the years when he transformed Ajax into European champions, Van Gaal was a disciple of total football and there is something similar emerging at United, epitomised by his fluid use of Wayne Rooney (pictured).
All managers, when they come into a club, have one player who they have to win over. For Ferguson it was Bryan Robson, who was more influential, more popular and, in his early years at United, better paid than Ferguson was. For Van Gaal, it was Rooney.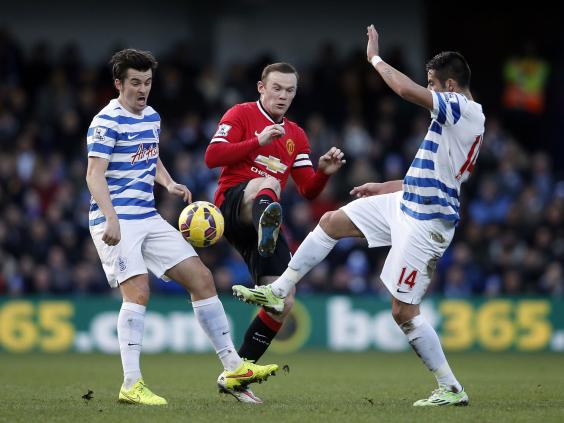 And yet if Rooney was sure of one thing it was that he was a striker. When United toured South Africa in 2008, Ferguson admitted he had been too ready to push Rooney into unfamiliar positions. "He'd play centre-half if you asked him to. But he's a centre-forward and that's that."
And yet Rooney has embraced the Dutchman's decision to turn him into first a left-sided midfielder, then play him on the right or, as he did against Leicester, use him deep in the centre.
Given how reluctant Rooney has been to drop into midfield, Van Gaal has pulled off something of a coup. "How have I done it? By giving him my arguments as to why he has to do that and sometimes convincing him he has to do something for the team," he said.
"Not many players can play in so many positions but Rooney is multifunctional. That is not always a benefit for him as I can use him anywhere. A player normally doesn't like that but I have to take care of it. I like multifunctional players because you can vary your team and be more unpredictable for your opponent as you change your positions. That's why I had that team at Ajax – your opponent doesn't know you anymore."
The team Van Gaal began with in Amsterdam was very different from the one he finished with both in terms of personnel and stadium – the old De Meer, close to where he grew up, was abandoned for the Arena. "Edgar Davids was an extreme left-winger and I made him a midfielder. Michael Reiziger was a No 10 and I made him a  right-back. Frank Rijkaard came in as a right-sided midfielder and I made him a centre-half at Ajax in my winning team."
Asked if he thought there were any Premier League clubs who played with that kind of fluidity, Van Gaal replied: "Arsenal has done it and sometimes Chelsea with Willian and Hazard."
It might have been trickier to persuade Rooney had United not just endured their worst season for 25 years or if Van Gaal had not arrived with a trophy-laden CV.
"He likes to play in midfield because he is more on the ball," said Van Gaal. "What I do know is that I cannot change him so easily from a midfielder to a striker  (during a game). I did that once and it was not so good. The changing of positions in a match, he does not like that and I take that into account. He can be better (starting) as a striker and then moving into midfield rather than the other way round."
One thing that won't change is Van Gaal's obsession with training, which is expected to be taken as seriously as match days. "They are aware they are playing for their futures," said the man who told his Ajax side that 'just nicely working with the ball' was not an option at training. Players would be drilled.
"Everyone knows you have to perform in a match but you also have to give 100 per cent in the training sessions. A lot of players (at Manchester United) were not aware of that. Now they know."
Probable teams:
West Ham: Adrian; Jenkinson, Kouyaté, Tomkins, Cresswell; Song; Amalfitano, Downing, Noble; Sakho, Valencia.
Manchester United: De Gea; Shaw, Rojo, Jones; Blind; Di Maria, Rooney, Fellaini, Valencia; Falcao, Van Persie.
Reuse content