West Ham United are trying to create new memories for themselves at the London Stadium and here they made one that will stay with them forever: killing Tottenham's title challenge. 
This was the type of raucous evening they used to have at the Boleyn Ground, players and fans feeding off each other's energy as they overwhelmed their guests. It ended with Dele Alli, slumped inside his own goal, having to be dragged to his feet by Ben Davies. The West Ham fans could not contain their glee at handing this year's title finally to Chelsea. 
The gap between top two teams is still four points but if Chelsea beat Middlesbrough on Monday, as they surely will, it will be back up to seven with three games left. Chelsea can end it next Friday by winning at West Bromwich Albion. This title race could well be over by this time next week.
West Ham vs Tottenham Hotspur player ratings
West Ham vs Tottenham Hotspur player ratings
1/23 Player ratings from the London Stadium

We run the rule over the two teams.

Getty Images

2/23 Adrian - 7 out of 10

Made a superb point-blank save to deny Harry Kane in the first-half.

Getty Images

3/23 Jose Fonte - 6 out of 10

A good performance and made two important interceptions as Spurs looked to pass their way through West Ham's backline.

Getty Images

4/23 Winston Reid - 7 out of 10

A solid performance from West Ham's skipper who did a lot of the ugly work at the back. Led the way in the number of clearances made.

Getty Images

5/23 James Collins - 6 out of 10

Spurs looked to isolate Collins on their breaks forward but, sitting in a three-man midfield, the Welshman turned in a positive display.

Getty Images

6/23 Sam Byram - 6 out of 10

Didn't have an awful lot to do, but what he did he did well.

AFP/Getty Images

7/23 Cheikhou Kouyate - 7 out of 10

Made a number of crunching tackles in the middle of the park. But his tendency to concede needless fouls is frustrating to watch.

West Ham United via Getty Images

8/23 Mark Noble - 6 out of 10

A hard-woking display, although made a brainless challenge on Eric Dier in the first-half for which he was rightly booked.

Getty Images

9/23 Aaron Cresswell - 6 out of 10

For such a talented player he simply wasn't able to get forward and join in the attack enough. Did his job well at the back, though.

Getty Images

10/23 Andre Ayew - 7 out of 10

Didn't see an awful lot of the ball playing just off the shoulder of Calleri, but very tidy with the ball at his feet when he did find himself in possession.

AFP/Getty Images

11/23 Manuel Lanzini - 8 out of 10

Unlucky not to win a penalty when he was clattered by Hugo Lloris. A constant threat, and opened the scoring from close-range with a powerful finish.

AFP/Getty Images

12/23 Jonathan Calleri - 6 out of 10

Worked hard although he is not in the same class as Andy Carroll when it comes to the target-man role. Frequently gave the ball away.

Getty Images

13/23 Hugo Lloris - 7 out of 10

Was lucky not to concede a penalty when he caught Lanzini on the edge of the box. Made up for it with a stunning reaction save from the same player.

AFP/Getty Images

14/23 Kyle Walker - 5 out of 10

Was this a sign his head has been turned by all the transfer talk? Not his usual composed self. Poor going forward and picked up a silly booking.

Getty Images

15/23 Toby Alderweireld - 6 out of 10

Tottenham's best defender: made 3 important tackles, a number only better by Heung Min-Son on the wing.

Getty Images

16/23 Jan Vertonghen - 5 out of 10

Looked strangely susceptible to the long-ball over the top. Withdrawn by Pochettino after Tottenham conceded the first-goal.

Getty Images

17/23 Ben Davies - 6 out of 10

Coped better than Walker on the opposite flank although lacks the dynamism of Danny Rose in advanced positions.

AFP/Getty Images

18/23 Eric Dier - 6 out of 10

Not up to scratch. Uncharacteristically careless in possession. Stayed in a more rigid midfield position alongside Wanyama rather than in the more fluid role we have grown accustomed to seeing him in.

Getty Images

19/23 Victor Wanyama - 5 out of 10

Looked to pick up a slight-knock in the first-half. It has been a long season for the midfield anchorman and he looked tired here.

Getty Images

20/23 Christian Eriksen - 6 out of 10

After a series of exquisite performances in the heart of Tottenham's attack, he disappointed against West Ham. Found space only occasionally, and tended to make the wrong decision when he did.

AFP/Getty Images

21/23 Dele Alli - 6 out of 10

Reduced to a role on the periphery for most of the game. Far, far from his best.

Getty Images

22/23 Heung min-Son - 7 out of 10

One of Tottenham's better players. Had a good shot well saved in the second-half. Made more tackles than any of his team-mates.

Getty Images

23/23 Harry Kane - 5 out of 10

Hard to remember a more subdued Harry Kane performance. Had a close-range shot saved by Adrian at point blank range in the first-half. That was about it.

AFP/Getty Images
It already feels like a different time, but just five days ago Spurs blew Arsenal away at White Hart Lane. Here, for the first time in months, they looked to have run out of steam. They had won nine straight in the league before this one but here they had nothing left in their legs. They simply could not summon up their usual energy to play their pressing game.
The problem is that without that aggressive energy, Spurs fall apart. Here they were dangerously open at the back, as they failed to press properly and left themselves vulnerable to the ball over the top. This is the best defence in the country but they certainly did not look like it here. They were always open on the break, more open than they have been in years, and West Ham could always get in behind. If they had a better striker than Jonathan Calleri they would have won by more.
To see Spurs this ragged, this vulnerable and at risk of a heavy beating from one of the worst teams in the league, it was clear that this game was one too far for Tottenham. It was unfairly labelled a "bottle job" on television but their failings were more physical than mental.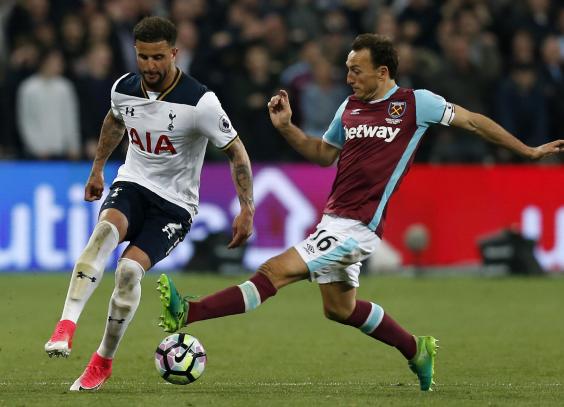 Even going forward, Spurs could not create their usual flow of chances. Kane and Dele Alli have shredded plenty of teams this year but here they could not. Adrian had to make one sharp double save from Kane in the first half but that was it. Even at the end when Spurs tried to raise it, it never felt like a siege.
At no point really did Spurs play like a team desperate to reduce the gap with Chelsea down to one point, for 72 hours at least. West Ham had won just one of their last 11 league games but they were livelier than Spurs throughout. They pressed and pushed Spurs into mistakes, snapping into tackles and causing problems. Mark Noble's late lung on Eric Dier was reckless but it did show that this evening, in this derby, West Ham would be walked over.
Spurs were so unusually open at the back. Manuel Lanzini raced through but skewed wide, Sam Byram nearly scored a far-post header before Lanzini raced in again and was cleaned out by Hugo Lloris. 
West Ham sensed their opportunity and came out for the second half even harder. Ayew should have done better from the edge of the box than just hit the ball over the bar. Calleri started to get in good positions but could never convert.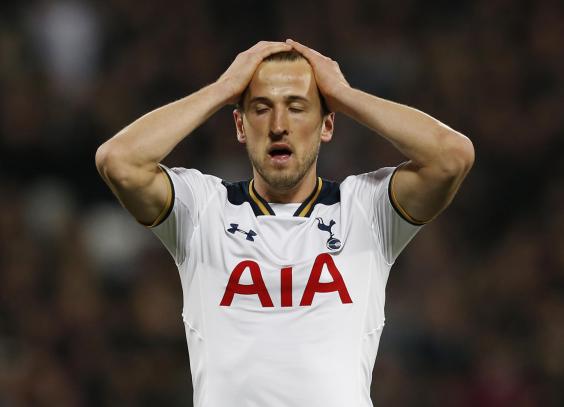 When the goal West Ham deserved eventually came, it was a scrappy, not that anyone here cared. Cresswell's cross was blocked, he tried again. Byram scuffed another cross from the opposite side.  Ayew's shot was blocked by Jan Vertonghen. Only Lanzini could strike the ball cleanly and it flew past Lloris and in.
Even at 1-0 down, fighting to keep their season alive, Spurs could not wake up. Mousa Dembele and Vincent Janssen came on but Spurs were still poor at the back. When Alderweireld gifted the ball to Calleri he should have been punished. But the Argentine could not beat Lloris from close range.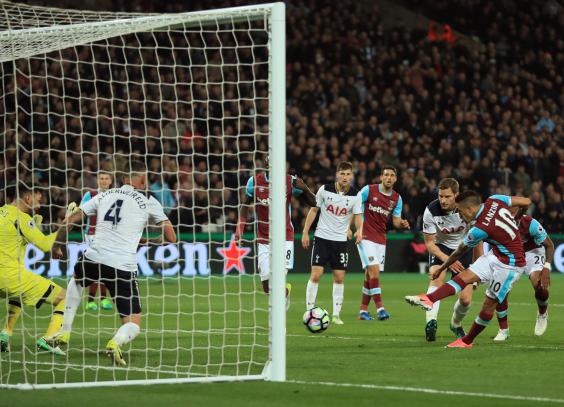 Normally there would have been a Spurs surge at the end to get back into the game. But when they tried to crank the energy up, there was nothing left in the tank. They could not get anything going, and Christian Eriksen whistling one wide from 25 yards was as good as it got.
It was a shame for such a heroic season to end this meekly but they simply could not match West Ham on the night. It was Bilic's side who brought more energy and ideas here this evening, as surprising as that might seem. Spurs' race is run, for this season at least.
Reuse content