Arsene Wenger's future is once again the centre of widespread debate for Arsenal supporters, who remain torn on whether the Frenchman in the right man to continue as the club's manager.
With Arsenal's wait for another Premier League trophy almost certain to stretch to a 13th season, fans are growing increasingly frustrated at the Emirates Stadium, where banners have once again appeared among supporters calling for Wenger to leave.
The north London club remain in the hunt for a top four finish, but with a 12-point gap to Premier League leaders Chelsea, their hopes of top-flight success are all but over. Though the club remain in the FA Cup and Champions League, European success is highly unlikely, and there's no guarantee that winning back the FA Cup will feel like a successful season for the Gunners.
Wenger has spoken openly about his contract situation, with the club offering him a two-year extension that he is yet to agree to. He said last week that he will go with his "gut" feeling, but there appears to be a growing clamour for Wenger to end his 20-year reign at the end of his current deal.
The problem Arsenal have is that Wenger's potential successor is not clear yet, with many names being thrown into the hat each time his contract gets close to expiring. Here, we look at the candidates that could take Wenger's side.
Arsenal candidates to replace Arsene Wenger
Arsenal candidates to replace Arsene Wenger
1/6 Diego Simeone

Age: 46
Current club: Atletico Madrid
Honours: Argentine Primera Division x2 (Estudiantes de La Plata and River Plate)
La Liga
Copa del Rey
Spanish Supercup
Europa League
Uefa Super Cup

Getty

2/6 Eddie Howe

Age: 39
Current club: Bournemouth
Honours: Championship

Getty

3/6 Massimiliano Allegri

Age: 49
Current club: Juventus
Honours: Serie C1 (Sassuolo)
Serie A x3 (AC Milan, 2x Juventus)
Italian Super Cup x 2 (AC Milan, Juventus)
Coppa Italia x 2 (Juventus)

Getty

4/6 Thomas Tuchel

Age: 43
Current club: Borussia Dortmund
Honours: Bundesliga II (Mainz)

Getty

5/6 Roger Schmidt

Age: 49
Current club: Bayer Leverkusen
Honours: Austrian League (Red Bull Salzburg)
Austrian Cup (Red Bull Salzburg)

Getty

6/6 Ralph Hasenhuttl

Age: 49
Current club: RB Leipzig
Honours: N/A

Getty
Diego Simeone
Certainly the best manager who might be available this summer. Simeone's contract lasts until the summer of 2018 and there is no prospect of him extending it. He could even leave this summer, one year early, if he finally wins the Champions League after two devastating final defeats to Real Madrid in 2014 and 2016. In taking his team to those two finals, as well as winning La Liga in 2013-14, Simeone has worked miracles at Atletico. No manager this century has overachieved more obviously than him.
But he is likely to want to complete his final year in Madrid and his preferred destination if he were to leave is Internazionale, where he played at his peak in the late 1990s. He has no experience of English football and while that is not a barrier to him succeeding here, winning in the Premier League is not his top priority yet.
Eddie Howe
If Arsenal are committed to going British then Howe is the obvious candidate. He has taken Bournemouth all the way up from League Two to the Premier League, and has done so playing attractive, enterprising football. He would be a natural fit with the professed playing philosophy of the club and would need no time to adapt to English football.
What Howe would need though is time to adapt to coaching a big club. Managing top players is different and the fact that Howe has achieved so much with players he had in League One could even count against him. Could he persuade Mesut Ozil and Alexis Sanchez to stay? Or find world-class replacements for them if they left? He would surely need to prove himself in the top half before stepping up.
Max Allegri
If Arsenal want a manager who has proved that he can win titles with big clubs, Max Allegri is an obvious pick. He won Serie A with Milan and is now on his way to a third straight scudetto with Juventus. He has taken on the team that Antonio Conte built and even did what he could not, taking them to the 2015 Champions League final, only to lose to Barcelona.
Allegri is a canny man-manager and tactician but ultimately he may be like his compatriot Carlo Ancelotti, a good manager of top players rather than a dynamic team-builder. He could improve Arsenal but may not provide the serious change of direction they need at the top.
Thomas Tuchel
The man who replaced Jurgen Klopp at Borussia Dortmund in 2015 has a similar commitment to aggressive pressing football. He joined after impressing at Mainz, guiding them to their best-ever Bundesliga finish and taking them into Europe. He is now trying to revive Dortmund with young players after so many of the top players have been sold in the last five years.
Tuchel is a very different person from Klopp, lacking his explosive charisma, but has a much more studious approach. He is close friends with Pep Guardiola and greatly admired by the Manchester City manager, who sees him as the next best manager in Europe after Antonio Conte. Tuchel speaks perfect English and his contract expires in 2018. He ticks more boxes to replace Wenger than most.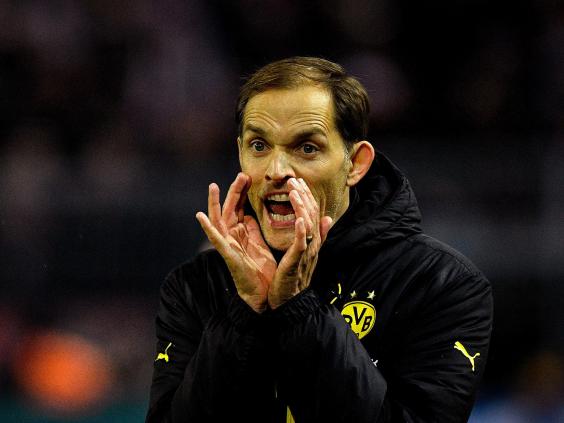 Roger Schmidt
Like Tuchel and Klopp, Schmidt is another follower of legendary German coach Ralf Rangnick. His aggressive pressing football has been very successful first at Red Bull Salzburg and now at Bayer Leverkusen. His Leverkusen team beat Tottenham Hotspur at Wembley in November, out-doing even Mauricio Pochettino's with their energy and speed.
Schmidt has plenty of admirers in England and has been offered Premier League jobs before, only to choose to stay in Germany. But he is well known at Arsenal too and would fit naturally into the role. There may be some concerns, though, that he is not won any bigger trophies than the Austrian league.
Ralph Hasenhuttl
A surprise candidate, Hasenhuttl hinted recently that Arsenal had spoken to him about the big job at the Emirates. He is only in his first season at RB Liepzig but has guided them to second place in the Bundesliga, just four points behind Bayern Munich, a remarkable achievement for a recently promoted club.  Before then he guided Ingolstadt from the far end of the second tier up into the top flight, showing that he is not just reliant on RB Liepzig's corporate money. Again, there are concerns about the relevance of his experience, but for a job like this no candidate is perfect.