Brendan Rodgers could have a decision to make about the Manchester City manager's job this summer if he is interested in such deliberations.
Manuel Pellegrini's position is contingent on City's owners believing that the club is moving forward under their current manager. An emphatic win in Barcelona two weeks tomorrow could strengthen his position as much a surge of Premier League form allowing the champions to challenge Chelsea. But the club appear stuck, signings have failed and the only loud re-endorsements of him, in the aftermath of the 2-1 defeat at Liverpool, have come from the man himself today.
The only real certainty surrounds the type of candidate City would want to replace Pellegrini. The philosophy of attacking, attractive, possession-based football which the club's chief executive Ferran Soriano and director of football Txiki Begiristain want for the club remains little less than an obsession – and it is the relative shortage of top class managers capable of bringing that which make Rodgers a prime candidate.
Needless to say, Pep Guardiola would be the top choice for City as he would be for any club if he were available. You will not find anyone at City denying the appeal. Soriano and Begiristain know him better than any other manager. He was the one the pair together selected to take over after they sacked Frank Rikjaard at Barcelona and who subsequently took Barcelona to the top of Europe. Soriano and Begiristain's reputation in football is underpinned by what he achieved in that time.
Guardiola, whose contract expires next summer, appeared to declare himself unavailable today. "I am very happy at Bayern. It's not an option that I leave this summer. I have a contract. I have not received offers and neither do I expect to," he said, though there is also no sign of him extending his original three year deal signed in 2013
If Guardiola is as good as his word, Rodgers is the manager who carries most appeal. "We like him very much," Soriano told me two years ago. City wanted him as Mancini's assistant in 2009. They took Rodgers to a hotel in Sardinia to meet him with a view to that happening, though Mancini wanted his own people. The Spaniards running City have not failed to notice his tactical ability this winter, as he has redrawn his formation to compensate for the absence of Luis Suarez and Daniel Sturridge.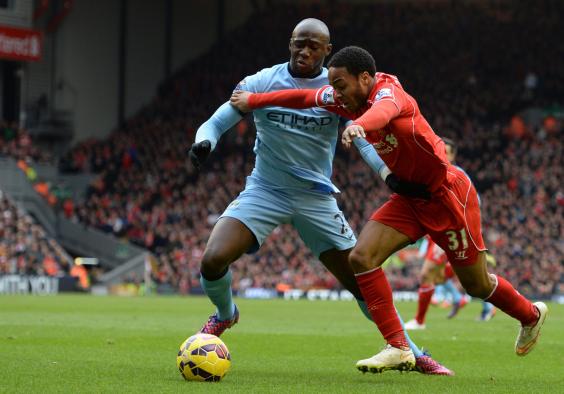 City's problem would be persuading Rodgers to join them, because he is acutely aware the value attached to loyalty by supporters of his current club. Though City may be able the only one of the two clubs able to offer Rodgers Champions League football next season, it would take a brave individual to become the first manager to leave Anfield for another English club - undoing all the work he has done to earn himself the affection of the great club's fans.
If neither Guardiola nor Rodgers is available, City could turn to Carlo Ancelotti, whose challenging relationship with Real Madrid president Florentino Perez has always made a return to England possible and who has a personal attachment to Britain – albeit London. The prospect of a move for Atletico Madrid's Diego Simeone are unlikely, because the Atletico Madrid side do not play the Soriano/Begiristain way.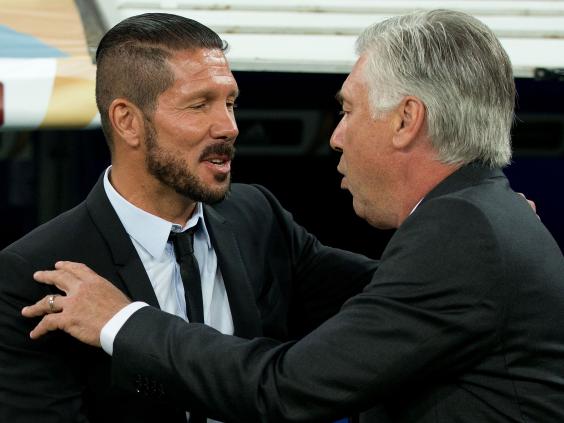 The elevation of Patrick Vieira, presently elite development squad manager, is a possibility – a move City had hoped they would not have to consider just yet. Contrary to reports by Spain's AS paper, there has been no contact between City and Rafael Benitez, though the Spaniard will be available for work after his successful Napoli tenure ends this summer.
Liverpool 2 Manchester City 1 player ratings
Liverpool 2 Manchester City 1 player ratings
1/22 Simon Mignolet - 5

Should have done better to deny Dzeko's goal and looked nervy from the off. Caught out of position on more than one occasion. Lucky not to concede more in the second half as several efforts went skimming by the woodwork.

Getty Images

2/22 Emre Can - 7

Muscular in defence. He let his teammates roam up the field knowing they were secure at the back.

Getty Images

3/22 Dejan Lovren - 6

Had a mixed game going up against Pablo Zabaleta. The Argentine couldn't pick a key cross so Lovren can be pleased with his work.

Getty Images

4/22 Martin Skrtel - 6

Read the game well in the centre of the back-three but was asked to do too much with Liverpool's midfielder's so committed to the attack.

Getty Images

5/22 Jordan Henderson - 8

What. A. Goal. You don't see too many of them. His powerful curling effort from 25 yards gave Joe Hart no chance. Otherwise had a decent game with some tidy passing.

Getty Images

6/22 Alberto Moreno - 5

Liverpool needed two long range finishes because their midfielders couldn't pick any key passes. Moreno was off the mark more than once.

Getty Images

7/22 Lazar Markovic - 3

Had a really bad game on the right flank. Skewed a number of crosses off the mark and his passing was errant.

Getty Images

8/22 Joe Allen - 6

Won the ball back for his team and helped kick-start many of his team's attacks.

Getty Images

9/22 Adam Lallana - 6

Had two finishes negated by the offside flag. Wasted a handful of opportunities. Up and down game.

Getty Images

10/22 Philippe Coutinho - 8

His goal was another absolute missile. Played some nice balls across the part to boot. Very good game.

Getty Images

11/22 Raheem Sterling - 7

Full of vim and vigour and was his usual pacey self

Getty Images

12/22 Joe Hart - 4

Not a lot he, or any other goalkeeper in the world could have done much about the two Liverpool goals on the day. The reds had two more goals disallowed for offside, the day could have been much worse for Joe Hart.

Getty Images

13/22 Pablo Zabaleta - 6

Caught well out of position for the first goal on one of his ventures up the field. Was positive in the attack and was City's main attacking outlet on the flanks.

Getty Images

14/22 Eliaquim Mangala - 5

City suffered because Liverpool had plenty of time to wind up their shots. Could have done better closing down.

Getty Images

15/22 Vincent Kompany - 5

Isn't what he used to be. Doesn't command the centre of defence like he used to. Up and down performance.

Getty Images

16/22 Alexandar Kolarov - 5

Powerful in defence but was mediocre going forward.

17/22 Fernandinho - 4

Left his defence high and dry for the first goal with a sloppy back-pass. Wasn't very effective at building attacks.

Getty Images

18/22 Yaya Toure - 8

His passing was lethal all day, constantly prying open the Liverpool defence with teasing deliveries.

Getty Images

19/22 Samir Nasri - 6

Plenty of useful link-up play from the Frenchman. On another day should have had an assist.

Getty Images

20/22 David Silva - 7

Displayed plenty of nice passes in the centre and was City's most creative player on the day.

Getty Images

21/22 Edin Dzeko - 7

Looked very sharp from the off and his finish was clinical.

Getty Images

22/22 Sergio Aguero - 7

Unlucky to be denied by the post early on and he looked sharp on the break. Provided a nice assist for Dzeko's goal.

Getty Images
The task of persuading Rodgers to make the short move east would be a challenging one. But his retrieval of Liverpool' situation under immense personal pressure last autumn makes him arguably manager of the season if Liverpool continue on their trajectory. If Pellegrini leaves, City will try.
Reuse content