Last summer was hectic for Siobhan Chamberlain. She won a bronze medal in the Women's World Cup, got married, and played for two clubs in the FA Women's Super League. But it was not nearly hectic enough.
"I was busy off the pitch, not so on the pitch, as I haven't really been on it," she said ruefully when we met to discuss the new WSL season, which starts tonight. In 2015 Chamberlain was at Arsenal, then on loan at Notts County, but barely played for either team. Nor did she play much for England. So now, at 32, she is at Liverpool, after the ninth move of a 15-year career which has included two spells apiece at Chelsea and Bristol and one in Canada.
Many women footballers are itinerant due to inconsistent investment in both clubs and leagues, but ambitious goalkeepers can find themselves on the move more than most. Chamberlain's new husband, Leigh, is based in the capital, but sitting on the bench at Arsenal is no good for his wife. "I've barely seen him recently," she said – "maybe that's the secret to a good marriage!"
She added: "Everyone wants to play and at Arsenal, for whatever reason, I got hardly any game time. I needed to move to change that." Even the loan period was frustrating as a registration issue prevented her playing in the FA Cup final against Chelsea.
Before joining Arsenal in 2014 Chamberlain had not missed a minute in three years at Bristol Academy and now aims to become as established at Liverpool. She has taken the No 1 shirt and is expected to play at home against Birmingham City tonight, though  there are no guarantees. 
"If you go somewhere assuming, or demanding, to be No 1 you will come unstuck," she said. "You need competition, and to earn the right."
There has been wholesale change at Liverpool. With the men's club committing funds, they were champions in 2013 and 2014 but came seventh in an eight-team league last season amid indications of reduced investment. Manager Matt Beard left to coach in the US and a raft of key players quit. But new manager Scott Rogers, Beard's former assistant, recruited extensively, signing internationals from home and abroad.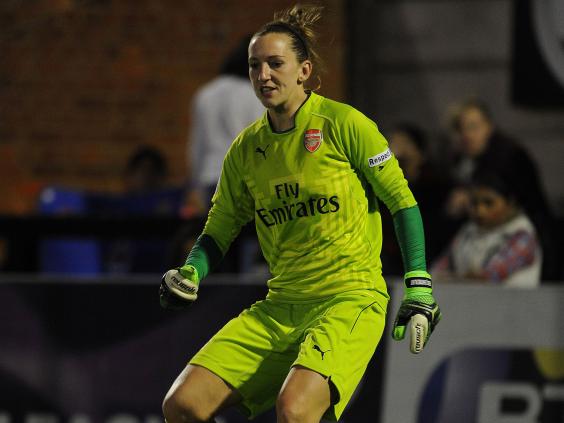 "We have nine new players, all very good players," said Chamberlain. "Scott has done really well and I am really excited. It will be very competitive but the pressure is on Arsenal, Chelsea and Manchester City because of their investment. We can quietly go about our business, doing what we need to do."
A good season would enable Chamberlain to increase the pressure on England's incumbent, Karen Bardsley, ahead of Euro 2017. Chamberlain has been to five tournaments but only played 38 minutes, albeit dramatically as a substitute for Bardsley in last summer's World Cup quarter-final against hosts Canada in Vancouver. She kept a clean sheet as England won 1-0 
"You never expect to play, but you always have to be ready," she said. "Someone might get injured in the warm-up, someone might get sent off. If you are not ready, you are not going to perform.
"I had done all the training, worked hard, and when KB had to come off I was ready. I really enjoyed the experience. I played for Vancouver and knew quite a lot of the Canadians, so it was important to me. I always felt part of the squad, but playing made winning a medal more special." 
Playing always does.
Reuse content