On 16 March last year, 43,000 followers of Aberdeen were in Glasgow to see the club's first cup final for 14 years. One week later, around double that number lined Union Street to celebrate the parade of the trophy. The Scottish League Cup was Aberdeen's first silverware for 19 years, and the presence at a cup final, the victory, the attendance and the mass reception back in Scotland's North-east gave rise to a feeling that a dormant famous club had woken up.
The final had not been easy. Aberdeen won it against  Inverness only after a penalty shoot-out, and the sheer weight of the long, long wait got to the normally restrained chairman-owner, Stewart Milne. He greeted the outcome live on Scottish radio with the words: "Nineteen years, 121 minutes, then f***ing penalties."
It became a red T-shirt in Scotland's North-east, though something else Milne said in the relieved wake of winning a trophy again was just as telling: "I think we've got a special manager and a great management team.
"They've put together a fantastic back-room staff as well and are starting to build a team that's, hopefully, going to take us back to the right end of Scottish football and sustain us there."
Should Aberdeen win on Saturday at St Mirren, they would go four points clear of Celtic at the top of Scotland's Premiership.
Victory would be Aberdeen's eighth in a row in the league. If it comes with a clean sheet, it will also be for the eighth consecutive league game. It could be called a sustained run and, statistically, Aberdeen's defence is better than Bayern Munich's at the moment. There has even been a claim this week that on current form Aberdeen have the best defence in the world.
Some caveats are required concerning the standard of Scottish football – on the field, in the stands and economically. Plus there is the fact that Celtic will have two winnable games in hand on Aberdeen, who will only be four points ahead at the top. Celtic, moreover, remain 1-10 to win the league, for a fourth season in a row.
But what is clear is that Aberdeen have no intention of going back to sleep. This is not the same team, or same club, that lost 9-0 to Celtic just over four years ago, or the same club which finished 10th of 10 in 2000 and avoided relegation due to the top division's enlargement to 12 teams.
Given the hourly turmoil at Rangers and the mismanagement of Hearts and Hibs over a long period, that Aberdeen are making a challenge beyond Christmas is also significant for Scottish football. Other than the Old Firm, Aberdeen are the first team to be top in January since Hearts in 1992.
Derek McInnes is the "special" manager Milne believes Aberdeen have recruited. There are some at Bristol City, McInnes' previous post, who might dispute that description. McInnes could counter that he was the sixth manager in seven years at Ashton Gate, which suggests he might not have been the problem.
McInnes is the fifth in five years at Pittodrie and is cautious about enthusiasm outstripping reality.
"Obviously, we've had a good month in December and we've started January well," he said, "and we're obviously happy where we are. But we haven't looked beyond St Mirren and if we don't win, we're aware of the difficulties it can cause us."
But McInnes is aware of the broader story, too – that the top five in Scotland are separated by just five points. "I think it's really encouraging for the league," he said.
"I understand the desire from everybody to have a team challenging because it hasn't been a competition for years.
"People say they just can't see Aberdeen sustaining it. I understand that it's unusual for any team to go and win seven games in a row without losing a goal. But our challenge is to win eight. And then, hopefully, nine.
"Celtic can only lose the league, I genuinely feel that. When there are 29 points between first and second last year, that takes a big swing both ways: Celtic have to be far poorer than they were last year.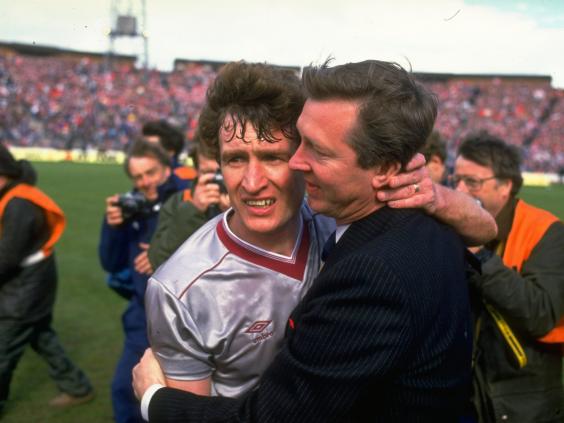 "They have loads going in their favour and it's not just finances. If we are sitting here in two months' time with eight games left and we're still there, then obviously it starts. But we're not there. We have to deal with now."
McInnes had impressed at St Johnstone prior to Bristol City, and the 43 year-old from Paisley has earned approval from Aberdeen's greatest manager.
Between 1978 and 1986, Sir Alex Ferguson made Aberdeen formidable, successful and respected across Europe. When McInnes collected his award for Scotland's Manager of the Year last May, he said: "I was out for dinner with Sir Alex a fortnight ago. I was in his company for a good few hours and had a good chat with him. He still has an affection for the club."
Ferguson cannot be escaped. It was his Aberdeen who were the last Scottish champions outside Celtic and Rangers, in 1985.
However, Ferguson was at Dens Park, Dundee, to see Aberdeen in the Scottish Cup in November. It was the last time they lost.
The current run gained momentum the following week when Adam Rooney scored the third in a 3-0 win over Hamilton. Rooney is a 26-year-old Dubliner who began his career at Stoke. He has scored 19 goals this season – eight in his last 10 matches – and Aberdeen have just extended the striker's contract, and also those of others.
This stems from a greatly improved financial position. In December, chairman Milne, who has been at the club two decades, and other investors wrote off almost all Aberdeen's £14m debt.
Having said that, the club's record transfer is still the £1m paid to Oldham for Paul Bernard in 1995 and, as with Rooney from Oldham, McInnes has brought in free transfers from the likes of Brentford, Cheltenham and Tranmere. David Goodwillie, once a £2m buy by Blackburn, joined last summer having been released at Ewood Park.
Greater than the sum of their parts, Aberdeen look a proper team again. The Scottish landscape has changed, possibly for ever, but the "lingering death" forecast by the Scottish FA's chief executive, Stewart Regan, two and a half years ago is being refuted in country's North-east. Now it's about Aberdeen sustaining the argument.
Fergie time: When Aberdeen beat the old firm
Glasgow sides have held a stranglehold on the Scottish top flight over the past three decades, Celtic (12) and Rangers (17) sharing the title since Aberdeen's 1984-85 win.
Sir Alex Ferguson's side, featuring Jim Leighton, Alex McLeish and 24-goal Frank McDougall, finished seven points clear of Celtic, retaining the crown for a third title in six years.
The manager left Pittodrie 18 months later to take over at Manchester United.
Reuse content