"I think that instead of fighting we should take the Fritzes on at football. I am certain we would do them."
On 4 August 1914, Britain declared war on Germany. Eleven days later a full house at Tynecastle cheered Heart of Midlothian to victory over Celtic, the defending champions beaten by the young pretenders of the Scottish game. War seemed a long way off on that summer's afternoon; somewhere for a foreign field, not the football field.
As the familiar smells of Edinburgh's west end rose from the Caledonian Brewery and drifted over the Gorgie Road, Tom Gracie and Henry Wattie scored and James Boyd kept out everything Celtic could throw at the Hearts goal. Less than two years later all three were dead, as was their team-mate James Speedie. By then five more of the men in maroon had been wounded in action. Two were gassed, injuries that would condemn them to premature graves.
Pat Crossan was one, dead at the age of 40, his fate decreed amid the maelstrom that was the Western Front. It was Crossan, reputedly the quickest man in Scotland, and by his reckoning the handsomest too, who wrote the words at the top of this article in early 1916, shortly after his first experience of the trenches. The letter was sent to John McCartney, the Hearts manager who had assembled a vibrant side he believed capable of challenging Celtic's rule.
Of the 11 Hearts men who played that August afternoon, two survived the First World War unscathed. They formed part of C Company, 16th Royal Scots, McCrae's battalion, and alongside butchers, bakers, gamekeepers, miners, librarians and the rest, the footballers from Hearts went to war. There were players from 75 professional and amateur clubs in McCrae's, from Kinneil Ramblers and Ladybank Violet to those from the upper echelons of the Scottish game, Dunfermline, Raith Rovers, Hibernian and above all the men from Tynecastle. This was the first football battalion.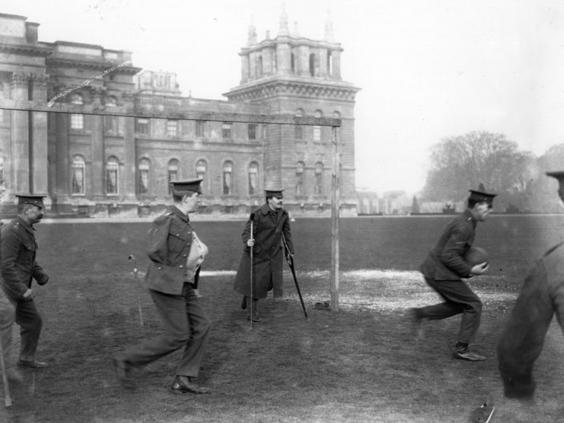 As war took its grip on Britain the mood was one of extreme patriotism and an accompanying demand for universal commitment to its cause. Football became regarded by many not only as an irrelevance but also an insult to those fighting for King and country. There were public rumblings of discontent.
"The young men who play football and those who look on have better work to do," declared the London Evening News. "They are summoned to leave their sport, and play their part in a greater game. That game is War, for life and death."
The Edinburgh Evening News published a letter from a "Soldier's Daughter". She called for Hearts to be renamed. They must now be known, demanded the writer, as "the White Feathers of Midlothian".
The season was going well for Hearts. Under McCartney's innovative direction they galloped clear of Celtic, winning 19 of their first 21 matches. A first championship for 18 years beckoned. In between matches the players attended drill sessions led by Annan Ness, the reserve team's half-back and once a soldier.
Speedie was the first to join up and the first to France, arriving in the summer of 1915. He lasted to the autumn. By then most of his team-mates were in khaki too and undergoing training in the Yorkshire town of Ripon. The new battalion's football team had just won their brigade championships when news of Speedie's death reached them. It was followed three weeks later by his last letter, enquiring after the health of the "Hearts lads".
Those lads had joined up en masse at 2pm on Wednesday, 25 November after Sir George McRae, one of Edinburgh's leading men, was given permission to raise a battalion. Five were turned down for health reasons but, having met the requirements of being aged between 19 and 38, over 5ft 3in and with a chest of at least 34in, 11 became soldiers.
The men of Scotland's capital city and its surrounds flocked to join them. C Company was made up of 30 professional players, 60 leading amateurs – 10 players from Mossend Burnvale, known as the Cow Punchers, joined together – and 170 Hearts supporters.
The battalion reached its full capacity on 12 December, the day discussions began down south about creating a footballers' battalion. For the Hearts players it began a peculiar separation of their lives, mixing military training with chasing the league title. One Saturday they returned from a night march to catch the train to Greenock and that afternoon lost 2-0 to Morton. It was an impossible juggling act and they won only eight of their 17 games post-mobilisation. Celtic hurried past them.
"Hearts have laboured under a dreadful handicap, the like our friends in the west cannot imagine," wrote the Edinburgh Evening News. "Between them the two leading Glasgow clubs have not sent a single prominent player to the Army. There is only one football champion in Scotland, and its colours are maroon and khaki."
Khaki was now the only colour, with football and Scotland left behind. On a dark evening in the first days of 1916 McCrae's men crossed to France. Three weeks later they went into the line and within minutes were under fire. "You sit in the mud and hope the next one won't be near you," wrote one soldier home. The Hearts board promised to send comforts from home; the players requested mouthorgans, socks, cigarettes, sweets, soap, candles and writing paper.
By 1916 the Western Front was settled into a deadly grind of trench warfare. Battalions would take turns in the front line between wearying spells labouring in the reserve lines. "Most of our time is spent digging holes in bits of France to fill other holes in other bits of France," wrote Ness.
The first footballer from McCrae's to die was Jimmy Todd, a winger from Raith Rovers. On 12 March a shell fragment struck him in the chest. His comrades carried him into the shelter of a dugout where he died.
On 1 July, 1916 came the British army's day of infamy, the opening engagements of the Battle of the Somme when Field Marshall Kitchener's new army went over the top into hell and history. McCrae's men were given bacon and eggs for breakfast while Alfred Briggs, one of the Hearts players, was among those who hurriedly penned a last letter home.
At 7.30am the attack began – half an hour later Briggs had been hit in the right leg, left foot, right arm, right ankle and forehead. At the dressing station he was placed among the hopeless cases, but he survived. Crossan was buried alive when a shell exploded; it took him three days to crawl back to the British lines through no-man's land. Twenty-five men answered C Company's next roll call. Of the 814 men of McRae's who left the British trenches on day one of the Somme, 636 were killed or wounded.
Three weeks later Ness wrote home to McCartney, the Hearts manager: "We had a match the other evening, but oh, Mr McC, we did miss the boys. Talk about football. It made the tears come to our eyes."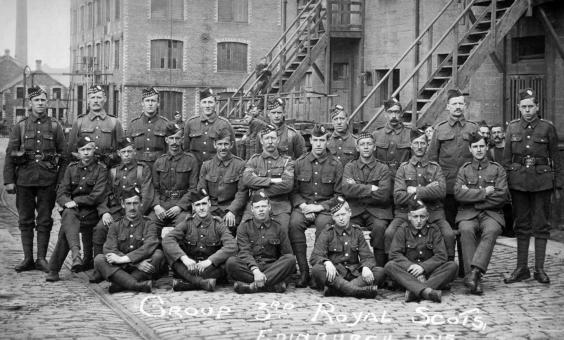 Wattie, a scorer a lifetime ago against Celtic, Duncan Currie and Ernest Ellis were killed. Wattie's body was never found. Briggs, Crossan, James Hazeldean and Edward McGuire were wounded. Gracie, the other scorer against Celtic, was already dead. Boyd had a month to live. Another Hearts player, John Allan, was killed in action in 1917. That year Willie Watson was invalided home. He wrote a letter to his mother: "I think of all the Hearts lads and then I have to think of something else."
In February Ness led McRae's to the final of the Corps championship. They won 5-0 with Ness one of three left from the team that had played the battalion's first match two years earlier. By May 1918 the battalion's strength was reduced to around 30. It was the end of the road for McCrae's.
Crossan was already back in Edinburgh having been gassed. On the last day of the war a friend visited him in hospital. Crossan's window looked out on the group of hills known as Arthur's Seat. "First I'm going to run up yon wee hill, then I'm going back to play for Hearts," he informed his visitor.
On 16 August 1919 Hearts beat Queen's Park 3-1 in the first home fixture of a peace-time league. Crossan played. But the war had not finished with him, nor his team-mate Bob Mercer. Mercer too had been gassed and in 1926 dropped dead on the pitch, his health having never properly returned. Neither had Crossan's. His lungs were ruined; his fate inevitable. Pat Crossan, the fastest and handsomest man in Scotland, died in 1933, one more victim of the Great War.
McCrae's Battalion by Jack Alexander is published by Mainstream. For more information see www.mccraesbattaliontrust.org.uk
Reuse content