Long-suffering Rangers fans may have heard this before, but the fallen Scottish giants are in crisis again. After three years of money-grabbing boardroom antics, the Gers faithful are now told the club need £6-8 million to avoid imminent insolvency. This is to pay wages and general operating costs; any unpaid creditor could force the club into administration.
At Ibrox on Friday night fans expressed their anger at the plutocrats hovering to pick at the carcass of this fallen giant. They stormed the Ibrox gates after the Hearts game was abandoned due to snow.
There is outrage that Newcastle United's owner, Mike Ashley, plans to loan more money in exchange for rights over Ibrox and Rangers' training ground. Rangers Supporters Trust are taking legal advice.
But Ashley is not the only suitor. Rangers International Football Club plc, as they are officially known, have various factions enticed by the commercial prospects of a still-massive fanbase.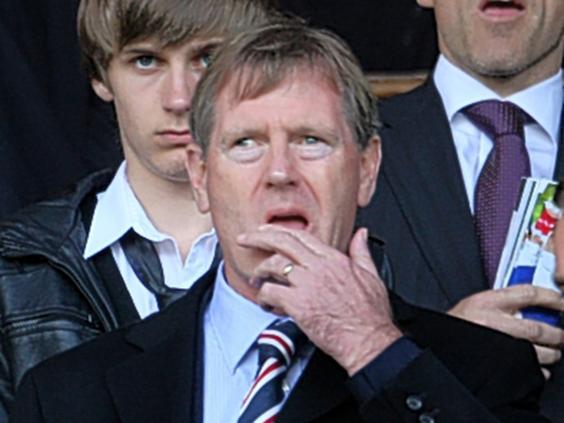 So what is the state of  the club right now?
At war. Last week began with a £20m offer for a controlling stake from the American Robert Sarver, owner of the Phoenix Suns basketball club. It was rejected by the current board. The week ended with 15 per cent shareholder Dave King calling an EGM, seeking to remove Rangers' four directors. In between, Ashley made what fans are calling "an asset grab".
Chairman Sandy Easdale is the face of Rangers' board. He owns five per cent of the club but has voting rights on a further 20 per cent or so. Other major shareholders are King and George Taylor (9 per cent). Taylor and his allies Douglas Park and George Letham (a combined 10 per cent holding) are known as "The Three Bears".
It was Easdale who in October sanctioned a £2m loan from Ashley. Ashley already had 8.9 per cent of the shares and received two seats on the board. These were filled by former Newcastle chairman Derek Llambias and Barry Leach, who worked for Ashley at Sports Direct, who part-own Rangers Retail. Ashley then tried to raise his shareholding to 29 per cent in December. The Scottish Football Association blocked this, citing their discomfort with dual ownership. Ashley could yet launch a legal challenge to that ruling.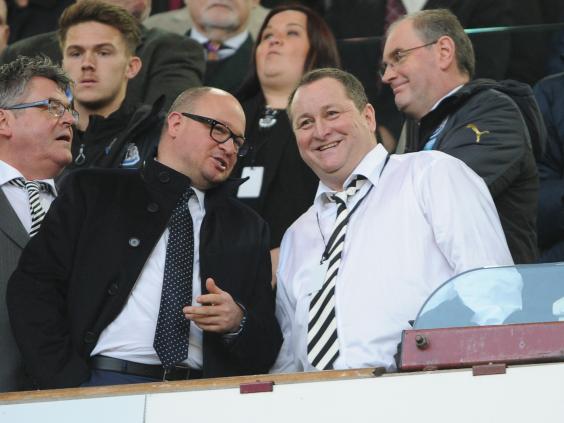 Ashley's loans mean he has effective control, if not outright power. His request on Thursday to add Sports Direct to the title deeds of Ibrox stadium and the Murray Park training ground upped the ante.
How did we get here (1)?
One argument says the problems stem from 1985. The 39 deaths before the European Cup final at Heysel in May that year between Liverpool and Juventus led to an indefinite ban on English clubs in Europe. Graeme Souness became Rangers' player-manager 11 months later and recruited England internationals such as Terry Butcher, Chris Woods and, later, Ray Wilkins, Trevor Francis and others. European football was part of the lure.
In 1988 David Murray bought Rangers. Under Murray and Souness, then Walter Smith and Dick Advocaat, lavish spending ensued.
In 1990 the European ban was lifted, but pre-England's Premier League Rangers were economically competitive. Afterwards, Scottish football had a renewed rival. Yet Rangers still paid huge transfer fees. The money talked, Rangers won the League title 17 times between 1987 and 2011, and in 2008 reached the Europa League final.
But they did so in an increasingly  unsustainable financial environment: in 2007-08 the SPL's television income – shared between 12 clubs – was £16m. Derby County, who finished bottom of the Premier League, received £29.1m.
How did we get here (2)?
In May 2011 Craig Whyte bought Rangers from Murray for £1. Whyte was taking on the club's £18m debt to Lloyds Bank, and their overall debt was £27m – not outrageous. But HMRC had an outstanding case against Rangers over an allegation of £49m paid secretly to employees, while there was also a claim for £9m in unpaid VAT and PAYE. The latter claim tipped Rangers into administration in February 2012. Formal liquidation came nine months later.
A new company, Sevco Scotland Ltd, was formed in March 2012 and Charles Green – a former Sheffield United director – acquired Rangers in June. He hoped the new company would be accepted back into the SPL, but other club chairmen voted against this and Rangers were demoted to the fourth tier. Many players left, including Steven Naismith and Allan McGregor.
Despite Rangers' lowly status and reduced income the culture of largesse remained. Manager Ally McCoist's salary in Division Three was £825,000. In 14 months from April 2012 Rangers' operating loss was over £1 million a month.
What happens next?
King's EGM call may disrupt Ashley, and on 27 January there is an SFA hearing which will determine whether the Sports Direct founder's dual interests in Rangers and Newcastle breach SFA rules.
There is also still time for another Sarver-style bid. Fan groups such as RST and Rangers First are acquiring shares – around 2 per cent to date.
It is difficult to see who will win this unseemly scrap, though there is every likelihood that the losers will be the fans. The only clear fact is that unless £6-8m is injected – it is reportedly required by the end of this month – insolvency looms.
And the football?
After successive promotions, Rangers have laboured in the Champ-ionship. McCoist has left, replaced by Kenny McDowall. Rangers could be promoted back to the Premiership via the play-offs, and they are set to play Celtic in the League Cup semi-finals. But it's just an echo of good times past.
Reuse content