The 2015 January transfer window did not match the spending heights or hype of previous years: Lionel Messi stayed put, Peter Odemwingie never typed "new job" into his sat nav and Harry Redknapp didn't wind down his window (we know now why).
However, that is not to say that this January did not offer offer up some pictorial humour to add to a long list of bizarre and memorable images of transfer windows been and gone - two of which are mentioned above.
As the big guns revel in their wealthy signings while the minnows bemoan what could have been, here is a list of some of the best images of transfer deals and deadline days of yesteryear:
Aaron Lennon sad face
Not huge news from yesterday but Aaron Lennon's Finch Farm picture gallery was all the better for showcasing four different ways to express regret and remorse. Any coincidence the Baftas are this weekend?
GALLERY: @Aaron7Lennon arrives at Finch Farm for the first time: http://t.co/6Z0CA1cbtr #EFC pic.twitter.com/qBh56cQGac

— Everton (@Everton) February 3, 2015
Was Frimpong more upset?
Of course, when Emmanuel Frimpong went to Barnsley, he was also none too pleased. Although, he did also tweet his displeasure just to confirm we knew of his sadness.
@AidyBack I didn't think anything would ever top Emmanuel Frimpong signing for Barnsley, Lennon's proving me wrong pic.twitter.com/b58NXbnAUH

— Tony Mogan (@TonyMogan) February 3, 2015

Or maybe Robert Huth is the most displeased?
More on #lcfc's loan signing of experienced defender @robert_huth. http://t.co/QvCsvt73WW #huthlcfc #deadlineday pic.twitter.com/C6UdJkkYJp

— Leicester City (@OfficialFOXES) February 2, 2015
Gabriel really likes the Arsenal shirt
The new Arsenal man is certainly pleased with Puma kit deal it would seem. Although it is always a bizarre sight when someone wears the same top as the one they are holding, as if showing their appreciation of a good two-for-one deal or asking, "Should I get the large or the medium?"
Arsenal bloggers and @ThierryHenry discuss the signing of Gabriel… it's Media Watch: http://t.co/UOpefnYy0u pic.twitter.com/CXL8sAKQwb

— Arsenal FC (@Arsenal) January 29, 2015
Ashley Cole struggles to fit in
It's always hard moving on: the memories, the regrets, the racist tweets from Rio Ferdinand. When the first image of Ashley Cole with his Roma teammates emerged, it instantly became a football meme favourite.
So Ashley Cole And Roma Is Not Really Working Out http://t.co/OU3nxm0Btc pic.twitter.com/CO0UHnzG7c

— Balls.ie (@ballsdotie) October 27, 2014
London's Calling
It's a transfer deadline day story that was so good it became a football chant. Peter Odemwingie, then with West Brom, decided to drive to Queens Park Rangers on the last day of the window even though he had not been granted permission to talk to anyone at Loftus Road. The deal collapsed anyway and he drove back up north.
Madness! Peter Odemwingie has tried to enter QPR to sign for them but West Brom claim no deal has been struck! pic.twitter.com/jFAZHM90xC

— Slow Sports News (@SlowSportsNews) January 31, 2014
Harry Redknapp in a car
We now know that 'Arry didn't give any interviews from his car on transfer deadline day because, well, he was the big transfer news, resigning as QPR boss just a day later. We all know that Redknapp will be back in football in a matter of no time, but the freshness of his departure means many may be worried that may never see the manager through his car window again.
Happy Harry Redknapp Car Interview Day! pic.twitter.com/23S6dxxI7C

— VM David (@VocalMinoritySD) February 2, 2015
Tony Fernandes raids the club shop
This image is from last summer so the temptation to caption it "Oh, is that Harry's P45?" is somewhat not applicable. Still, we know the AirAsia boss is a West Ham fan, but does he really need to show he cares about QPR by dressing up like a Hoops kid at Christmas? As well as holding a football? Who says businessmen don't get football.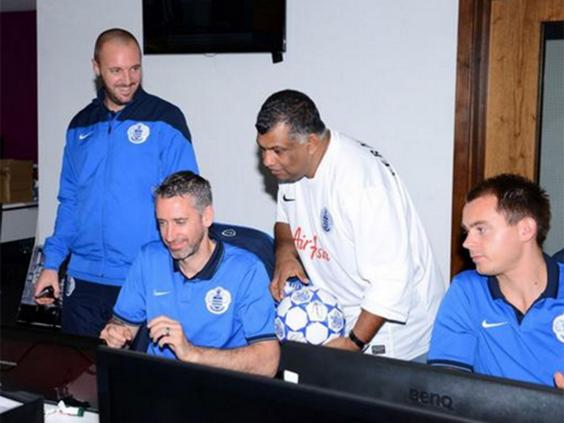 What is going on?
It still feels like a dream for most football fans, especially West Ham ones, the day when two confused Argentinian maestros travelled to the Boleyn. It seemed like a dream for all involved at the time, as this picture confirms. A dream that ended up costing West Ham a lot of money.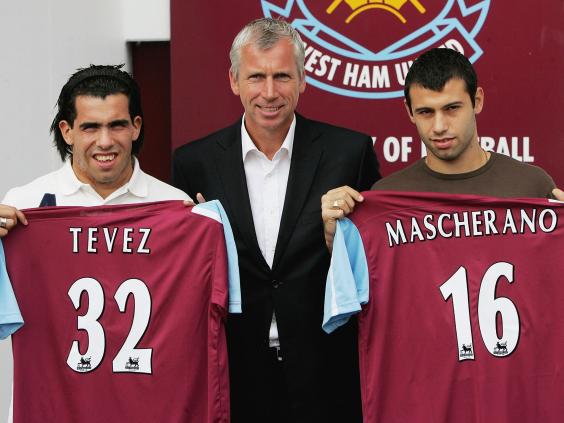 Reuse content