Arsene Wenger is in no rush to sign a striker, despite going to Leicester City tomorrow with just Alexis Sanchez and Yaya Sanogo as specialist senior No 9s.
Olivier Giroud is out for the rest of 2014, and Arsenal have just three more days to add a new centre-forward. Wenger would not rule out a purchase at Friday's press conference, but said the club already "have too many strikers", and that buying another one would block the development of Sanogo and teenager Chuba Akpom.
"If you always buy, you can never give a chance to a player," said Wenger, proud of his record of promoting youngsters rather than buying. "Take the example of Calum Chambers, he played centre-back because I gave him the chance to play centre-back. If I had bought four centre-backs, I would never have played him, he would sit on the bench and play in the youth team."
This means that, with Giroud out, Wenger is more likely to play Sanogo and Akpom. The 18-year-old Londoner will now stay at the club rather than go out on loan, after serious interest from Dutch clubs Feyenoord and FC Twente this week. Akpom scored a hat-trick for Arsenal Under-21s against West Bromwich Albion on Thursday night.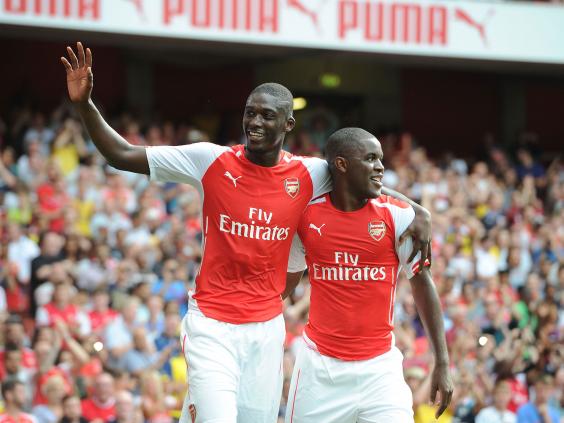 "Every time you have an injured player, nobody asks do you give a chance to Chuba Akpom, for example, who scored last night. No, it is 'buy a player'. Nobody wants to give an opportunity to everybody. My job is to be careful about that, and think 'no, we have a player who can do it.'"
Pointing to the example of 1997-98, Wenger said that his faith in 18-year-old Nicolas Anelka helped to win Arsenal the double, and that the transfer market therefore did not provide the answer to everything. "I remember in 1998, Ian Wright was injured. I played Anelka and people asked in the press conference 'but when do you buy a striker?' We won the championship, so all these people forgot they asked me this question. That was a case with a young boy who had the talent."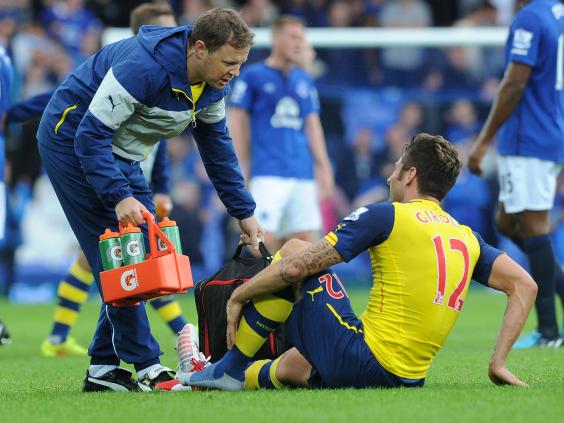 Wenger would not go as far as to say that Sanogo is the new Anelka, nor would he categorically promise that Arsenal would not sign a striker. "We buy when we have to strengthen the squad." In the unlikely event that Arsenal do sign a striker, though, another would leave. "If we buy somebody, somebody will have to go. We have too many strikers."
What this means is that Alexis Sanchez and Sanogo are the two plausible options to lead the line on Sunday afternoon. Sanchez has done well in that role for the last two games but Wenger will be keen to manage his workload, and Sanogo is due another start soon.
How Arsenal could replace Olivier Giroud
How Arsenal could replace Olivier Giroud
1/9 Wilfried Bony

The Swansea striker had an impressive first season in Wales scoring 16 goals in the Premier League and 25 in all competitions. He has the strength and pace to operate as a lone striker and is technically good enough to fit in at Arsenal. he is believed to want a move to a bigger club and Swansea previously said they wouldn't stand in his way, with an offer of around £16m reported to be enough.

2/9 Radamel Falcao

The best attainable No 9 in European football, Radamel Falcao has been a target for Real Madrid all summer and Arsenal could beat them to the Monaco player's signature. Although he missed most of the year – and the World Cup finals – with a knee ligament injury, Arsenal could sign the Colombian on loan, though they would not get much change from £20m in that deal.

GETTY IMAGES

3/9 Marco Reus

The German's release clause is a well known staple of this transfer window - Reus is available for a cut-price £20m next year. This could mean the versatile young star is available for a bit more now, with Borussia Dortmund perhaps keen to cash in. However recent history shows they are happy to keep their players to be stronger now. Robert Lewandowski stayed an extra season before moving on a free to Bayern Munich this summer.

GETTY IMAGES

4/9 Edinson Cavani

The Uruguayan was heavily linked with a move to Arsenal or Chelsea earlier this summer and his agent even said Cavani was interested in coming to England. He was reported to be unhappy at playing second fiddle to Zlatan Ibrahimovic but those fears seemed to have been allayed. He is truly world class and scored 25 goals last season, but he will not be cheap and with Giroud expected to be out before the turn of the year it may be a bit of a stretch to have both of these men in the squad.

Getty Images

5/9 Julian Draxler

Julian Draxler was the talk of the town in January when Arsenal made a reported £37m bid for the German. That mammoth bid, Draxler admitted, went to the 20-year-old's head and his form dipped - he scored just six goals in all competitions last year. But the youngster is still clearly talented and should find his form again, while it will not take anywhere near that previous price to seal a deal this time.

Getty Images

6/9 Theo Walcott

Since Arsene Wenger first started playing Theo Walcott on the right pundits have opined that he will eventually move back into a central role. Now 25, no such move has taken place. Walcott had a great year in 2012-13 scoring 21 goals in all competitions but managed less than 20 appearances last term. He is due back in mid-September and could, finally, see a role as Arsenal's main man.

Martin Rickett/PA

7/9 Lukas Podolski

The popular German has been linked with a move to either Juventus or back to Germany but Arsene Wenger may now decide to put that move on hold. He is an excellent finisher and has a good scoring record in his two years at the club, with 28 goals from 69 matches. However, when he has played through the middle he has neither the pace nor the strength to really operate as a lone striker.

Reuters

8/9 Alexis Sanchez

Impressed for Barcelona when played as a 'false 9' last season, Sanchez was terrible at Goodison Park in a similar position and was hauled off after 45 minutes. It will take time for the little Chilean to get used to the physicality of the Premier League, but he has the technical ability to succeed. However, a role as a lone striker may be too much in the early stages of his Arsneal career - he should be given more time to settle in.

Getty Images

9/9 Yaya Sanogo

Yet to score a goal for the club in 15 senior matches, Sanogo managed to bag four in a pre-season friendly against Monaco. The youngster is a gifted athlete but very raw technically, and it would be a mistake for Wenger to consider him adequate cover for Giroud.

AP
Lukas Podolski, another who will no longer be leaving the club this month, could well be involved but it will more likely be from the left. "He is not a real centre-forward," said Wenger. "He is a striker on the flank or behind the striker, but he is not the target man. He has a role to play, but he likes to come to the ball, he is not the guy who likes to go behind. I see Sanogo and Sanchez as players who are really good at going behind, not Podolski."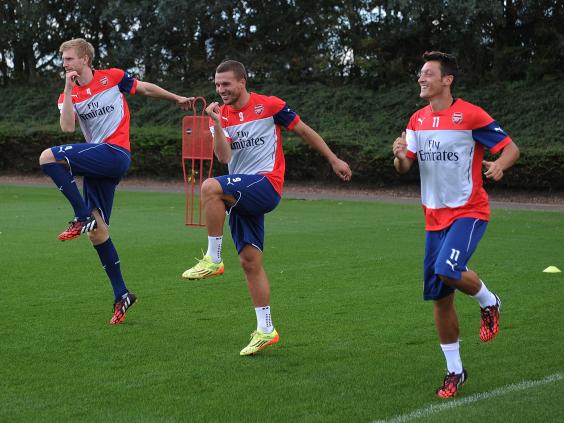 Podolski has not played a minute of competitive football since returning from the World Cup, but fellow weltmeister Mesut Ozil has started two games, and Wenger backed him to find his best form again soon.
"People are very harsh with Ozil," Wenger said. "When you watch the game again after, the next day, you see what a player he is. Everything he does is intelligent, the timing of everything he does is absolutely perfect, like a guy who plays music."