Lukas Podolski has left Arsenal to join Turkish side Galatasaray, and celebrated his new deal by sipping a Turkish tea in front of the media.
The 2014 World Cup winner took part in a live contract signing that was streamed on the club's website, and once all the formalities were out the way, their new signing was given a tea - much to his amusement.
Galatasaray were in the hunt for the 30-year-old forward back in 2012, but he elected to join Arsenal instead after the Gunners agreed an £11m deal with German side Koln. Having grown into a fan favourite at the Emirates due to his excitable character and his passion for the club, Podolski soon found himself on the fringes of the first-team, and he was sent out on loan in January to Inter Milan for the rest of last season.
The Germany international didn't enjoy his spell in Italy, scoring just once in 18 appearances, and he labelled Arsene Wenger's decision to let him leave on loan a "mistake" that signalled his Arsenal career was coming to an end.
Arsenal's 10 best Premier League signings
Arsenal's 10 best Premier League signings
1/10 Petr Cech

The goalkeeper position has been cause for concern at Arsenal since Jens Lehmann left the club in 2008, but Cech could be the man to finally bring some stability to the role. While Arsenal's famed attack has never been a problem, their defence and goalkeeper have remained a problem area, but at least with Cech in the side they finally have a safe pair of hands at the back.

Getty Images

2/10 Thierry Henry

The club legend caused a bit of a stir when Arsene Wenger splashed out £11m on a player who had failed to cut it at Juventus. But something at Arsenal clicked for Henry, and he went on to become the club's all-time record goalscorer, netting 226 goals in 369 games in all competitions and having his statue erected outside of the Emirates to immortalise his legacy at the club.

Getty Images

3/10 Patrick Vieira

The man who led Arsenal to the 'Invincibles' season arrived in 1996 for the low fee of £3.5m, and he went on to become a force to be reckoned with in the Premier League. One of the best midfielders to have graced the top flight, Vieira's exit left Arsenal a hole that to this day they are yet to fill.

4/10 Cesc Fabregas

Stolen from under Barcelona's nose, a 16-year-old Fabregas arrived in Arsenal's academy with high hopes of being a first-team regular in a short space of time. He did exactly that, going on to become a key cog in the team that reached the 2006 Champions League final before taking on the armband after Henry's exit. However, a lack of silverware and the allure of returning to Barcelona saw him depart for close to £30m.

Getty Images

5/10 Dennis Bergkamp

The Netherlands forward recently saw the 20th anniversary of his move to Arsenal come and go, and it gave Arsenal fans the perfect chance to relive some of his greatest moments at Highbury. Having made his name at Ajax and struggled with Inter Milan, Bergkamp brought 'Total Football' to north London and left a legacy that sees him remain one of the greatest players to have graced the Premier League.

6/10 Nicolas Anelka

The striker may have only been at Arsenal for two full seasons and left before he'd even turned 20, but his impact – both on the field and increasing his value – is matched by very few. Arsene Wenger spent just £500,000 on the Frenchman when he was 17 years old to bring him in from Paris Saint-Germain, and he was instrumental in the double-winning season of 1997/98 when Arsenal clawed back a 12-point gap in less than three months to beat Manchester United to the title, plus he scored in the FA Cup final victory against Newcastle. He left at the end of the following season, with Real Madrid splashing over £22m to sign him in the summer.

GETTY IMAGES

7/10 Sol Campbell

Much like the move for Cech, Campbell caused controversy when he came from a rival club in Tottenham Hotspur. The problem for Spurs fans' is that the centre-back ran down his contract to leave White Hart Lane on a free transfer, and to this day remains a hate figure for the club due to joining their north London rivals. However, he gave Arsenal five years of loyal service to the Gunners which included a headed goal in the 2006 Champions League final, and he returned to the club in 2010 to help them amid a defensive crisis before retiring in 2011 after a short stint with Newcastle.

GETTY IMAGES

8/10 Robert Pires

Pires cost Arsenal just £6m in 2000 and grew into a firm fan favourite in the 'Invincibles' side. His style of play completely suited the Arsenal way, but it was a separate Arsenal policy that brought about his exit as he was only offered a one-year contract when he wanted double that. Villarreal came calling, and he left following the 2006 Champions League near-miss, yet remains a frequent visitor to both the Emirates and Arsenal's London Colney training base.

9/10 Marc Overmars

Another Dutch great that played for both Ajax and Arsenal, Overmars arrived in London in June 1997 for £7m and lit up the Premier League immediately. His winning goal against Manchester United in 1998 swung the tide in the Gunners' favour as they surged to the title, and when he moved to Barcelona in 2000, the club made the best part of £20m profit on his re-sale.

GETTY IMAGES

10/10 Gilberto Silva

Often the man forgotten in the incredible 'Invincibles' side, Gilberto's full effect was seen after he left the club in 2008. Much of his impact went unnoticed, but once he left it was clear to see that Arsenal could not cope with out his defensive nous and ability to protect the back four. Francis Coquelin has shown signs that he could be the first player to fill that role to a similar level since Gilberto left, but he still has a long way to go.
Having announced last night that they were holding talks with the Germany international – who has made an impressive 125 appearances for his country and needs two more goals to reach his half-century – the club revealed on Twitter that Podolski will join the club when he signs a contract on Saturday afternoon.
Germany number 10 Lukas Podolski will officially sign the contract at the Türk Telekom Arena today at 16:30 local time, 15:30 CET.

; Galatasaray EN (@Galatasaray) July 4, 2015
"Germany number 10 Lukas Podolski will officially sign the contract at the Türk Telekom Arena today at 16:30 local time, 15:30 CET," the club said on Twitter.
Podolski's agent Nassim Touihri added that Wenger wanted to keep Podolski at Arsenal with one year left to run on his £100,000-a-week contract, but explained why they felt it best that the former Bayern Munich player moved on after three years at the Emirates.
"We had good talks with Wenger," Touihri said. "He wanted to keep Lukas at Arsenal but could not guarantee him a starting position. That's why we agreed to make a transfer."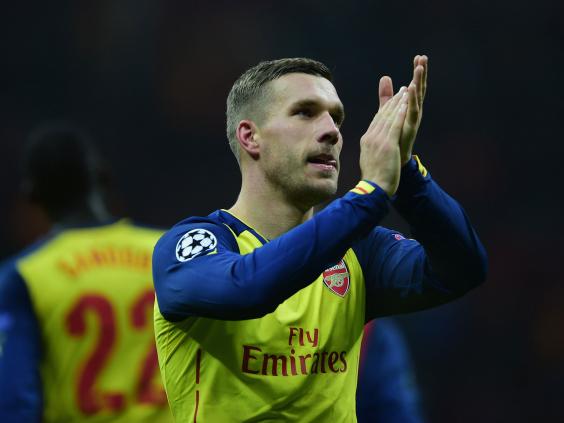 With the likes of Alexis Sanchez and Santi Cazorla ahead of him in the pecking order for Arsenal's left midfield spot, Podolski has been forced to seek a move to secure first-team football, and he was rarely used by Wenger as a striker despite his impressive goal tally for his country.
He leaves Arsenal having made 82 appearances, 60 of which came in the Premier League, and found the back of the net 31 times for the Gunners.
Reuse content