Fernando Torres has played his last game for Chelsea. Manager Jose Mourinho on Friday confirmed the striker will not start against Everton and that he can leave for Milan – as long as he tells the club he wants to go by Sunday morning.
The Spaniard has agreed a two-year loan deal with Milan, but Mourinho earlier claimed Torres had not yet told him he wanted to go. The Chelsea manager insisted confirmation of any move must come by Sunday to allow him time to sign a replacement.
"Between Saturday and Sunday, we need to know," Mourinho said. "Obviously we know that agents and Milan [are talking]. A big club like Milan is not doing contacts behind Chelsea's back. Milan doesn't behave that way. So obviously we know. But the key moment for me is when the player tells me or my club that he wants to leave, he has an agreement. This situation hasn't arisen yet."
Despite that, Mourinho said Torres would not start on Saturday, and could not confirm if he would even be in the squad. "Depends, I don't know," he said.
Mourinho claimed Chelsea had "not prepared" a deal for any replacement, although their interest in Roma's £20m-rated Mattia Destro is well known, and the club may yet consider a move for Queen's Park Rangers' Loïc Rémy. Mourinho did say that any new forward would not be English, despite the club's need to offload at least one foreign player to conform to Premier League and Champions League rules.
"If we have to react to Fernando's departure, we'll react by buying a foreign striker because I don't see an English striker in the market that would come to us, or where his club would let him come to us. If we lose a foreign striker, we need another foreign striker," he said. "We are not prepared. It's something new. We have our ideas, we have our contacts. We have to react if that situation happens."
Although Mourinho would not confirm interest in Destro, he spoke glowingly of the  23-year-old, having managed him at Internazionale between 2008 and 2010.
"Everyone knew at the club that his potential was there to be a top striker. He was unlucky because we had [Zlatan] Ibrahimovic and Adriano, then [Samuel] Eto'o, [Diego] Milito… so it was not easy for him to come into the first team," he said.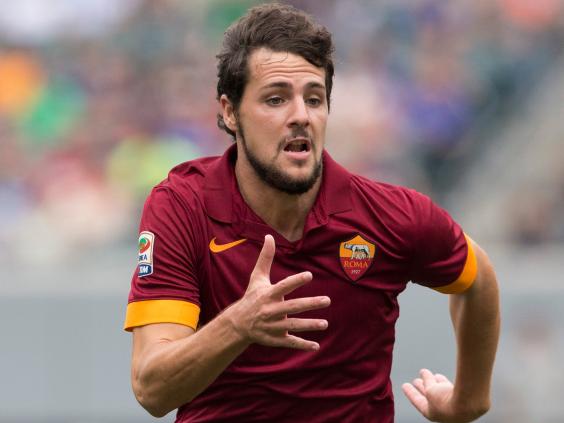 Didier Drogba may well make the first start of his second stint at Chelsea at Goodison Park today, if the club decide not to risk Diego Costa following a midweek muscle injury. The Spaniard was last night passed fit to play.
"Let's see," Mourinho said of Drogba. "He's getting there, step by step. He knows the way we work, the way we play, that the intensity of our work and our game is not the same as he had in the past few years. He knows he needs to get there, but he's ready to play."
Chelsea are likely to come up against a striker Mourinho sold this summer in Romelu Lukaku – as well as, potentially, Samuel Eto'o – but scotched any of the comparisons frequently made between the Belgian forward and Drogba.
"I think they are different players," he said. "Lukaku attacks better the spaces. He's more a runner than Didier. He can play also from the sides, likes to attack defenders and dribble. He is a different kind of player to Didier."
Mourinho added that there had been no change in Petr Cech's situation. Since being replaced by Thibaut Courtois as first-choice goalkeeper, the Czech had been seen as one of the foreign players who might be sold to meet the Premier League requirements. "Nothing," replied Mourinho to questions over Cech's future.
It is anticipated that Chelsea could send either Mohamed Salah or Marco van Ginkel out on loan, with the latter possibly going to Milan or to a German club.
Reuse content