Gareth Bale has insisted he will not be joining Manchester United this summer as he is determined to fight for his future at Real Madrid under new manager Rafael Benitez.
The former Liverpool manager left Napoli last week and was confirmed as Carlo Ancelotti's replacement at Real on Tuesday night. Benitez has been set the task of wrestling the La Liga title back from great rivals Barcelona, with Real playing second fiddle to the Catalan side who will attempt to seal the treble later tonight when they take on Juventus in the Champions League final.
Despite heading in a crucial second goal in the European Cup final last season to help Real win the famous 'Decima', Bale has found himself under huge pressure to perform at the Santiago Bernabeu largely due to his world record transfer fee when the Spanish club paid £86m to sign him from Tottenham two years ago.
Real Madrid: Possible transfer arrivals and exits
Real Madrid: Possible transfer arrivals and exits
1/11 POSSIBLE ARRIVAL: David De Gea

The Manchester United goalkeeper is torn between his current club and a switch to Real Madrid. The Spanish side are understood to be increasingly confident he will join them.

Getty Images

2/11 POSSIBLE ARRIVAL: Raheem Sterling

The Liverpool forward wants to leave Anfield this summer in search of trophies and there are few better places to find them than at the Bernabeu. Reports suggest Liverpool and Real Madrid will discuss a possible £45m deal later this month. Any aggressive move by Benitez could sour his relationship with Liverpool fans.

Getty Images

3/11 POSSIBLE ARRIVAL: Paul Pogba

The most in-demand midfielder in Europe has helped take Juventus to the Champions League final, but if Real Madrid get their way, it could be the Frenchman's last game for the Italian giants. Real recently denied reports that they have already made a bid, but rumours continue.

GETTY IMAGES

4/11 POSSIBLE ARRIVAL: Radamel Falcao

The Colombian endured a terrible season at Manchester United, but his record prior to Old Trafford can't be ignored. With Javier Hernandez's loan coming to an end, Real Madrid need a new striker and Falcao has the necessary reputation and something to prove.

Reuters

5/11 POSSIBLE ARRIVAL: Sergio Aguero

Real Madrid's top target would be Aguero, but it is nearly impossible to conceive Manchester City selling him. The Argentina international only signed a five-year contract last summer.

GETTY IMAGES

6/11 POSSIBLE EXIT: Cristiano Ronaldo

It's suggested that Benitez could look to build his team around Gareth Bale, an approach that would put Ronaldo's nose out of joint and potentially have him seeking a new club. There wouldn't be any shortage of suitors, with Manchester United arguably the likeliest destination.

GETTY IMAGES

7/11 POSSIBLE EXIT: Gareth Bale

The Wales international endured a difficult second season at Real Madrid and has persistently been linked with a return to the Premier League. How Benitez rates the world's most expensive player will be key to determining if he has a future at the Bernabeu.

Getty Images

8/11 POSSIBLE EXIT: Isco

The Spanish playmaker was impressive at Real Madrid last season, but due to the wealth of talent at the club found himself played out of position or needing to make an impact from the bench. The player is reportedly frustrated at the situation and a new club could be the way forward. Manchester City reportedly keen.

9/11 POSSIBLE EXIT: Iker Casilla

If De Gea arrives, Casillas' position will become difficult. The long-time Real Madrid number one has indicated he will stay whatever and compete with De Gea if he has to. But Benitez might decide that constant sparring between the two is not worth the hassle and move Casillas on. Arsenal have always shown interest.

GETTY IMAGES

10/11 POSSIBLE EXIT: Karim Benzema

The France international seems to be linked with a departure from the Bernabeu every summer, and this one is no different. Over six years at the Bernabeu the 27-year-old has been a consistent goal-getter. Arsenal regularly linked.

GETTY IMAGES

11/11 POSSIBLE EXIT: Raphael Varane

The 22-year-old has become a regular at the back since breaking into the team he joined in 2011. Considered among the best defenders in Europe and with his career ahead of him, the Frenchman is in demand and could potentially be sold to finance other deals. Manchester United and Chelsea are the clubs most consistently linked.

Getty Images
Fans have booed and jeered him at times while an individual was seen attacking his car as he left the Bernabeu after a match, and it was thought  that United could launch a move for Bale in the hope that he would favour a move closer to home and his family.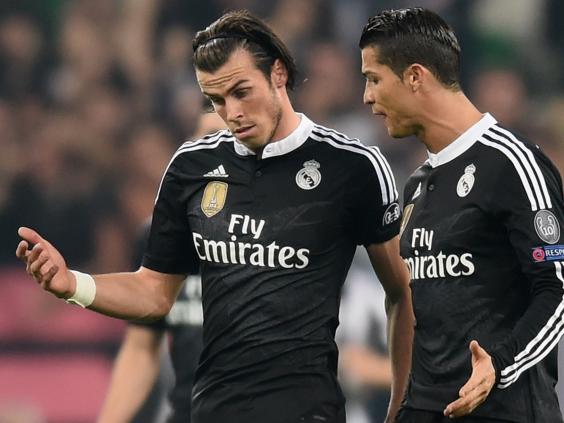 However, Bale has made it perfectly clear that he is not done in Spain by a long short, and has set his sights on becoming a key figure under Benitez and "winning more trophies".
"Of course, yes," Bale told The Sun when asked if he would still be in the Spanish capital next season. "I'm a Real Madrid player and I'll carry on as normal.
"I am enjoying it and hopefully I can continue to. I feel settled. I'm looking forward now to playing and winning more trophies.
"My goal is to keep improving, performing and to win as many titles as I can."
United's addition to Memphis Depay, who will join the club later this month for around £23m, gives them an exciting option on the left flank, but Bale could have been deployed in a central role similar to the one he excelled in at Spurs.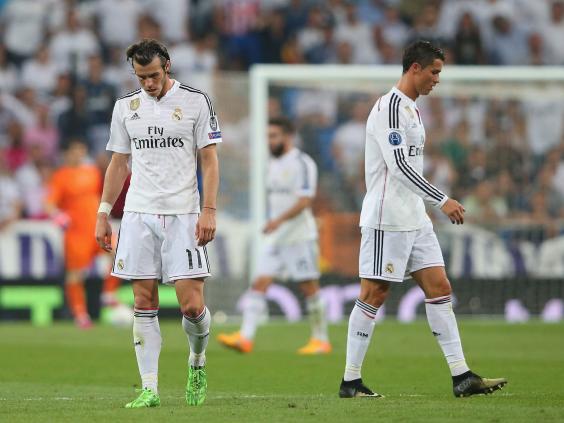 The problem at Madrid is that any player among the squad has to play second fiddle to Cristiano Ronaldo given his incredible scoring record since his arrival from United in 2009, and the Portuguese has shown signs of his own frustrations towards Bale when the Welshman has tried to take the ball on himself in search of a goal rather than give it to Ronaldo.
United has been linked with a giant £110m double bid for Bale and his Real team-mate Raphael Varane earlier this week, but reports in Spain claim it was immediately rejected.
Reuse content