Manchester City are hopeful of securing a double-swoop in the summer after sanctioning an incredible deal worth £800,000-a-week to try and sign Lionel Messi in a bid to lure Pep Guardiola to the Etihad as manager.
Messi's future remains one of the most talked about subjects in football, despite the Barcelona forward showing no signs of discontent at the Nou Camp. However, the Sun reports that Messi has been privately put out by the club's desire to secure Neymer's contract before his own, and that has alerted officials at City to a possible move in the summer.
The report adds that initial talks have already been held between Messi's representatives and City, although Messi's hefty wage demands would set City back a whopping £40m-a-year – not to mention the near £200m transfer fee that is being reported.
28-year-old Messi remains good friends with Neymar after they formed a lethal trio along with Luis Suarez that tore Real Madrid apart last weekend. But it's Messis' desire that has led to his apparent unhappiness, and it's fuelled City's belief that they can bring him to the Premier League at the end of the season.
With the new Premier League TV deal set to come in next year – which will boost the coffers of whoever wins the title by £150m – City will have the financial firepower and Financial Fair Play allowance from Uefa to launch the move.
Real Madrid vs Barcelona player ratings
Real Madrid vs Barcelona player ratings
1/22 Keylor Navas – 5 out of 10

Hardly at fault for Luis Suarez and Andres Iniesta's goals, but will have been disappointed to have let Neymar's shot slip under his legs.

2015 Getty Images

2/22 Danilo – 5 out of 10

Up against Neymar and came second-best every time.

3/22 Raphael Varane – 4 out of 10

Unusually uneasy. The member of Madrid's defence who was most often exposed.

Getty

4/22 Sergio Ramos – 5 out of 10

Unable to marshal his defence effectively early on, which put Madrid firmly on the back foot.

5/22 Marcelo – 6 out of 10

Offered a decent outlet on the left hand side but was as culpable for defensive frailties.

6/22 Toni Kroos – 5 out of 10

Failed to stem the tide of Catalan shirts cascading towards him.

2015 Getty Images

7/22 James Rodriguez – 6 out of 10

Tested Bravo twice and was lively at times but looked uncomfortable on the right-hand side of a 4-4-2.

8/22 Luka Modric – 6 out of 10

Did not exert the kind of influence he usually has.

Getty

9/22 Gareth Bale – 4 out of 10

Ineffective, bordering on invisible. Looked a shadow of the devastating player he was at White Hart Lane.

10/22 Karim Benzema – 4 out of 10

With all his off-the-field problems and lack of match fitness, unsurprisingly looked off the boil. The French striker did nothing to justify his contentious selection.

11/22 Cristiano Ronaldo – 6 out of 10

Typically, one of his side's better performers, but lucky not to be sent off for a snide elbow on Dani Alves.

12/22 Claudio Bravo – 9 out of 10

The scoreline should not suggest that the Chilean had a quiet evening. Madrid, as bad as they were, created opportunities but found Bravo pulling off top class saves every time.

13/22 Dani Alves – 7 out of 10

No major errors except, perhaps, hauling Cristiano Ronaldo down in the box needlessly during the first half. He avoided conceding a penalty but earned an elbow from Ronaldo.

14/22 Gerard Piqué – 8 out of 10

Received dog's abuse from the Bernabeu, as expected, but dealt with them effortlessly and handled Madrid's attacking play in the same way.

Getty Images

15/22 Javier Mascherano – 6 out of 10

Substituted early on after going down injured. Replace by Jeremy Mathieu.

16/22 Jordi Alba – 8 out of 10

His performance will be overlooked but barely put a foot wrong.

17/22 Ivan Rakitic – 7 out of 10

Did well considering his inclusion was in doubt.

18/22 Sergio Busquets – 8 out of 10

Composed, controlled, denied Madrid time and again. As good as we've come to expect.

Getty Images

19/22 Andres Iniesta – 9 out of 10

In the autumn of his career, no doubt, but still capable of stunning moments. Received an ovation from the Bernabeu.

20/22 Sergi Roberto – 9 out of 10

Lionel who? The man seen as Messi's stand-in may not be quite at the Argentinian's level yet, but tonight he filled his shoes and then some. Electric in the first half.

21/22 Luis Suárez – 9 out of 10

The man most likely to dismantle any defence in European football and, by virtue of his two goals, tonight's man of the match.

22/22 Neymar – 9 out of 10

Sublime, again. His late claim for the Ballon D'Or is gathering pace.
It's hoped that should Messi show signs of a move to the Etihad, current Bayern Munich head coach Guardiola will be tempted to run down his contract and leave the Allianz Arena at the end of the season in a bid to replace Manuel Pellegrini.
Bayern are keen to open talks next month with Guardiola with a view to extending his contract beyond the end of the season for another two years, although City will try and persuade him elsewhere should they decide to axe Chilean Pellegrini in the summer.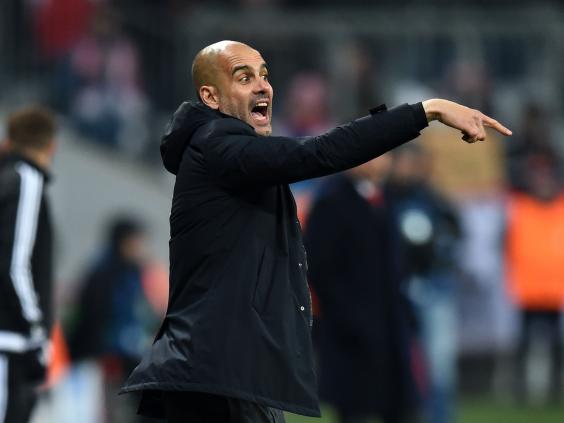 The Bundesliga champions are determined to have Guardiola's future settled by Christmas, and despite talk of a move to the Premier League with either Arsenal, Chelsea or City, Bayern are growing increasingly confident that the former Barcelona manager will still be in charge of the German league champions come next season.