Barcelona legend Hristo Stoichkov has continued his long feud with Louis van Gaal, warning Pedro that he will be 'ruined' if he goes and plays for the Dutch coach at Manchester United.
The Bulgarian was one of world football's stars in the 1990s and had two spells at the Nou Camp where he scored 118 goals in 254 appearances for the club.
Stoichkov blames Van Gaal for his departure from the club in 1998 and has now pleaded with Pedro, 28, to turn down the chance to move to Old Trafford.

"I would never be under the orders of [Louis] Van Gaal. He's mediocre. He destroyed Barca and is destroying Man United." Stoichkov said.
"With what he has done to [Victor] Valdes he has shown he is a bad person. Hopefully Pedro listens to me and doesn't leave."
United are in negotiation with Barcelona over the winger, with the fee a sticking point, but a transfer may have been delayed beacause of Neymar's illness; he's come down with the mumps.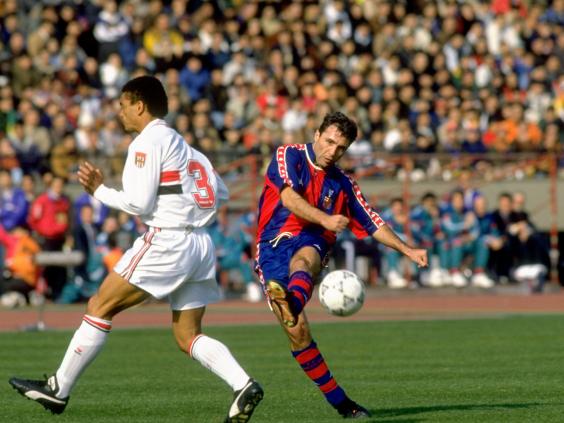 In March, Stoichkov branded Van Gaal as 'scum.
"I have no respect for him, he's scum," he said.
"One day, when I was injured, I was with my wife at Camp Nou and Van Gaal went up to her. He asked her how it was possible that she married someone like me. She responded that I was a Ballon d'Or winner.
"My departure in 1998 was the fault of Van Gaal, for sure."
Reuse content