Manchester United manager Louis van Gaal has confirmed an interest in the Roma midfielder Kevin Strootman but insisted that he will need to assess how the 24-year-old recovers from a six-month lay-off before making a move for the Roma midfielder.
Van Gaal, whose side play Roma here today, had intended to take Stootman to Brazil with in his Netherlands World Cup squad but has only just begun light training after surgery on a cruciate knee injury he suffered in March.
The manager said that the length of the lay-off created uncertainty about him. "Strootman I can judge, but he is injured for more than six months," the manager said. "We have to wait and see how he comes back. It is not easy to say how he comes back from injury, but we will wait and see."
Van Gaal refused to discuss whether another Roma player, French-born Moroccan centre half Mehdi Benatia, might be a United target and also ducked the first missile lobbed in his direction from Chelsea Jose Mourinho, once a protégée of his.
Mourinho said that the wage demands of Chelsea-supporting Luke Shaw  had prevented him from signing the left back.
Manchester United: Potential summer transfer targets
Manchester United: Potential summer transfer targets
1/19 Arturo Vidal

The Juventus midfielder is among United's top targets this summer, particularly after impressing for Chile at the World Cup. Having helped his current team secure the Serie A title, Juventus aren't keen on letting him go.

Getty Images

2/19 Marco Reus

Rumoured to be near the top of United's target list, a possible swap deal involving cash and Shinji Kagawa has been mentioned. The Borussia Dortmund player would not be a cheap acquisition, especially given his recent declaration that he wants to stay at Dortmund next season

Getty Images

3/19 Arda Turan

Former manager David Moyes had been seen watching Turan, though his dismissal put a doubt over whether United were still interested. The winger's agent claims an offer has been made, so is the Atletico Madrid winger on his way to Old Trafford?

Getty Images

4/19 Arjen Robben

The Bayern Munich winger has said Van Gaal has offered him a place at Old Trafford if he wants it. Currently he's happy to stay where he is, but things can quickly change.

GETTY IMAGES

5/19 Claudio Marchisio

With Paul Pogba highly unlikely to be prised away from Juventus, United's attention could turn to team-mate Claudio Marchisio. The Italian international would provide some class and experience.

6/19 Mats Hummels

With defensive reinforcements high on United's list of priorities, Borussia Dortmund's Mats Hummels has unsurprisingly been linked with a move to Old Trafford. The German has been earmarked as the ideal replacement for the now-departed Rio Ferdinand and after his impressive showing at the World Cup, he's even more desirable.

GETTY IMAGES

7/19 Raphael Varane

Raphael Varane has already snubbed United once in his career, opting instead to join Real Madrid. It would surely take a big offer to prise the classy defender away now.

GETTY IMAGES

8/19 Seamus Coleman

Reportedly already the subject of a £15m bid, Seamus Coleman could be the man being lined up as the answer to United's problems at right-back.

GETTY IMAGES

9/19 William Carvalho

The Sporting Lisbon midfielder has reportedly been watched 15 times by Manchester United, although the £29m asking price could prove a stumbling block. The Portugal international has also been linked with Arsenal.

Getty Images

10/19 Xherdan Shaqiri

Bayern Munich winger Xherdan Shaqiri has struggled to force his way into the first team at the Allianz Arena and could be a target for United as well as rivals Liverpool. His impressive displays for Switzerland this summer could make it harder to prise him away.

GETTY IMAGES

11/19 Alex Song

Barcelona are understood to be ready to let the former Arsenal player leave this summer. Could provide some strength to United's midfield. Could also bring embarrassment judging by his behaviour at the World Cup.

GETTY IMAGES

12/19 Fabio Coentrao

Supposedly came within hours of signing in January, the Portuguese left back could be brought in to provide back-up to Luke Shaw.

13/19 Julian Draxler

A long time Arsenal target, United are reportedly interested in pinching the young German with a bumper offer. Seems unlikely though. Arsenal also strongly interested.

14/19 Sami Khedira

The Germany international is reportedly being pursued by a host of sides, and United might be wise to get in the mix as they look to add some quality to a fairly feeble looking midfield. Real Madrid appear open to letting him go with the 27-year-old having just one year left on his contract. Arsenal and Chelsea are among the others keen on signing the World Cup winner.

15/19 Edinson Cavani

The Uruguayan hitman would prove pricey and tricky to snatch away from PSG and it seems unlikely United have enough to offer him.

16/19 Luciano Vietto

The Racing Club youngster has been impressing in Argentina for some time although a move directly to United would be something of a surprise.

17/19 Santiago Arias

Should a move for Seamus Coleman fail, PSV defender Arias is reportedly being lined up by United. Played for Colombia throughout the group stage of the World Cup.

18/19 Miralem Pjanic

Rumoured to part of a joint bid including teammate Benatia, the Bosnian midfielder is reportedly another on United's large hit list.

Getty

19/19 Kevin Strootman

Van Gaal knows Strootman well from working with him in the Netherlands set-up and has indicated he is interested. Roma are reluctant to sell whilst his recovery from a knee injury may prove a stumbling block.

GETTY IMAGES
"If we pay to a 19-year-old boy what we were being asked for, to sign Luke Shaw, we are dead," he said. "We would have killed our stability with financial fair play and killed the stability in our dressing room. Van Gaal replied: "I don't have to answer, I don't think I have to discuss things the media. It's better to discuss it with Jose."
Van Gaal, who confirmed that Rafael da Silva will miss today's game with a groin strain, declared the biggest adjustment for the squad he has taken over is their learning to play more cerebrally.
Asked if British players found adjusting to his fast-moving passing game harder than his new charges at Barcelona and Bayern Munich, he said: "Maybe Barcelona was different at the time, but Bayern have always played 4-4-2 and I introduced the system they are playing now and it was a different thing for the players. The important thing is that I am training the players not in the legs, but in their brain. Brainpower. That is important thing. I say things how they are. It is my direct character."
Van Gaal criticised the decision to stage the match at 2pm local time, when temperatures are likely to be fierce, resembling the furnace at Fortaleza where his Dutch players beat Mexico in the World Cup last 16. He made the unusual move of naming two players – Tom Cleverley and young left back Tyler Blackett – who will play the full 90 minutes.
"It is unbelievable that we play at two o'clock," Van Gaal said. "We will adapt to the situation because all the players will play for 45 minutes except Cleverley. "For the players, it is very hard and I hope I can persuade the referee to have a drinks break as I did in Fortaleza. We have sports science department and it shall be done very well with the conditions, especially those players who will play 45 minutes.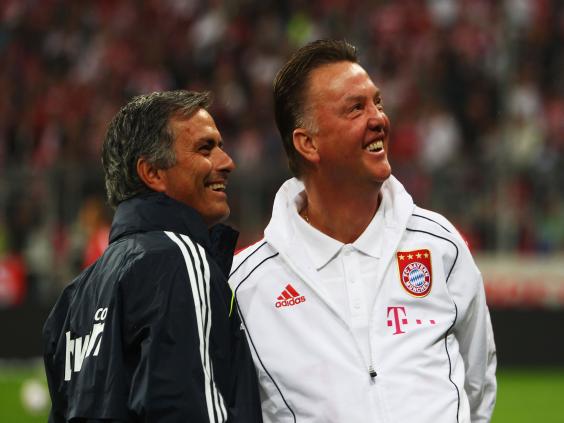 The manager clearly believes that there is work still be done to bring United's players to the standard he demands. "This morning was not a good session, it was 11 v 11 and we simulated an opponent and it wasn't so good," he said. "Tonight we saw set-play, yellow [bibs] were better than red [shirts]. They make the pitch big and then make it very compact when they lose the ball. I see progression every day, but also not good things. We are here to improve, though."
The Dutchman was at the hub of training once again last night, blowing a whistle to command players when to deliver crosses and corners. There was less voluble criticism, with only Chris Smalling getting a public rebuke, and part of the session involved hi preparing for the penalty shoot-out which will come tonight of the sides are level. "Anyone want to take a penalty?" he asked. All the players put their spot kicks past Ben Amos.
Reuse content