The last time an English club broke the world transfer record, it was all so straightforward.
There was a big stage erected at St James' Park and Alan Shearer walked onto it, dressed in the shirt Newcastle United had paid £15m for him to wear, and the 'sheet-metal worker's son from Newcastle,' flanked by two inflatable bottles of Newcastle Brown Ale, waved his outstretched arms to the audience of supporters who had filled the car park to welcome their new number nine home.
Twenty years and one day after Shearer become football's most expensive signing, having rejected Manchester United to leave Blackburn Rovers for Newcastle, Paul Pogba completed his £89m transfer back to Old Trafford – he left for £800,000 back in the summer of 2012 – following a day of sponsor-pleasing which was perhaps second only to the logo frenzy of Formula One.
Adidas had already begun to issue clever branding to associate their client with his imminent move to United from Juventus, but the product placement moved up a notch with the 23-year-old being ferried to his medical at Carrington – now known as the Aon Training Centre – in a red and black Chevrolet Camaro – the recently-released sports car produced by United's shirt sponsors.
Pogba was then snapped wearing United's red home shirt and their blue change strip. Expect images of the Frenchman in the new white kit to follow shortly.
And the timing of United's announcement of the transfer's completion, at 00:39 British Summer Time, was also a masterstroke of coincidence, considering it would have been morning rush hour in Beijing and Tokyo and early evening in Los Angeles, Chicago and New York City.
United insist that the timing was purely down to their determination to announce the deal as soon as it was done, in order to avoid Juventus going public first – notwithstanding that it was almost 1:40am in Turin when Pogba officially became a United player.
Paul Pogba transfer story so far
Paul Pogba transfer story so far
1/23 Friday 8 July - Mourinho wants signing completed before Community Shield clash

Reports emerged that Jose Mourinho wanted to complete a deal for Paul Pogba ahead of United's Community Shield encounter with Leicester City in August. At this stage it was understood that the Frenchman favoured a move to Spain.

2/23 Friday 8 July - Pogba tells close friends he wants to leave Turin

More rumours, more speculation. Days before France's Euro 2016 final, Pogba reportedly told his close friends that he wanted to leave Juventus.

3/23 Saturday 9 July - Real Madrid "abandon" their Pogba pursuit

According to Spanish journalist Guillem Balague, the La Liga giants decided they were not prepared to match United's record-breaking £100m bid and "abandoned the auction".

4/23 Monday 11 July - Pogba could stay put after all

On the day after the Euro 2016 final it briefly looked like Pogba would be staying put in Turin after Juventus offered the star an improved contract deal. Mino Raiola added to these rumours after he remarked that Pogba "is in no rush to leave" and is "happy" in Turin.

5/23 Thursday 14 July - United "are my family"

Paul Pogba offered United fans hope after commenting that he considered United as "my first family." Pogba made his remarks in a rare interview with ESPN in which he was presented with a Manchester United shirt.

6/23 Thursday 14 July - Petit labels Pogba a "waste of money"

Emannuel Petit labelled Pogba a "waste of money" in an interview with Yahoo Sport and argued that "he is not a big star for me". Petit added: "He hasn't reached the level of the Champions League yet or the level with the national team."

7/23 Tuesday 19 July - Zidane offers United more hope

The Real Madrid boss confirmed reports that the club weren't interested in competing with United for the player after he stressed that he was "happy with the squad I have".

8/23 Tuesday 19 July - Woodward stays in England

If the reports are to be believed, United's executive vice-chairman stayed in England to wrap up the Pogba deal as the squad flew out to China for their pre-season. The club neither confirmed or denied this.

9/23 Wednesday 20 July - The deal looks to be done

Reports from both England and France claimed that that an agreement between Juventus and Manchester United had been reached. It was reported that Pogba would earn £220,000-a-week and that the deal was worth £92m plus add-ons but Juventus' club director, Guiseppe Marotta, remarked that no contact had been made.

10/23 Thursday 21 July - Pogba asks for peace

The speculation appeared to get a bit too much for Pogba who issued a plea with fans "to let him rest a bit" as he enjoyed his holiday in America. The player made the request via his Instagram account and showed him playing basketball in Las Vegas.

11/23 Friday 22 July - Mourinho gives little away

Speaking to the Independent, United boss Jose Mourinho gave very little away regarding the Pogba move. He remarked that "75 per cent" of United's transfer business was done and the club were "going to get a fourth player but maybe it's not the one you think". Elsewhere, he remarked that the club were in a "comfortable position" within the transfer market.

12/23 Friday 22 July - Mino Raiola attacks the media

Pogba's agent denied claims via Twitter that the transfer had been finalised, remarking that: "There is no deal done". He also spoke out against the media, publicly stating that: "I don't give a damn about record transfer fees. The newspapers write that Pogba could set the record, but I've already set records with Ibrahimovic and Nedved."

13/23 Saturday 23 July – Juventus confirm negotiations are underway

Massimiliano Allegri confirmed that negotiations between the two clubs were underway. "Pogba is a Juventus player at the moment but we don't know what is going to happen. The club are looking after negotiations," he said. Allegri's revelation was the strongest official suggestion at that stage that talks were taking place between the two clubs.

14/23 Monday 25 July – £92m bid submitted

Reports suggested that United had submitted an offer worth £92m for Pogba. It was also the first time that it emerged that agent Mino Raiola would be entitled to 20 per cent of the sum set to be paid by United to Juventus.

15/23 Monday 25 July – Cryptic Pogba Instagram post

Paul Pogba appeared to tease Manchester United supporters on Monday after posting a cryptic message on his official Instagram account. The Juventus midfielder posted a picture which showed him and his agent, Mino Raiola, laughing by a swimming pool on a sunny day. The caption on the image read: "We say it all by saying nothing at all."

16/23 Tuesday 26 July – Deal 'held up' by row

The transfer appeared to stall as it emerged that Juventus were refusing to pay a penny of Mino Raiola's agent fees. While United were reportedly happy to half the £20m figure, it was claimed that Juventus had grown frustrated with Raiola's conduct and were thus refusing to pay him.

17/23 Wednesday 27 July – 'Cancelled' Pogba medical

In yet another strange turn of events, Mino Raiola allegedly cancelled Pogba's medical which the 23-year-old was expected to complete in Miami. According to reports, the deal was not close enough to justify a medical. However, the doctor supposedly involved with the procedure, Dr Italo Linfante, denied any knowledge of the medical even being set to take place.

18/23 Wednesday 27 July – Zidane back in the picture

Zinedine Zidane claimed that Real Madrid could still hijack Manchester United's move for Paul Pogba, insisting that "anything can happen" before the end of the transfer window. "In this moment we are still working [on a move for Pogba], and I cannot say anything more," the Madrid coach told Goal. "Until August 31 anything can happen…"

19/23 Wednesday 27 July – 'Don't believe everything you read'

Pogba whipped up further speculation after he appeared in a short film for sponsors Adidas in which he remarks: "Don't believe everything you read in the papers." Adidas' short clip also showed Pogba reading a newspaper with the words "Blah, blah, blah" in a large font, in an apparent reference to Raiola's tweet.

20/23 Thursday 28 July – Yet another Instagram post

Pogba excited United fans again with another playful Instagram post. Many believed that Pogba's use of a red, white and black filter – United's traditional colours – was confirmation that he would be joining the club shortly. His caption – 'on route 66 #holidays #route66' – was also interpreted as an indicator that he would be wearing the No.6 shirt at Old Trafford.

21/23 Friday 29 July – £112m deal allegedly agreed

A £112m deal was reportedly agreed between the two clubs on Friday afternoon, with the dispute over Raiola's agent fees also believed to have been agreed. Reports claimed that United would pay the Serie A club £92m while a further £20m would go to Raiola. United were apparently eager to officially confirm Pogba as their player but no such announcements emerged out of Old Trafford.

22/23 Friday 29 July – Raiola brands journalists 'parrots'

Pogba's agent Mino Raiola hit out against the media once again, branding journalists as "parrots" while claiming that there is "no deal done". The 48-year-old wrote on Twitter: "Journalist = parrots No deal done between Clubs. It's a game between Italy press and UK press who announce it first and who is worse." The tweet angered fans who have grown tired of Raiola and Pogba's apparent games.

23/23 Satuday 30 July – Pogba signs Manchester United shirt for fan

Pogba suggested that his long-drawn-out move to United is nearing completion after signing a fan's shirt. Jonathan Perkins, who was celebrating his 18th birthday while wearing a new United jersey with "Pogba 6" printed on the back, spotted the France international in Los Angeles on Friday. Perkins asked him for an autograph and, despite the fact that Pogba's return to Old Trafford is yet to be confirmed, the French player obliged.
But the old days of a new signing being wheeled out at an introductory press conference, with club scarf and ball being supplied by the photographer for the 'I've arrived' shot, are no certainty anymore.
United have yet to decide whether Pogba will be 'unveiled' at a press conference this week, with Jose Mourinho having the final say, but if the manager rules it out, there will be no sense of grievance at Old Trafford considering that Twitter, Instagram and Snapchat have already helped them tell the world about their exciting new signing.
It is all about social media nowadays and United, in some respects, are following the lead set by Manchester City back in 2009, when their 'Welcome to Manchester' poster following Carlos Tevez's defection from red to blue rewrote the rule book.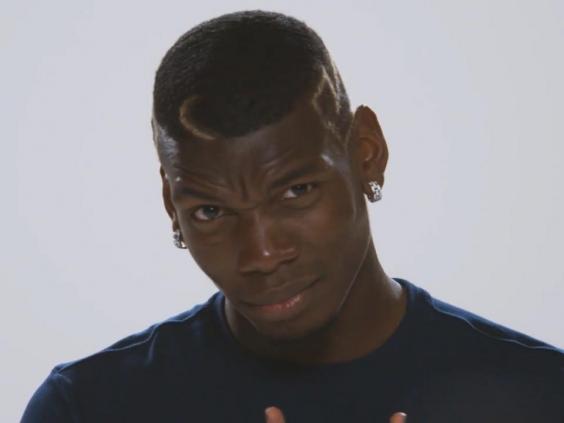 City, who unveiled Pep Guardiola at a Sunday afternoon fans' festival earlier this summer, have long since abandoned the traditional introductory press conference when it comes to announcing new signings and United may yet follow suit with Pogba.
The club has seen how interest spikes on social media when new players arrive and the numbers generated by Pogba's signing will be digested and ultimately used to draw in potential new sponsors, who will see how their brands can piggy-back on United's global pull.
Chevrolet no longer produce or sell cars in the UK or Europe, so there was only one reason for Pogba to be driven into the Aon Training Centre in a Chevrolet Camaro.
China and the United States will have been watching just as closely as United's traditional fan base in Manchester and that is where Chevrolet want to promote their cars.
Mourinho may have signed the midfielder he believes can drive United to glory, but it is now about so much more than what happens on the pitch.
Reuse content