Finally, amid all the talk of bond issues, payment-in-kind notes and interest rate negotiation rates which have surrounded the anniversary the Glazers' 10 years at Old Trafford, there was evidence late on Sunday afternoon  of the small but hugely  significant power of football supporters.
Manchester United have done all the talking they can to – and about – goalkeeper David De Gea. They have told him they will pay him well – better than Real Madrid will do, in fact – and they have told him that they consider him a valuable part of the fabric of their club. But they now know that none of that matters. The money and the car and the house are insignificant because it is an emotional calculation that De Gea is making in deciding between his current club and the one that calls from Spain. Which is where the fans came in.
Some at United wondered heading into the last home match of the season with Arsenal whether De Gea might receive the kind of rapture from the stands which would assist the effort to make him stay. He did, rare though it is to see a player who has resisted a club's contract offer eliciting songs in his name and applauding in response throughout.
The exchange reflected the subtle contours of Old Trafford's relationship with De Gea, which has never been an ostentatious one. The goalkeeper is not a badge-kissing, "United till I die" type, but he knows that he is held in particular affection. That  is why he appears torn by what to do next: whether to follow his heart to his native Madrid, or to acknowledge that Manchester holds a heart for him, too.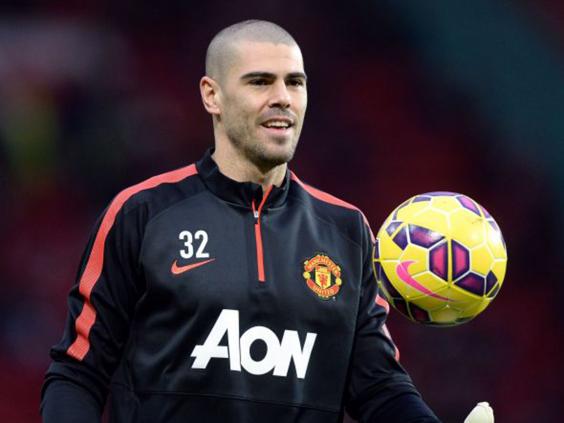 On the face of things, the Madrid-Manchester calculation does not look difficult. If and when De Gea arrives at the Bernabeu, he will be installed as the club's No 1 goalkeeper and will subsequently become Spain's No 1 goalkeeper. The national coach Vicente del Bosque is hanging on with Iker Casillas, considering a swansong for him at next summer's European Championship, but more out of deference than decision. Del Bosque cannot keep De Gea out of his team if Casillas is his deputy.
De Gea may reason that there will be more affection for him than most who tread the Bernabeu turf. There is a sense of fatigue with the internecine strife between rival groups who either cheer or howl down Casillas – a factionalism which dates back to the time when the keeper was seen as a leader of the resistance to the then coach Jose Mourinho.
Bizarre though it may sound, the chance of uniting behind one goalkeeper is so cherished that De Gea will probably be permitted more errors than most.
Such are the factors which led Louis van Gaal, the United manager, to make it clear, on Sunday evening, that it will be some struggle to win this battle. But when you consider the way Real are doing what Real always do in their pursuit of the player – dropping stories into the Spanish media to suggest that he has agreed personal terms with them and generally using their adopted newspapers to agitate and wear down the selling club – you wonder whether United's subtler and more dignified strategy may actually pay.
It is not entirely benign. Victor Valdes is at Old Trafford to become De Gea's successor and will expect to leave if that opportunity does not materialise. But the approach is to acknowledge all the reasons De Gea has to leave, to take a step back and grant him some space, and to make it clear that if it really were about money, then the money is there. "I don't have to say something in benefit of Manchester United because he can feel it every day," Van Gaal said in his usual eccentric English on Sunday. "You have seen the fans. Unbelievable. When he is going, he is losing that. Here he has a lot of credits. He has to decide."
The quiet way is the only one left to United. They are showing there are more shades of affection in football than the one brought by a Real Madrid president and his chequebook. De Gea just might be convinced by that.
Reuse content