Robert Lewandowski has joined Bayern Munich after his move from rivals Borussia Dortmund became official.
The Polish striker was a free agent after his contract with Dortmund had expired. Bayern also unveiled another free transfer in centre midfielder Sebastian Rode, who has joined from Eintracht Frankfurt.
Lewandowski, 25, agreed a five-year deal with Bayern back in January and will replace Mario Mandzukic who will join Spanish champions Atletico Madrid.
Since joining Dortmund from Lech Poznan in 2010, Lewandowski has risen to become one of the world's best strikers - he scored 103 goals in 185 matches in yellow, topping 30 goals in two of the last three seasons and notching 28 last year.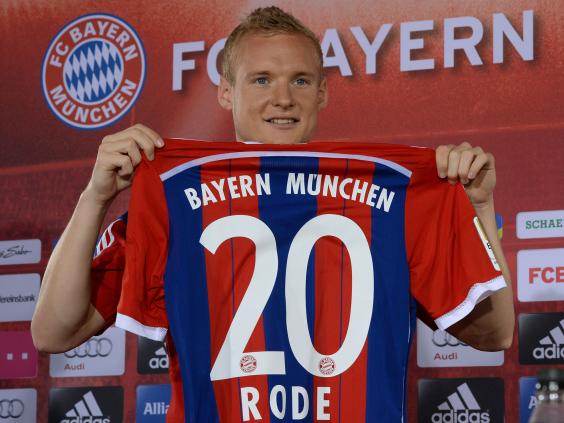 "I was four years at Borussia," said Lewandowski at a press conference.  "I knew it was time to make the next step.
"I know that every new player needs time but I hope the transition won't take long for me and that I'll be able to give my best from the first game."
Lewandowski has had the summer off after Poland failed to qualify for the World Cup and claims his "batteries are full" after the break.
"I feel very well. I had a lovely holiday and my batteries are full again," he added.
Dortmund could have made a profit by selling the striker last summer, but instead opted to keep the No 9 for another season knowing he would leave.
The striker helped Jurgen Klopp's men win the title in each of his first two years, but the last two seasons Bayern have been unstoppable.
"He delivered extraordinary performances in Dortmund even though the transfer was already fixed," said Bayern sporting director Matthias Sammer. "That's the stuff champions are made of."
Dortmund have already signed two strikers in an attempt to replace Lewandowski with Adrian Ramos arriving from Hertha Berlin and Ciro Immobile signed from Torino.
Reuse content